Remember the classic British 3speeds from Raleigh? Here's the modern equivalent bike with nice comfy high handlebars for good vision and visibility on traffic, medium-width tires about the same width as the older Sports model and Raleigh's new shock seatpost with a modern scoop-center gel seat.
Of course there's current 8-speed rear shifting and a wide range triple front with Shimano's comfortable twist shifter but there's more. There's a full selection of sizes from 15 inches to 23 (riders from just under 5 feet to about 6'3") and two sizes of "open" or ladies' frames too. Colors right now are this steel grey or a sedate deep blue.
Did you own a "sport ten speed" in the '70s? Here's the wider tire and higher handlebar you didn't get then and positive two-finger braking. The saddle is also completely unlike the skinny hard things we had then.
Some designers have made "comfort bikes" this year by modifying a mountain bike with fat smooth tires. That works, I guess, but touring size wheels are much lighter, they roll faster and the bike handles more lightly. I'd rather climb a hill with these than a fat mountain bike tire any day.
Since the C40 works so well for around-town trips and riding to work, rear carrier mounts are built in.
Raleigh welds a kickstand mount so if you like 'em we'll add it in a minute. My favorite new feature the past few years is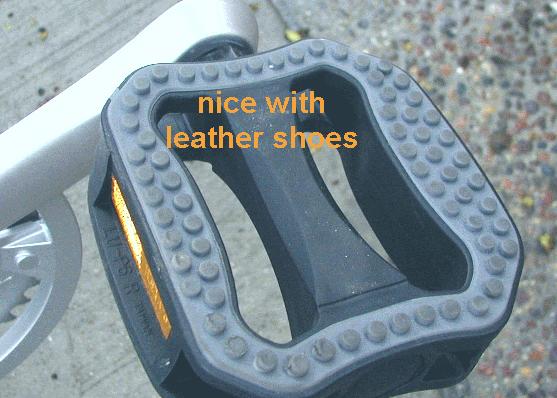 the rubber insert in the pedal so I can ride to the bank to get change in leather shoes.
From Raleigh's Seattle design team, C40 was an aluminum frame with tough aluminum rims and still just $399. We sold more Raleigh C40 bikes than any other model until it was outsourced.
And something new