Bicycles are in many ways simple machines, and most of us can manage the usual maintenance like flat tire repair and chain lubrication well without too much suffering. Most of you are fully competent to do mechanical work on your bike, we're happy to help out if you need advice or assistance and the Web has expanded the available information in this area immensely.
There are some jobs, however, that are not reasonably accomplished at home, mostly in the areas of the headset (steering bearings) and bottom bracket (crank bearings).
Headsets run on bearing races pressed into the bicycle frame and onto the fork. These races need to press tightly so they cannot move and yet not so tightly as to crack the hardened part on installation. In addition, the seats for these races will ideally be all cut perpendicular to the axis of rotation so the bearing can run smoothly as the fork is turned. Cutting these surfaces is probably the most critical machine work done on a bicycle and for this job we use Campagnolo brand cutting tools. After the frame and fork crown seats are done, the fork column, if threaded, is cleaned with matching dies in British (1 inch x 24 threads per inch), Italian (25.4mm x 24 threads per inch, 55 degree thread), French (25 x 1mm), Raleigh (1 inch x 26 threads per inch, 55 degree thread) or O/S (1-1/8 inch x 26 threads per inch). Even Campagnolo doesn't cover all of the various specifications and so besides our Campagnolo equipment we also keep duplicate tooling from Var, Silva, Cobra, Romani and Bicycle Research in various dimensions. We even have original Raleigh Nottingham cutting tools and their unique right cup wrench.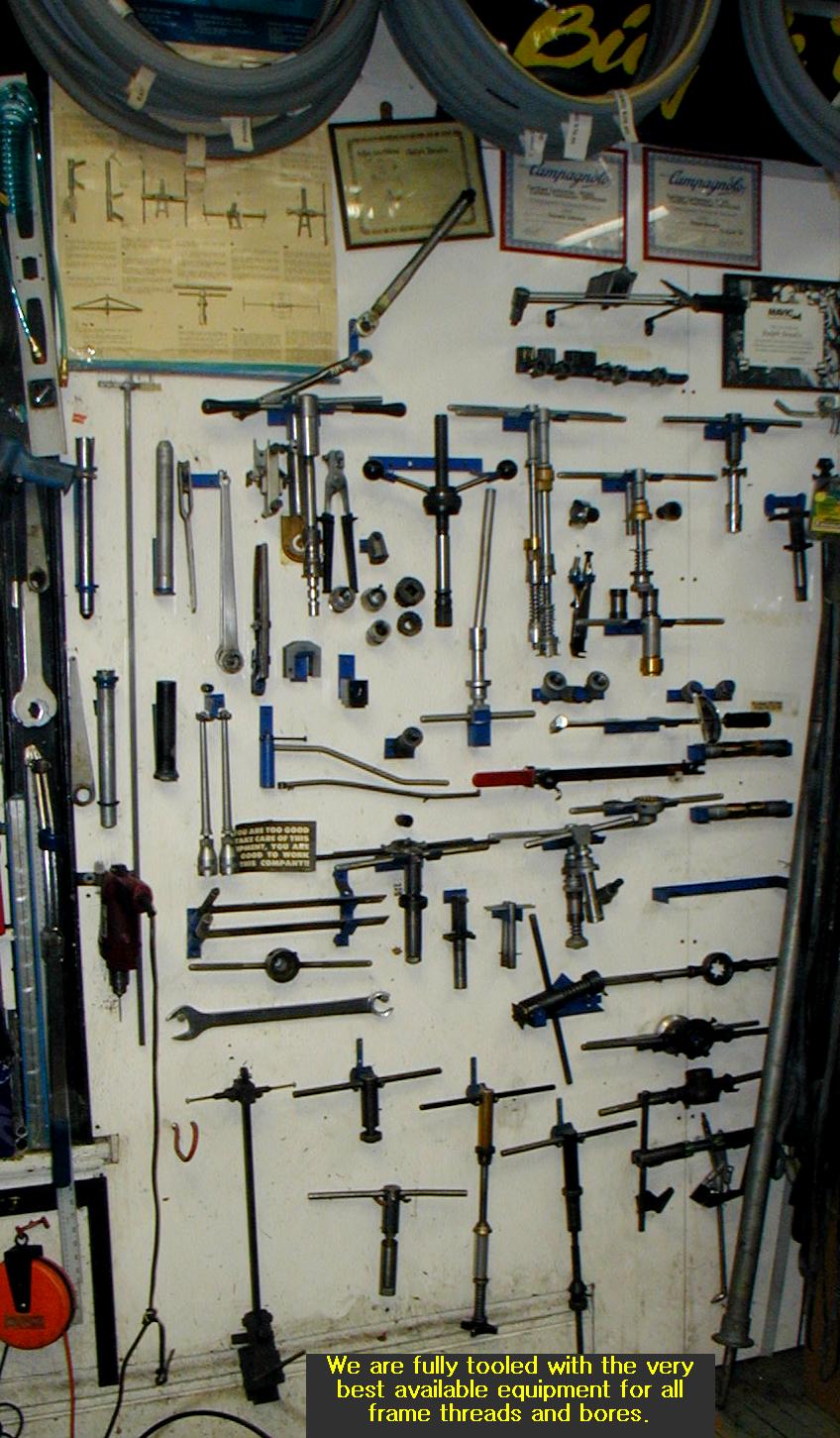 Our cutting tools are regularly checked for accuracy and wear and are serviced and sharpened by McKenzie Machine. Moreover we buy titanium nitride vapor deposition by Kingsbridge Tools/Performance Cycle Products. Even the best tool steel will wear and/or chip if abused. The titanium nitride process is a plasma of that compound in a special closed environment electrically bonded in a one-micron thick coating into the grain structure of the steel. This extremely hard compound impregnated into the cutters gives us a better, harder edge that holds machining tolerances longer and gives us a perfect cut every time.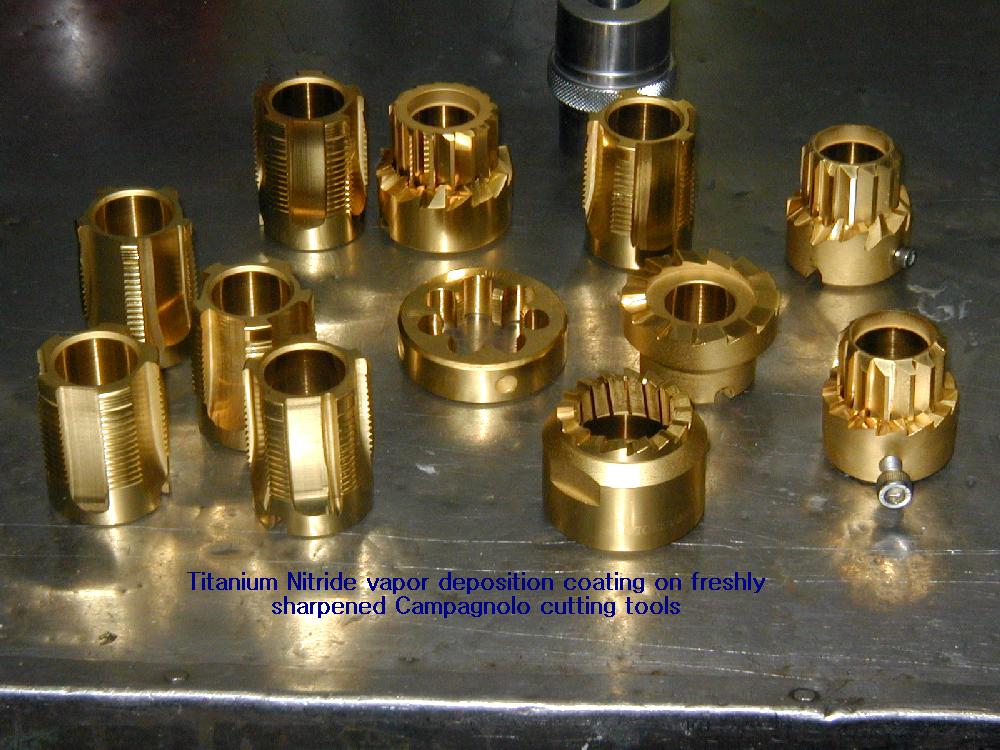 The bottom bracket is the heart of bicycle machine work and alignment. When a frame is built or aligned, every dimension is referenced from the bottom bracket axis. For this reason, Campagnolo bottom bracket taps (thread cutters) slip into one another so both sides are cut simultaneously on one axis. We have multiple sets of these taps as well as Var brand sets, so we can thread British (34.8mm), French (35mm), Swiss (35mm reverse) and Italian (36mm) threads in any frame material. After the threads are cut precisely together, the faces (sides) of the bottom bracket shell are machined with a Campagnolo fixture to ensure the faces are exactly perpendicular to the axis of the threading. These cutters, too are regularly calibrated, sharpened and coated with titanium nitride so we know the work we return to you is accurate and precise.
In addition to these important areas, we can also braze, align, cut or tap any part of your bicycle frame as required. Gauges can be applied to your frame at eye level while you watch so we can discuss the parameters of the problem with you directly. No hocus-pocus, no mysteries, no B.S. We're proud of what we do and we're happy to show you how we do it.
Andrew Muzi