Priceless Treasures!
We're Selling Our Archives!
Own A Piece of
Yellow Jersey

at this time, All materials are sold

There comes a time when the value of sentimental things is outweighed by our need to walk through a room and that time has come. Each of these 40lb pound boxes contains a few thousand pages of catalogs, flyers, price lists, technical manuals, training guides, product annoucements and all the super secret documents of the bicycle industry gathered from over 40 years of cleaning our files. These are plentiful, unedited, uncensored, rich with history and of amazing breadth. You'll get everything from specifications of American axle sets to Campagnolo's new product announcements - all with prices! For the enthusiast this is a rare and nearly cabalistic (hopefuly not sibylline!) sneak peek to the deepest inner workings of America's bicycle business.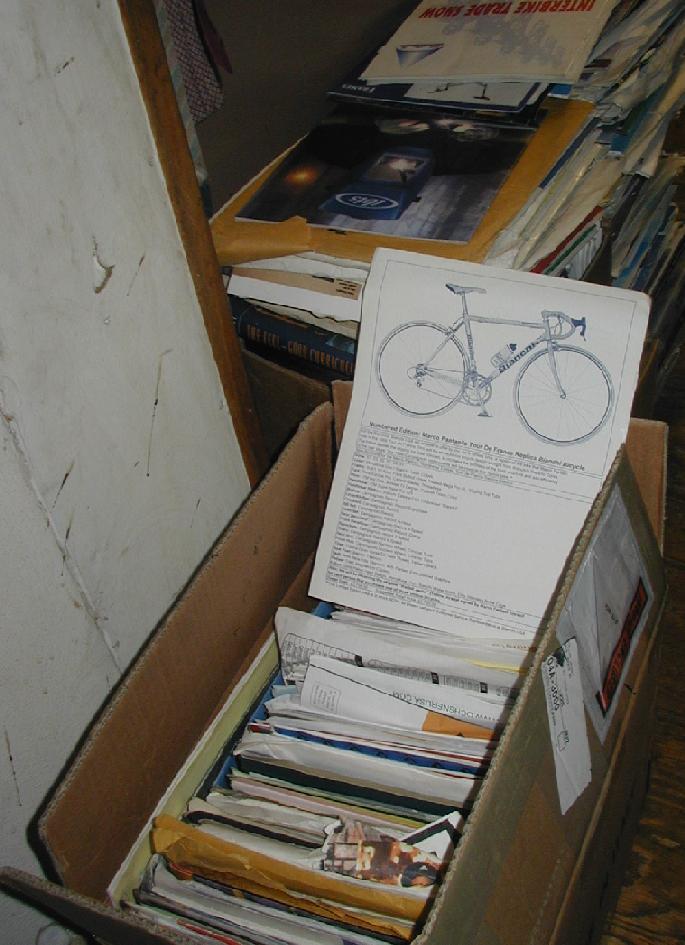 We have about twenty boxes like this. Each spans between one and three years. No, we are not going to sort through them for you although you may request, generally, a particular decade.
Here's the deal:
at this time, All materials are sold
Each box contains roughly 4,000 pages of documents and weighs between 38 and 45 pounds. We'll sell you a box at __c per pound gross. That's about ____ or $____ dollars a box but that's also about _______ to _______ dollars in freight charges. You can pay by credit card (AmEx, Visa, MasterCharge, Optima) or with a PayPal transfer (to paypay@yellowjersey.org ). When you click here , just tell us how many boxes you'd like. We'll weigh them and send an invoice back to you.
at this time, All materials are sold
Yes! I want to buy a couple of those! Sign me up! Click here
I'm A Definite Maybe! Try to talk me into this, click here
I'm Bored. Let's go back to the home page. Click here