We have available a limited number of complete original factory film transfer sets for 1982 Holdsworth bicycles. The bikes originally looked like this, click to enlarge:
Click to see larger images
---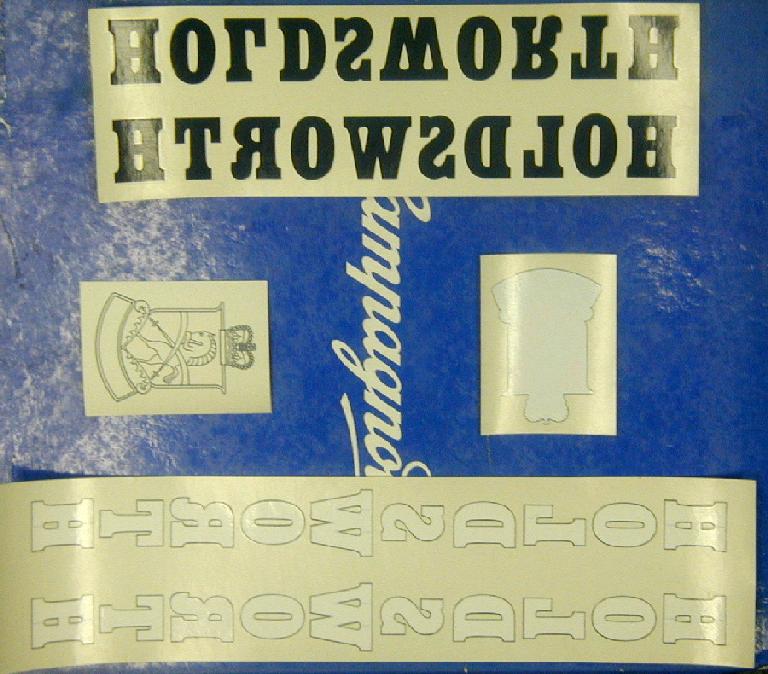 The sets we have include the seat tube and downtube lettering and the head badge just like the photos on this page. Here are opened packets showing one of each as an example.
These are the orginal factory film transfers. Although they have been sealed in plastic, film transfers are notoriously fragile when new and near-hopelessly difficult to install when old. An experienced frame painter should be consulted.
This is not a reasonable home project for the amateur.
One complete bicycle set is $89.95 in black letters only.
---
We have the 1972~1976 style transfer sets as shown in this 1974 Yellow Jersey Team photo. Click to enlarge: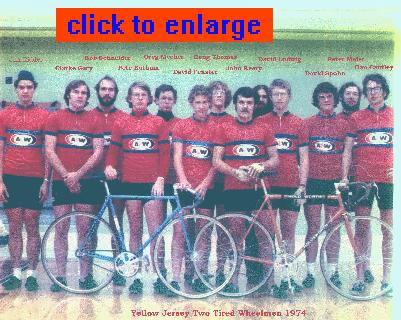 Many Holdsworths of this era had hand striped outlines around the bold block letters. White were the bulk of production. These black ones (printed with a metallic gold outline) seem to have been overstock. The most popular finish colors here were Team Orange with Kingfisher Blue panel, Flamboyant Red, Flamboyant Blue, Metallic Mint Green and Black Enamel. Most left Holdsworth's works with white transfers. We have Black, White, Yellow see below $95/set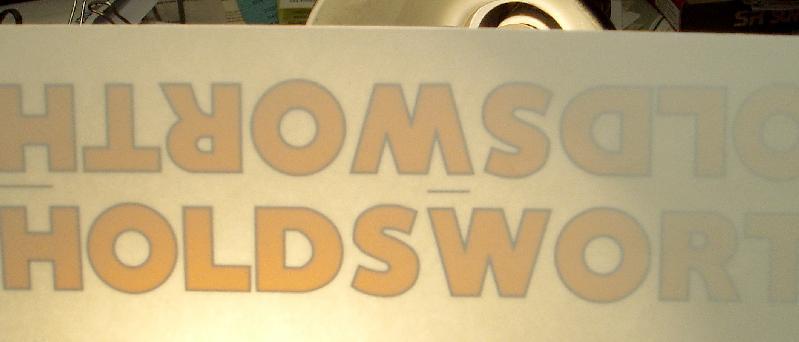 ---
These elongated typeface sets and script sets were less common. We have these two styles of downtube letters from the sixties/seventies. Either black with not-straight-side letters or white script with black outline. One panel does both sides of the down tube and looks like this: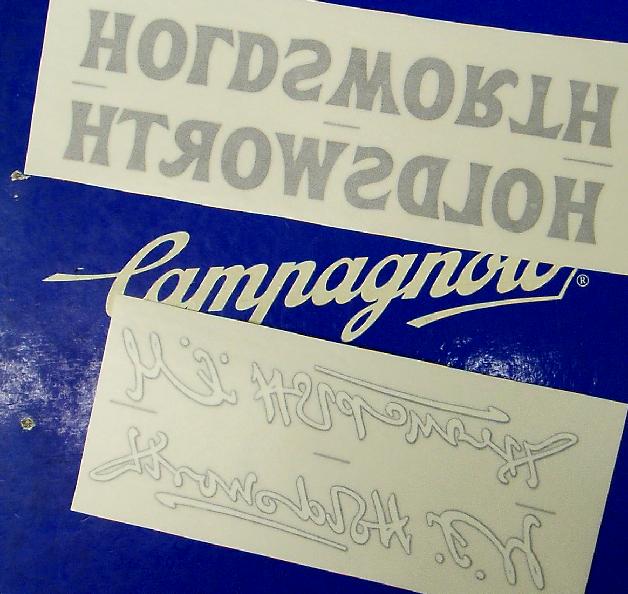 and costs $69.95 We have some head badge transfers available singly at $34.95 each. Note that before about 1975 head badges were metal so these are period-correct to later models only.
Here is the original installation guide for solvent mount transfers, typed on a British typewriter in 1982.
Each set, dry mount or solvent mount, includes appropriate installation directions
Click to enlarge

---
Holdsworth Memories Page
Holdsworth Factory Photos Page
Yes! I'm respraying my vintage Holdsworth and I need a set of Holdsworth film transfers