2003

New Year's Day

Bicycle Ride

with

Yellow Jersey
Ever since 1969, a small group of Madison's famously dull bicyclists, who are not smart enough to come in out of the cold, have joined together in the hung over misery of New Year's morning to start the new year with a short ride. Here's a typical group on the first day of 1981: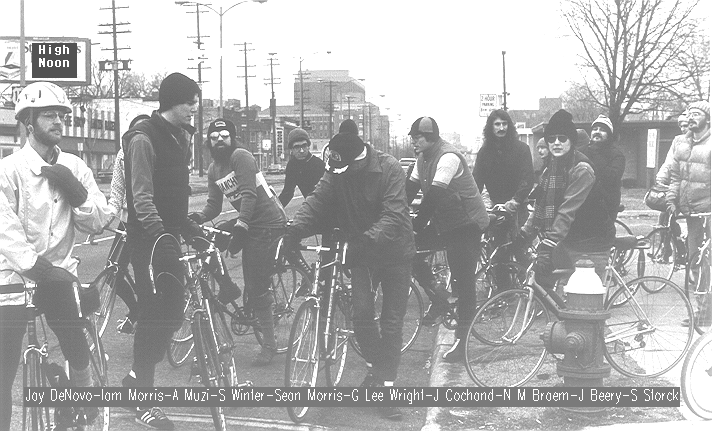 Our ride will begin on Wednesday 1 January, 2003 at precisely HIGH NOON at the famous American Lunch. Your hostess will be Norma, who runs a great little diner. American Lunch is open at 5:00am and closes promptly at noon. If you plan on having breakfast before the ride, allow plenty of time and show up early.
In past years, we've sometimes sat around nursing a coffee until one o'clock, procrastinating the start time. Anyone who's familiar with American Lunch knows that things are done Norma's way, on Norma's time, if Norma says it's OK. The food is plentiful, good and cheap. Don't forget to tip generously.
There's plenty of free parking if you are driving to the start. You'll find American Lunch at 1033 South Park Street in Madison. That's on the east side of the street and between Olin Avenue and Lakeside Street, accross from the dairy.
This is traditionally a "show and go" ride. Those who show up decide where to go. If the weather is conducive, we'll maybe go to Paoli (25 miles) or Verona (12 miles) or if the weather is poor someplace closer. Expect a ladylike, conversational ride at a moderately sedate pace. No one is going to be dropped on this ride!
| | |
| --- | --- |
| | It's always nice to order something |
If I left something out, just email
and I'll get right back to you