Yellow Jersey's
2004
New Year's Ride

1 January, 2004, High Noon.

Ride started at the
famous Gino's right here on State Street.
Our hosts, Gino Gargano, the ever gracious
Wassay, & the charming Gino's Waitresses
welcomed us at High Noon.

Old friends, new faces, much coffee and then
off into the new year!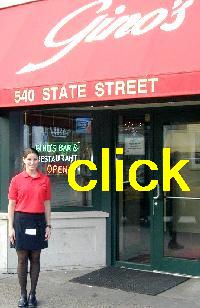 Click either photo to see the 2004 apres-tour photos!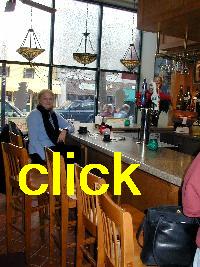 A fine turnout
It was great to see New Year's Ride
co-founders, Dr Jerry Klotz & Fred Gooding. who rode the first one in 1969
All About our New Year's Ride
Show and go- those who show up decide where to go
No entry fees
No whining
No reservations
Helmets optional
Coffee recommended, espresso preferred
No whining
You are welcome and we promise not to drop you, this is not a race
We aren't bike snobs, either. Your bike is OK as is
Just by showing up, you are at risk of being photographed for our web page
No whining, we mean it

1 January 2004
HIGH NOON
Confused? Question? Comment? Why, just click here to email