Panasonic Bicycles at Yellow Jersey

Yellow Jersey was a happy customer of Panasonic Bicycles for many years until their
USA division closed in 1989. Here's a little about Mr Matsushita
and his wonderful bicycles: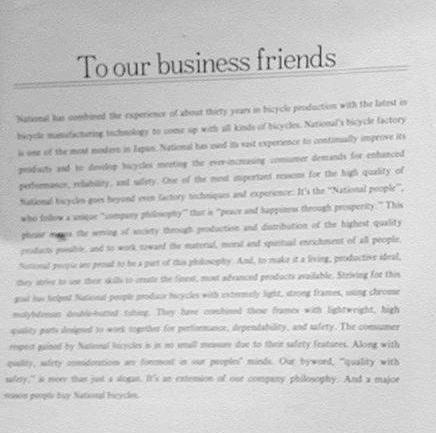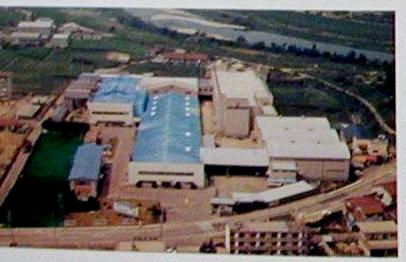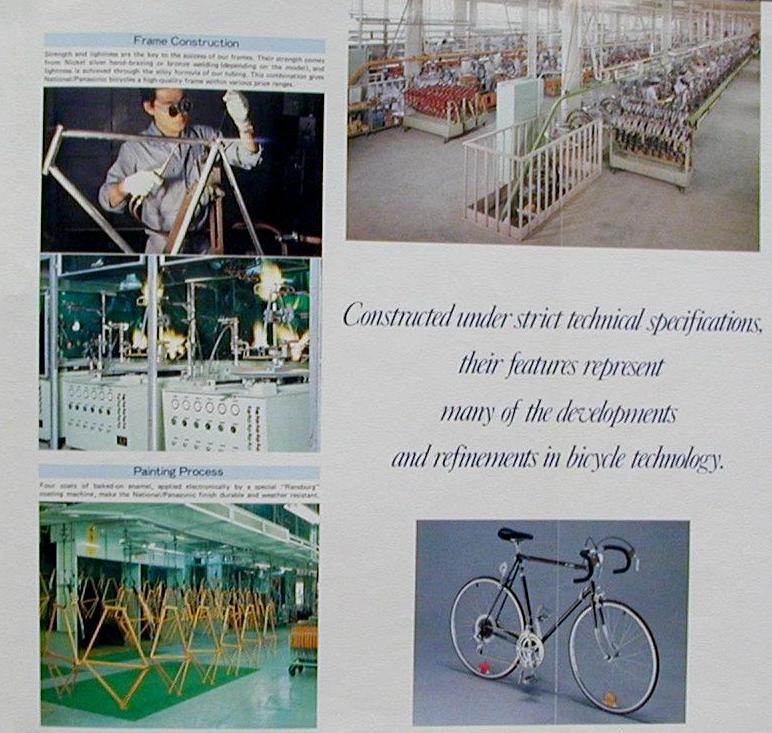 Mr Konosuke Matsushita, founder of National/Panasonic, was an adpotee into a
family who operated a bicycle shop. His first product was a socket which would
accept two light bulbs screwed into one light fixture. From there he built an empire of
electric, electronic, banking, appliances and of course bicycles and bicycle tires.
He was passionate about cycles and cycling.
National was an early adherent to the now standard business philosophy that in every area,
Panasonic should be #1 or #2 or sell off the division. Branding is also interesting as Matsushita
is known in Japan as "National". Since there's no way to control the name "National" here,
the "Panasonic" name was created for export sales. (Compare that to Akio Morita's "Sony" brand).
Later, "Panaracer" was developed for the export tire label. If you're intrigued , digress to this
A. V Vedpuriswar's interesting article about Matushita's management theories and early history.
But back to cycling:
Mr Matsushita would not abide by low quality in Panasonic bicycles no matter the profit margins.
And he could afford it. Like other dedicated cyclists (such as the Huffman family who built
and sold Huffys with an eye toward quality) he didn't want the name slapped on shoddy equipment.
Tellingly, Schwinn's first outsourced bicycles were built by Panasonic, sold as "World"
bicycles in 1972. Panasonic was the only vendor to meet Schwinn's rigid standards when
they could afford to be picky. Still and all, the Panasonic bikes met initial dealer resistance
as "imports" and were not included in the Schwinn consumer catalog. Schwinn's standard
model from Panasonic was the World Traveller. It was priced between the Varsity and the
Continental but with a lugged frame and Shimano equipment. Schwinn also marketed a
top shelf touring model from Panasonic, the World Voyager, lugged with butted Tange tube,
lots of chrome, forged ends and Shimano's excellent Crane changers with Suntour bar-end
shifters. This was serious competition to the Paramount series at half the price. Mechanics
knew the Shimano gear was clearly superior to Campagnolo's Gran Turismo on the
Schwinn P15 Paramount. By 1974 the Voyager was quietly dropped, the Shimano Crane
derailleur appeared on the new Paramount Touring, and Schwinn made a large
commitment to Panasonic-built LeTours which would become Schwinn's second-most-popular
model through the seventies.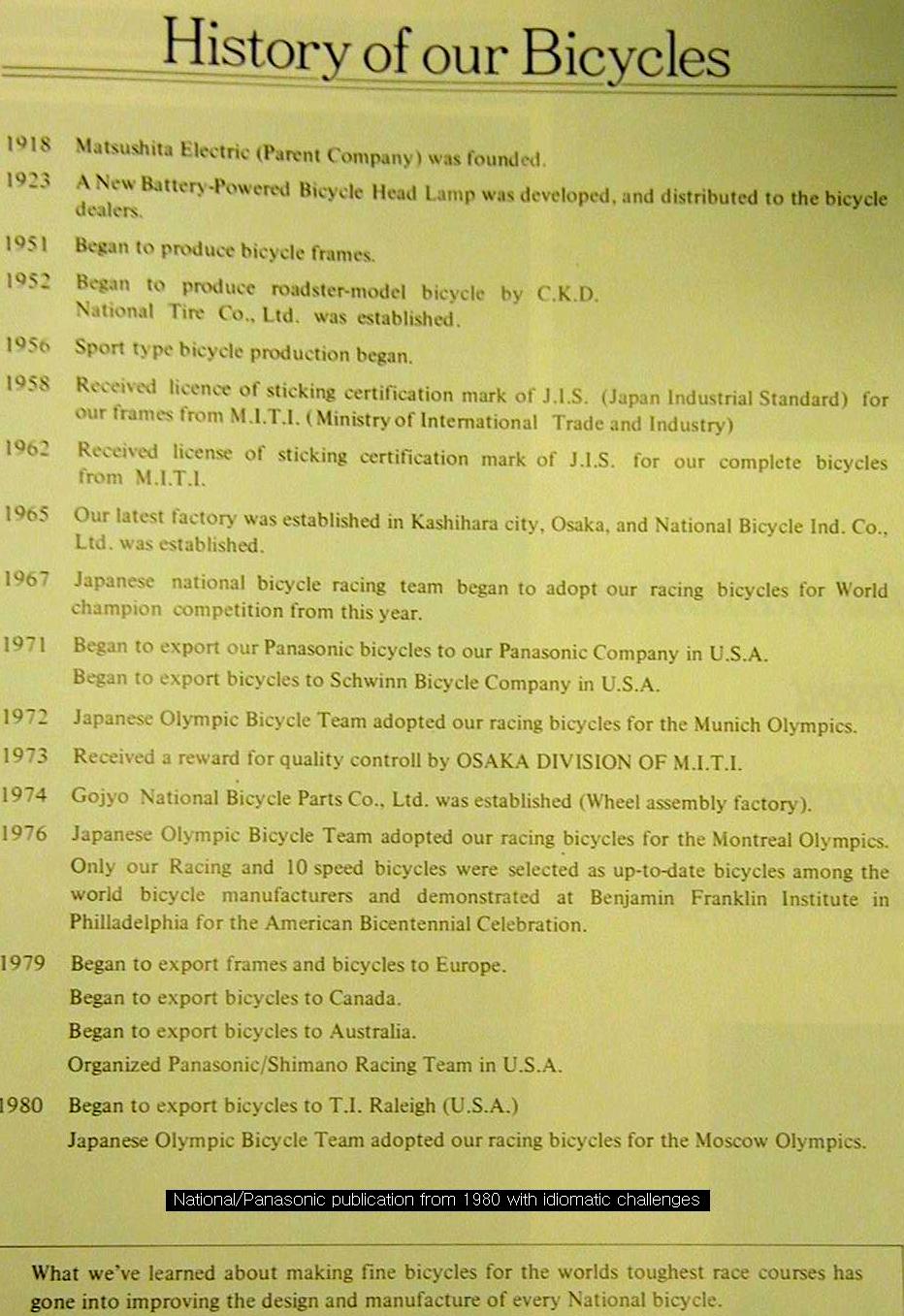 In their heyday (seventies and eighties) Panasonic produced a full range of lugged bicycles
and, at the low end of the line, their own premium steel rims which were thicker and rounder
than anyone else's. One might ask 'why bother?' with a steel rim but, if one's doing it at all,
Matsushita felt it should be done well. In tires also, they ran higher thread counts and thicker
treads than their competitors and established a reputation for uniformly high quality. Schwinn,
again, forged a strong relationship with Panaracer and did very well with their house branded
"LeTour" label Panaracer tires. Matsushita developed the first successful synthetic tubulars
(which are still considered optimal for some track events in the 18mm 150g series) and the
first successful Aramid/Kevlar-lined tubulars. Their Panaracer tubular cement is still the premium
choice.
In a preview of Waterford's business plan, Panasonic arranged the POS (Japan) = PICS (USA)
program to build premium custom frames and bicycles (over a thousand paint options!) with
a six-week delivery. This fully integrated division ran worldwide dealer-faxed orders through
their mainframes to an autocad frame drawing/work order, Panasonic robotic mitering machines
and quick-change paint department. Panasonic is #1 in world manufacture of factory robots,
among other things, and builds components of Shimano's SARA robots. Panasonic knows their
way around automated manufacturing!
Larger forces were afoot, however, and after the traumatic worldwide currency realignments
of 1985, Japanese bicycles and equipment were simply getting uncompetitively expensive
in dollars (as were electronics, cars and ships). Japanese manufacturers were shifting production
to the Asian Tigers to stay competitive and Panasonic, too, sold rebadged Taiwan-built bicycles
under their name. You can tell an Osaka-built Panasonic bicycle by its distinctive serial number
on the front of the lower headlug, which I think is unique, at least to bikes of that era and style.
In USA, bicycles were marketed through the Panasonic home appliance division. By 1989,
divison managers were complaining that bicycles brought less revenue (and less profit) per
square foot of warehouse than anything else in the division. Along with the US tort explosion,
bicycles instigated higher insurance costs through the entire appliance division and so, following
Mr. Matsushuta's death, Panasonic abandoned the US bicycle market on 30 September, 1989.
---
Here are Yosh Ashikaga's comments on his Panasonic frame:


click to enlarge

If you have the last of the custom Panasonics, I am pretty sure that I have the first Panasonic custom frame ever made for a U.S. racer.

Mine is by Takao Ono, 73 parallel, high BB, short WB (crit bike) with drilled lugs on Tange tubes and Shimano drops, built in 1972. Don't recall right off hand who made the BB shell. Silver brazing rod was by Eutectic-Castolin (U.S.). It was also the first frame with the "Handbuilt by - T. Ono" signature decal in the U.S.

A point of amusement was the decals applied to the downtube. Ono-san used the "Sport Deluxe" ($120 in 1972) decals because he hadn't gotten around to having any made for the custom shop at the time.

The frame was a gift from Takao Ono in appreciation for translation work I did during the Grand Prix of the United States held at the Encino Velodrome.

Ono-san was the coach and team manager for the Japan team at the Grand Prix both years it was held. He was a very prominent, multi-year, Japan National Champion on the road and track prior to his working for Panasonic.

He built the original batch of racing frames for the San Diego Bicycle Club(?), which included Armen Johnson, U.S. 1000m champ in '71 or '72, back around 1973. Many years later, his frames were in use at the 1984 Olympics in Los Angeles with the Japanese team.

If you are old enough to remember the two Grand Prix at Encino, names such as Jackie Simes, John Van de Velde, Ralph Therrio, Dave Mulica, the "Flea" - Roger Young, Ron Skarin, Buddy Campbell, along with the promoter and my coach, Chuck Pranke, might jiggle some of your dormant gray cells.

These two events were noteworthy for the participation of Daniel Morelon and Pierre Trentin from France and riders from Denmark, Switzerland, Jamaica, Canada, Japan, England and (at the time) the USSR.

You might recognize my name from my days with Campagnolo tech support and Marina Del Rey Bike in California.
Yosh Ashikaga

---
Here's the Panasonic Personal Order System /Panasonic Individual Custom System
paint selection dealer case: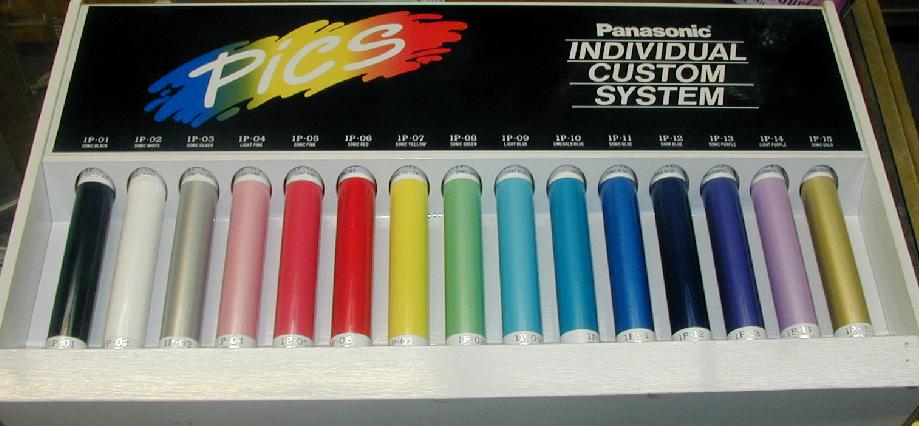 ---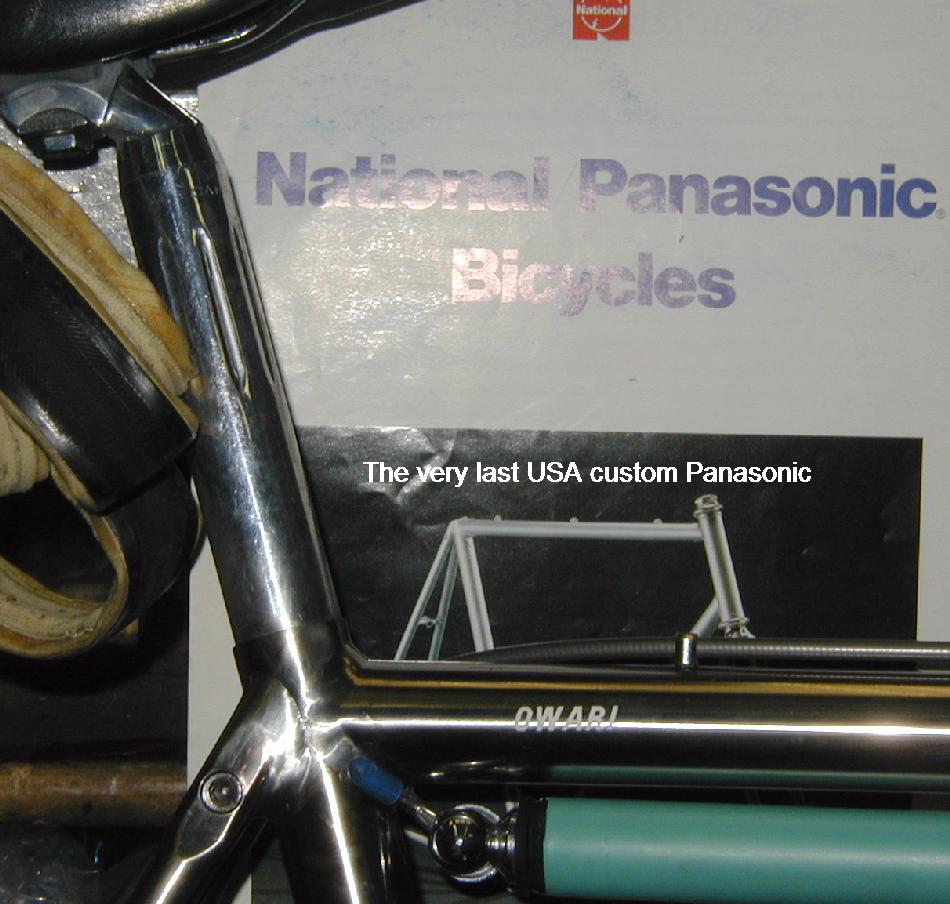 On 30 September, 1989 I was able to sneak the very last POS/PICS bicycle order
through the system. My Pana Team is the last one ever sold by Panasonic America
and the "personalization" label reads "OWARI" ("end","cessation").
how to order

We can still supply Japanese domestic-market Panasonics
Panasonic Bicycle Owners


Of late, we get three or four emails every morning along the lines of,"I bought a Panasonic Sport 500 at a thrift store. What can you tell me about it?"

Well, what would be a good example of a response?

We'll make an effort to graciously compliment your bicycle. Beyond that there is really not much to say. Tonight, for example, someone asked me about the value of a specific model . I looked at the listings on EBay and found three - $69, $35 and 99cents! Please peruse Ebay if you want to find the current value of anythng.

If you have a specific question we're always happy to assist but in general terms everything I know is typed neatly on the page above. Thank you.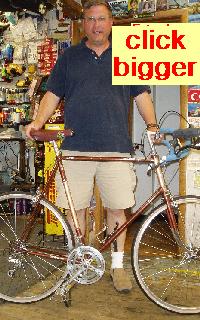 I'm available for Panasonic advice/discussion

send us an email for some commiseration

Click for update -
Panasonic bikes and framesets
PLEASE do not write to say you bought a repainted frame at a yard sale for $23 which you suspect is a classic racing bicycle and ask me, from the serial number, to tell you which races were won on it and by whom or things of that nature. I do not know.
how to order