We recently acquired a limited number of partial and single original factory film transfer panels from Raleighs built in 1974 and 1975. Models represented are a smattering of products from Nottingham and the Carlton factory at Worksop/Ilkeston . Single panels as shown here are $89.95.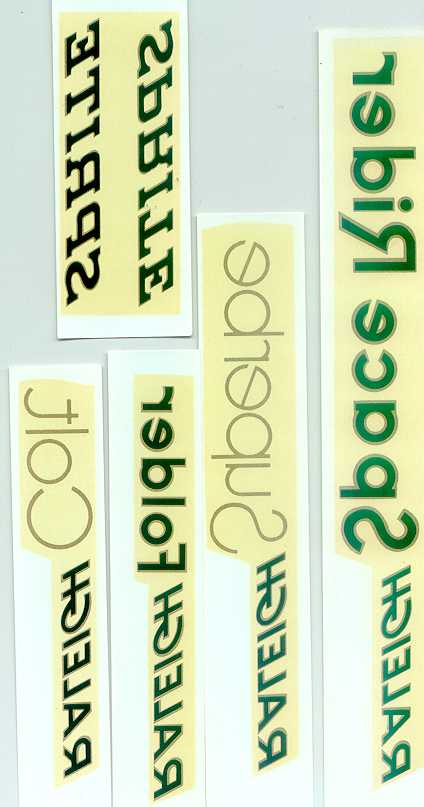 No, we do not have metal head badges. No we do not have the downtube lettering. No, I don't have any Raleigh decals except those scanned here and yes, these comprise the entire tranche. Here's the second scan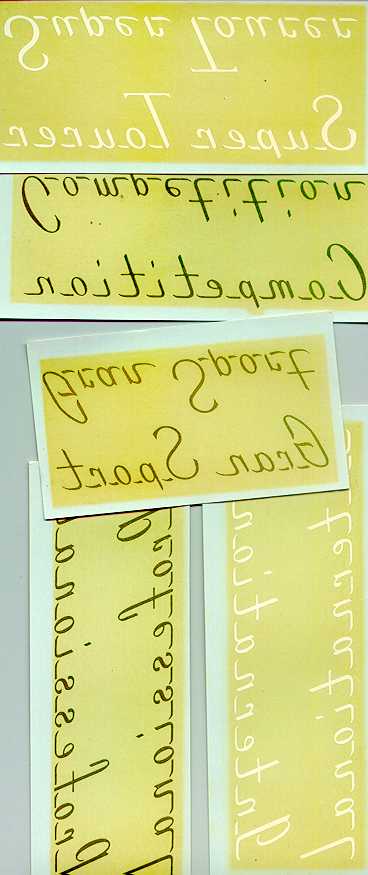 Here are some complete Gran Prix sticker sets of otherwise unknown provenance. I think these might be from the Gazelle-built Gran Prix of 1974 as they are printed on vinyl, whereas the actual Nottingham bikes used real film transfers. If someone knows that with certainty please write. These sets are four pieces and $39.95: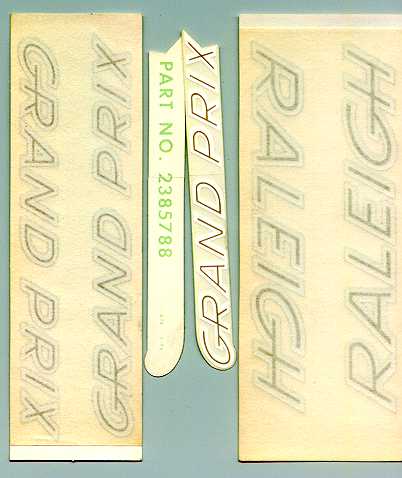 And the last piece:

These are from 1974 and 1975 , here's the catalog photo of that bike: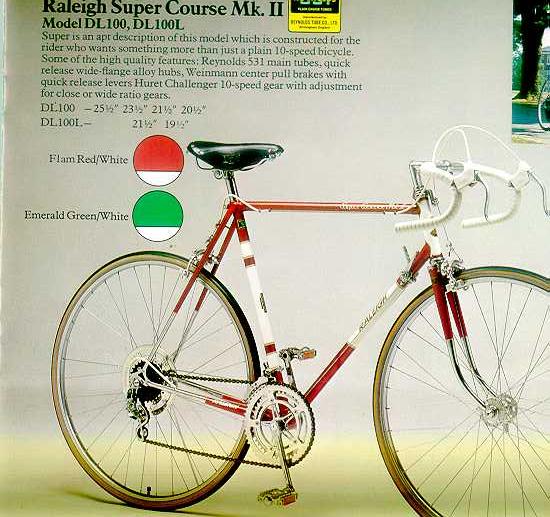 There are only a couple each of these packets showing one of each as an example.
These are the orginal factory film transfers. Although they have been sealed in plastic, film transfers are notoriously fragile when new and near-hopelessly difficult to install when old. An experienced frame painter should be consulted.
This is not a reasonable home project for the amateur.
One model designation panel is $89.95. Some are white as the Super Course Mark II in the photograph. Some are a dark and rich metallic gold color.
NEW! 2005 update!
We acquired some Raleigh Pro Shop sheets for the Reynolds handmade bikes. PLease call
Yes! I'm respraying my vintage Raleigh and I need a set of Raleigh film transfers