Such A Nice Bicycle!
Should Have Its Own Web Page !
at Yellow Jersey

. . . and some thoughts on the nature of custom bicycles
Yes, I put this box here mostly to play around with some green text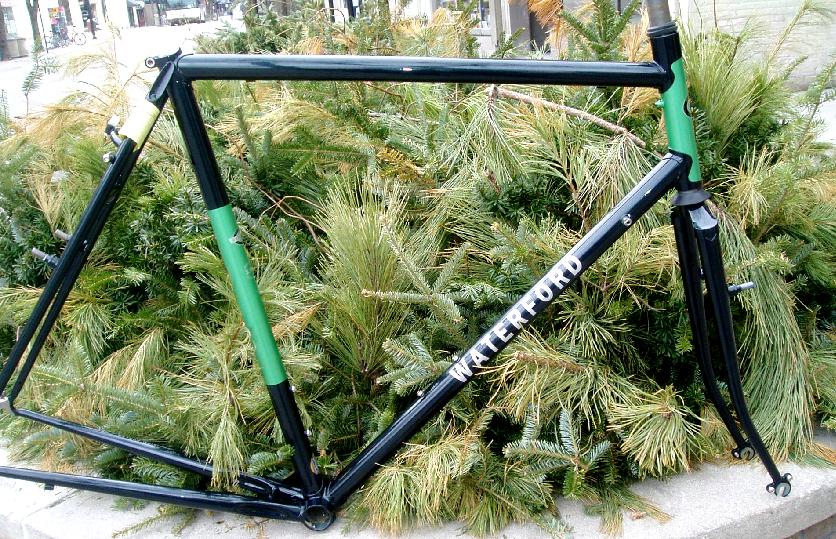 Maybe I overthink this. But the whole idea of designing and riding your very own custom bicycle
is to make it singularly yours. Often, custom means an unusually tall or small size. Sometimes
a very long or short top tube. Nothing wrong with buying custom just to ride your favorite color. Once
it is custom, indulge yourself. Everything's on the table from frame material to special brazed
fittings. When your dreams lead to a new Waterford bicycle, come talk with us. We listen
Every once in a great while, Waterford has a frame available that was made for someone but wasn't
exactly right. Not often, but it happens. We buy them whenever Waterford happens to have one.
I might digress here to note that in a bicycle shop, as in any business, nearly all the things that make customers
unhappy are communicative, not technical. I'd even venture that at Yellow Jersey, 99% of all instances of customer
unhappiness could have been avoided had someone listened better. Examples abound. I'm sure you can think of one.
Well, everyone involved is understanding so those orders get rewritten and built again. The frame
that wasn't the exact shade of Ivory or was short a quarter inch of top tube becomes a demo on our floor.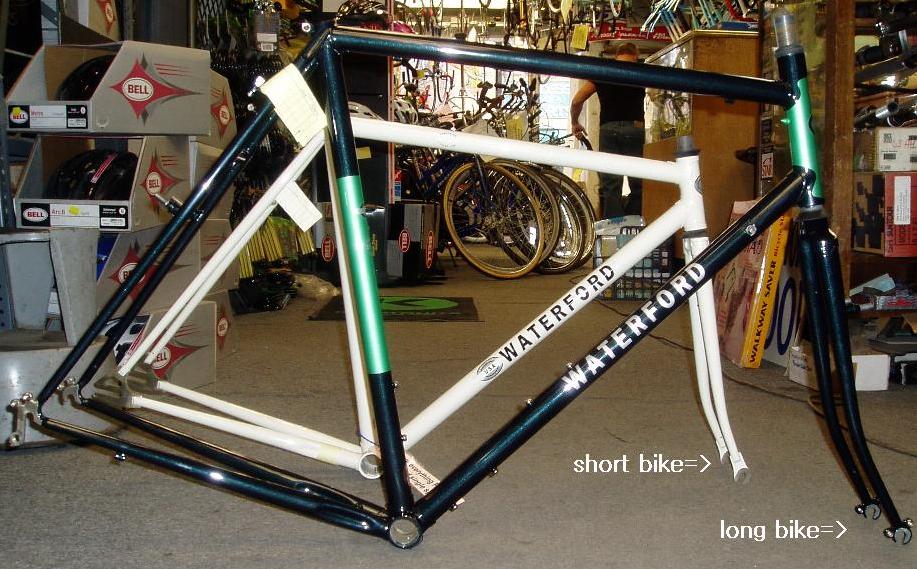 And so begins this tale.
At Christmas 2003, we sold a stunningly beautiful Waterford which we had acquired just like that a few years before.
Waterford offered us the frame off-price because the woman who ordered it felt is wasn't just what she wanted.
Somehow her dealer hadn't listened quite well enough. Of course, Waterford built her another frame as she had intended
and we bought the other one. That pretty red tourer looked nice in our window. With a sensible Campagnolo 3x9 equipment
package, lots of riders rode it. Hundreds of riders peered and touched and measured and drooled at it. Lots of riders
ordered their own custom frame with that red bike for inspiration. Although it sure did look nice in our window, I was happy
when we found it a new home with a pleasant rider to love it and polish it and wake it up early on Sundays to go riding.
We probably could sell Waterford bikes purely from a book. But we don't. I like having them around. They are just beautiful.
All of them.
I've never seen a Waterford that wasn't pure art in metal. You can't appreciate these looking at a book. We need
pretty Waterfords here to look at, to touch, to ride, so I thought we should get another one for our showroom.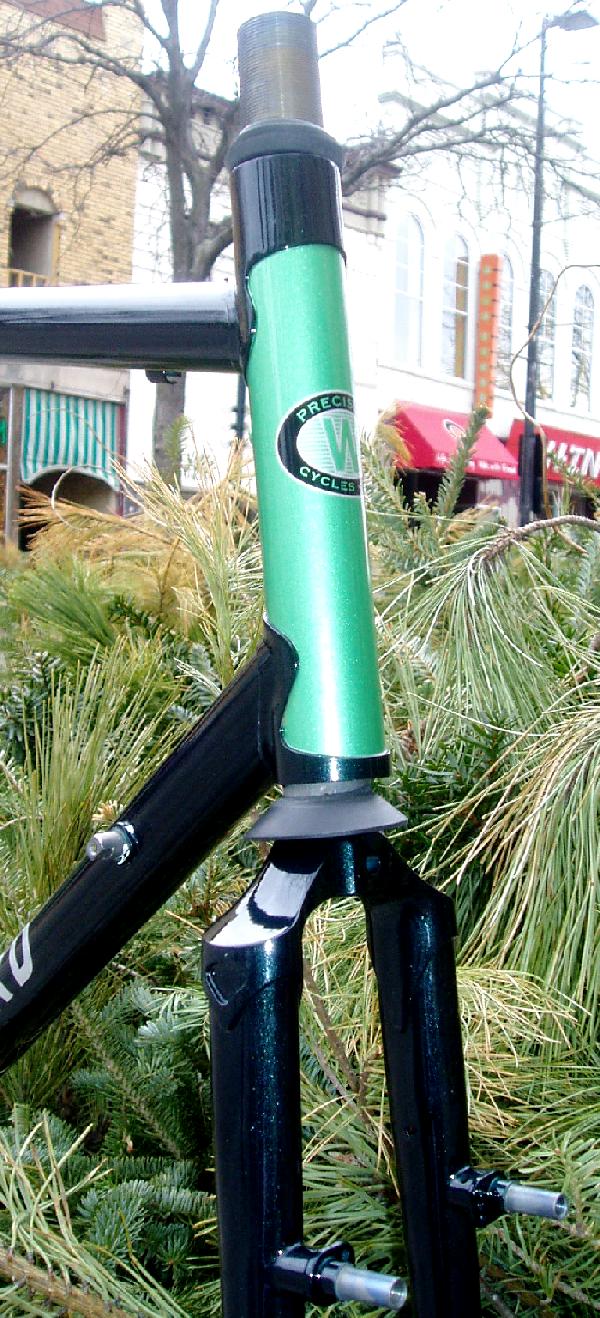 I asked Waterford for a real touring bike, with a full 8cm of drop, enough wheelbase for big fat IRC 700-38
tires with mudguards, nice low 72 degree angles, complimentary generous fork rake , enough front center
so toes won't touch the mudguard, double eyelets for racks and mudguards, a sturdy cantilever brake cable
mount (cheap ones flex too much), three bottles (including one below the down tube), an extended head
lug (because no one ever asked me to lower a touring bike handelbar ) and all the sensible useful things
which disappeared from production bikes in the last twenty years. We picked out a nice wide fork crown and
asked Waterford for extra heavy chainstays and downtube so it won't wiggle on high speed descents with gear.
The received wisdom in our industry is that nobody buys touring bikes. Well, duh. We sure sell a lot of them.
A true touring bike can be a joy when it's balanced and stable, long and low with nice high handlebars, lots of room
for ample tires and mudguards, places to put things like carriers, bags, lots of bottles and all the little details that make
riding more pleasant. So we made up this bike with Waterford and designed it from the start with the tourist in mind
Maybe it's just that people won't buy shoddy touring bikes.
Given what gets called 'touring' nowadays, most bike makers should not have bothered.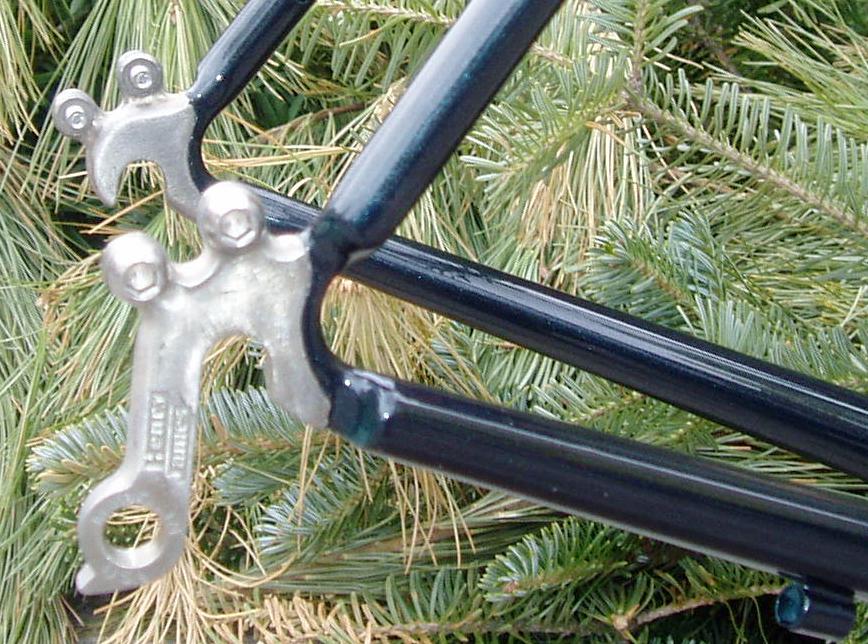 So with the material, geometry and metal details well in hand, we had a good start. Next was color. We pored over
paint books for a while, looking for the paint codes of an honest British Racing Green ( BRG ). Not the anemic
pea soup you so often see, but a true, rich color with some strength. And a capriciously bright accent, too.
I guess it works, because another customer bought an identical color combination a couple of months later. He
would have taken this one home, but under the Murphy rule it was 2cm too large so we duplicated this very bike save one
size smaller: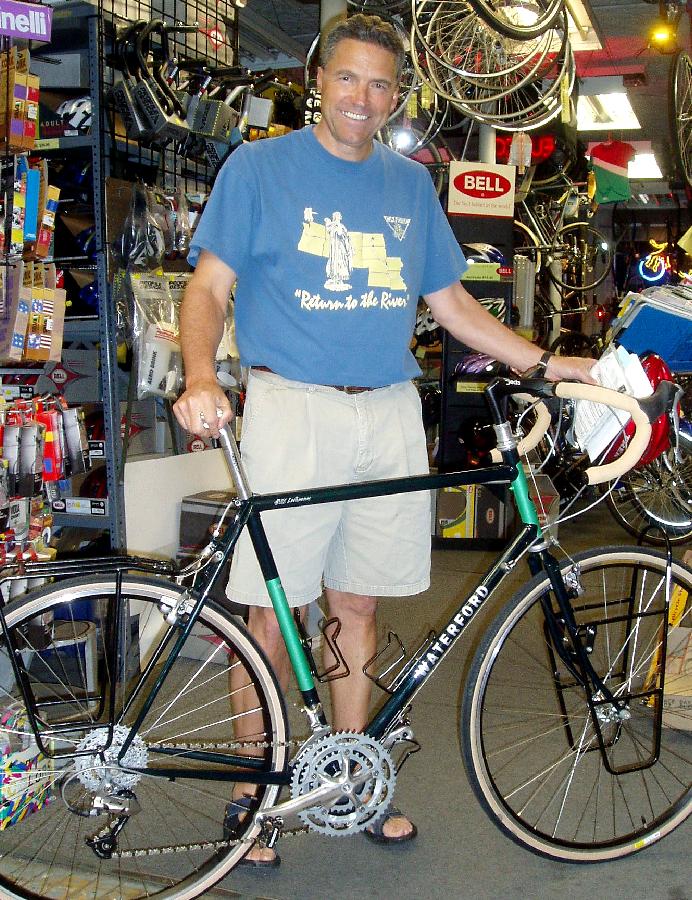 These were a fortuitous arrival the day we built the bike (Brooks delivery always involves an element of surprise):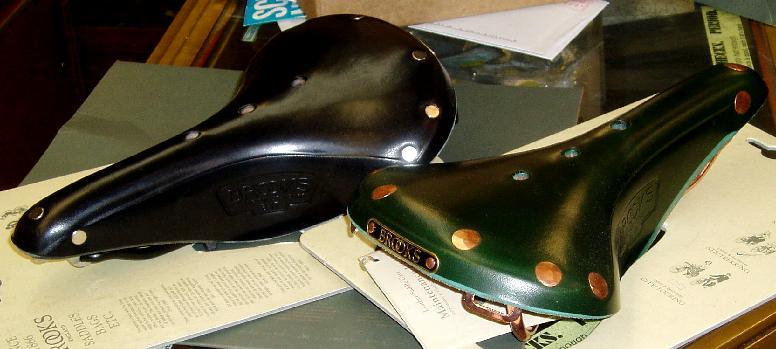 So do you like it? Write me! click for email Another excuse for some more green text
Overall, I couldn't be happier.
OK, that's not completely true.
I bet it will feel great to watch some happy customer ride it home.
And then we'll just get to do this all over again! Maybe purple next time?