at Yellow Jersey

Besides the obsolete, unusual stuff we scrounge up from around the world (Esoteric Chainrings), Yellow Jersey, of course, stocks deeply and broadly in normal modern chainrings. Isn't it odd that, in a world where most road bikes are shipped with a silly 39-53 combination, there are so many bike shops and catalog houses which sell replacement rings in . . . only 39 and 53???

The logic of that escapes me! If you were to sit back and think about your crank (and I'm not saying that you should, but follow along here for a moment) you may well come to the conclusion, as I did, that 53 teeth is not all that useful except to those whose team pays for their bicycles. I mean, really, when would I ever go that fast on a bicycle? At a duffer's 100rpm (competitive cyclists spin 120 and up) you'd get a speeding ticket!

So we've always felt there was a crying need for more sensible chainrings. We even imported the three-bolt Sugino Maxy chainrings to fit our $110 Sekai model 1000 in 1973 (Yes, we still have some).

For the incomparable 110/74 cranks (probably the best design ever - made by just about every crank maker) we've got sizes 34 to 58 in 110mm and sizes 24 to 32 in the 74mm type. Flat chainrings like these start at $19.95 in 74mm and $29.95 in 110mm: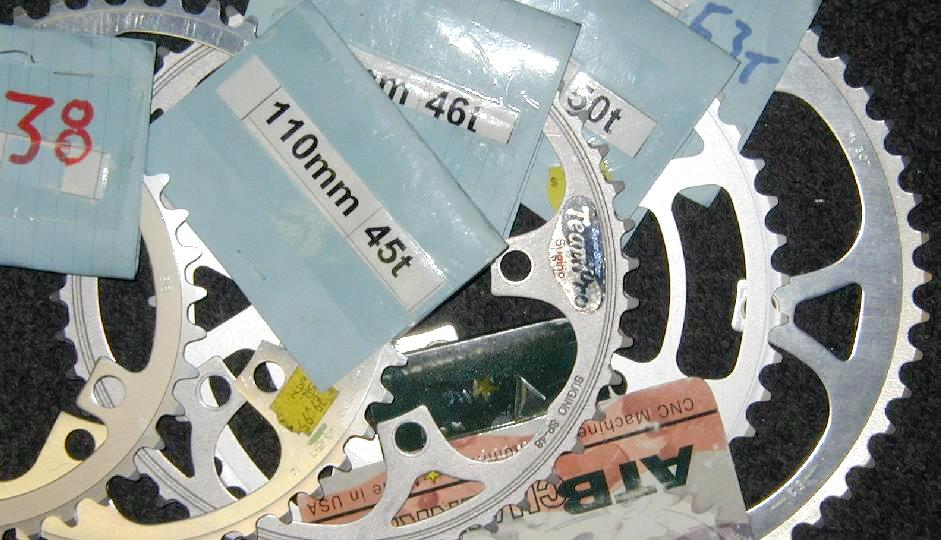 Flat chainrings are just that - nicely gear cut aluminum from Sugino, SR-Sakae, Vuelta and many others and dead flat. Some sizes (56 and 58) cost a little more.
---
There are also unusual types for 110mm cranks which are a touch more expensive. We have things like this: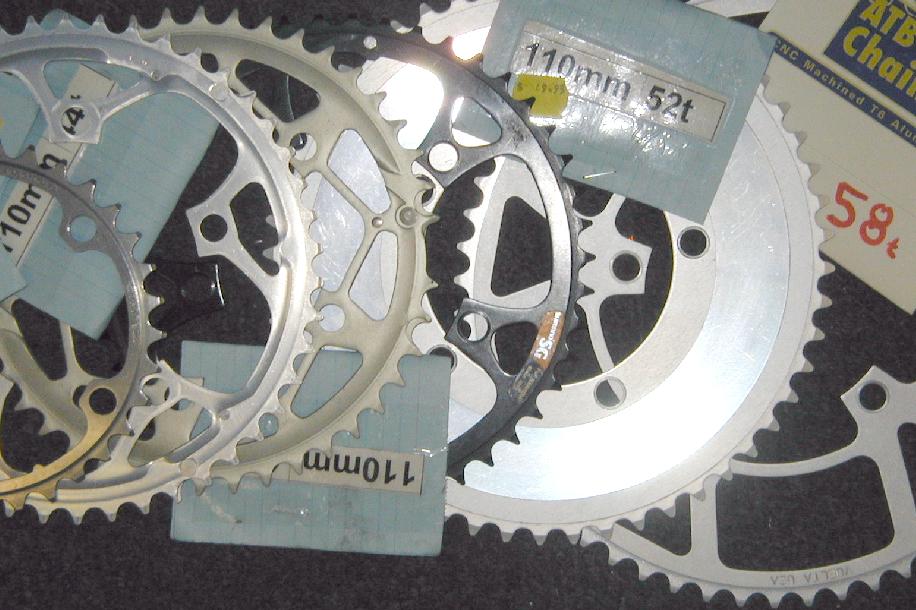 Stainless steel wears longer. The CD laser-cut finish is striking. Ramps and pins are necessary for acceptable shifting with Shimano's STi shifters. And on that note, just a Shimano sticker on your chainring adds a couple of bucks. We do not even pretend to have every brand with every feature in every size but we do make an effort so call or email and we'll see what can be done.
In other styles, we have compact (94mm) MTB chainrings, the new four-bolt MTB chainrings and road formats in 130mm (Shimano) and 135mm (standard Campagnolo). Prices and selection vary widely so please call or email.
Inquire about chainrings Mounting new cranks in old bikes