Duet Pricing and Equipment for 2013
Standard Features Include: (For all Duet Models)
Standard 26 x 1.75 (559mm) rims and tires, available everywhere
Aluminum Alloy Rear Luggage Carrier
Twin 90mm Drum Brakes with Parking Brake
Positive coaster brake and chain guard
Adjustable/ Removable Footrest
Adjustable / Removable Lap Belt
Removable & Washable Seat Upholstery
Folding Seat with 3 Quick Preset Positions
Adjustable handlebar
Comfortable Gel Saddle for Bike
German Wrenches with Integral Tool Holders for Comfort Position Adjustments
Duet ECONOMY model - $4,750.00
Includes Standard Features with:

SRAM SPECTRO German 3-Speed Gearbox
Frame Color - Blue, Yellow passenger seat and footrests
Duet PLUS model - $5,750.00
Includes Standard Features plus:
SRAM SPECTRO German 7-Speed Gearbox
Adjustable Headrest
Halogen Dynamo Lighting System
Double Bike Stand
Bicycle Lock
Tire Pump
"H" Style Harness
Spoke Covers
Swing Away Footrest
Suspension Bike Seatpost
Frame Color - choice of Red or Blue
Duet ELECTRO PLUS model - $8,750.00
Includes "Electro" Features plus:

7-Speed Derailleur Gear System
400 W Heinzmann Cycle Motor with Torque Sensor Control
24V, 18Ah Battery with Lock
110V Charger
Silver Frame Finish
Control Grip on Handlebar
25-31 Miles Per Charge
All models add Delivery Charges
$350 includes international air freight, US Customs duty, reporting and entry, inland freight, full professional dealer assembly, inspection and prep. Wisconsin residents add 5.5% sales tax. Final delivery no extra charge within 200 miles of Madison, WI.
Outside local area, delivery by motor freight. Ask for quotation please.
---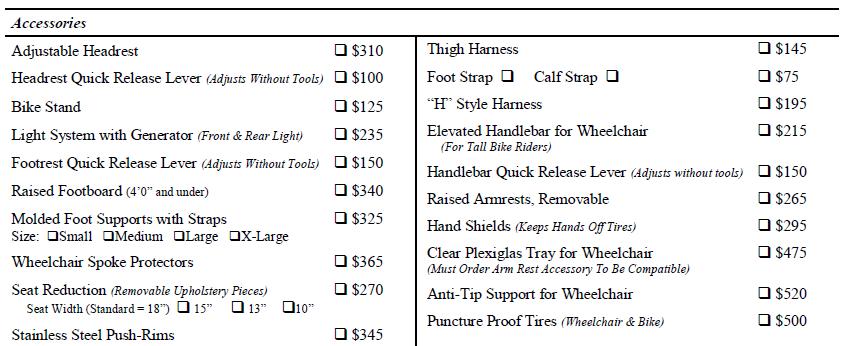 ---
TermsFull prepayment with your firm order. Delivery four to six weeks from your order.
We accept all major cards, PayPal and we can discuss other instruments.
We're here every day and very amenable to your requests. We're at 608.257.4737 and 608.257.7733 and we answer early and late.