One of our good customers introduced us to this wonderful mobility-extending vehicle. The Duet is German-made and exceptionally well thought out with possibly the best quality construction and materials we have ever seen in a mobility vehicle. Here's a side view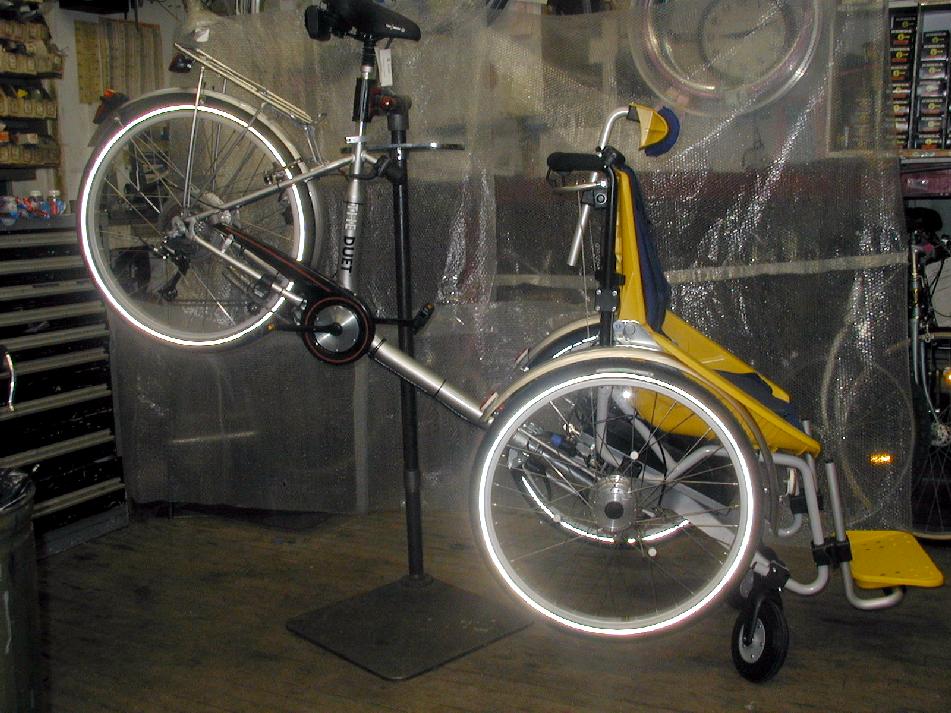 The Duet is avalailable in a variety of formats and options including this top model with electric power assist to make hills easier for the cyclist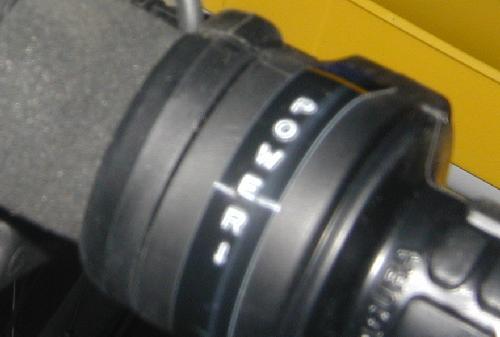 Here is the concept: With your Duet, your cyclist friend can pedal you along at regular cycling speeds (instead of pokey walking speed) and when you get to the resaturant or museum, the Duet unclips into a very nice wheelchair and the completely separate half-a-bike. When you take a taxi, it's usually awkward to get a chair in and out of the trunk. With your Duet, simply lock your half-a-bike outside your destination. After dinner, wheel your chair outside, link together again and ride away, at regular cycling speeds.
Here are some other nice aspects:
Simple one-lever linkage - no tools neded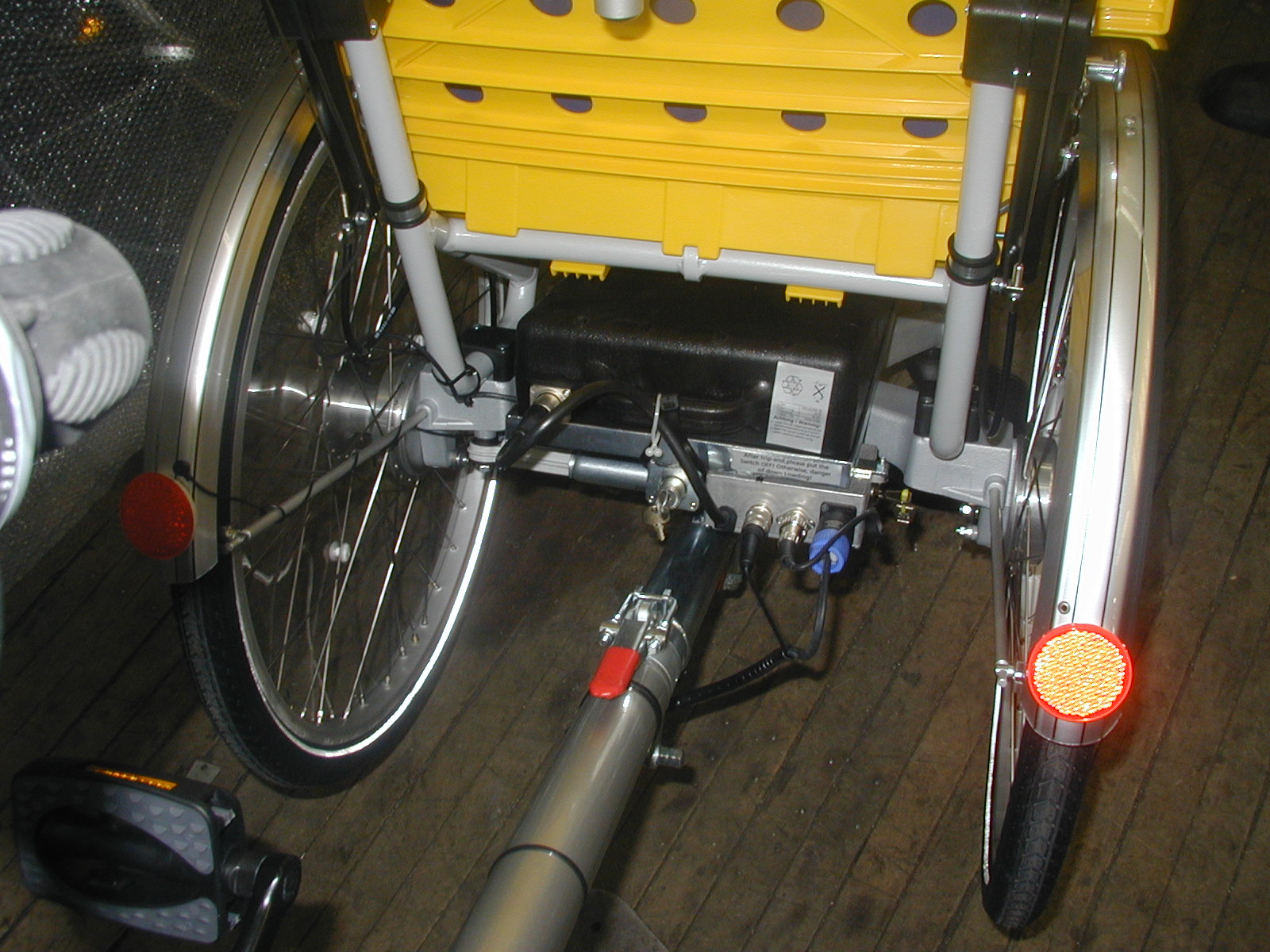 Other features include a complete German dynamo system with Halogen headlamp, tough German laminated nylon/aluminum touring mudguards and heavy Mylar spoke covers for the front wheels. The tough wheels come with reflective-sidewall tires in the world's most common size, 26x1.75. Gearing shown here is a wide-range seven speed system but there are many options. All include a snappy parking brake system with dual German drum brakes, stainless steel control cables, of course.
Like any good wheelchair, Duets are completely adjustable for a perfect fit - all done with just two wrenches that stow right inside the Duet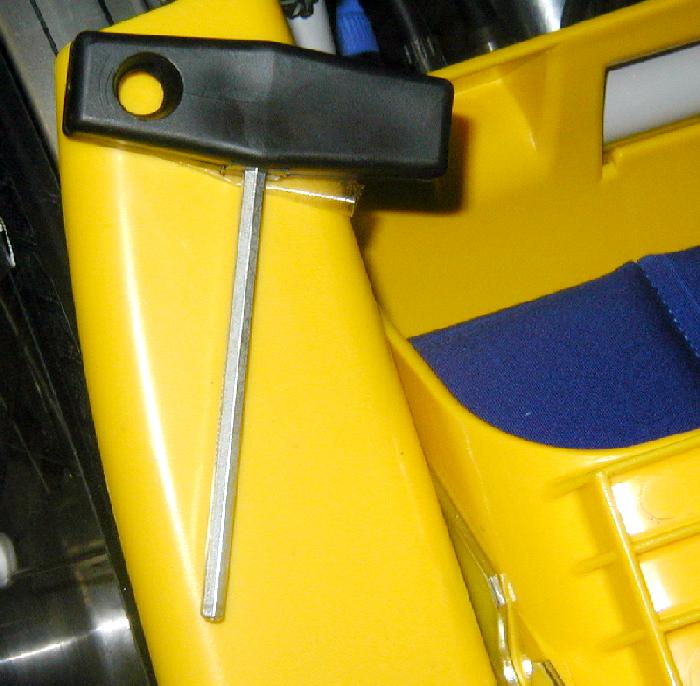 These are the same WIHA brand wrenches we use in the bike shop - the very best!
The chair itself has a high-density pad on a super comfy flexible nylon shell that's simple to clean. Electric models include a sensible charger that tells you exactly how charged your battery is at a glance - no guesswork. And this smart charger turns itself off when your battery is full.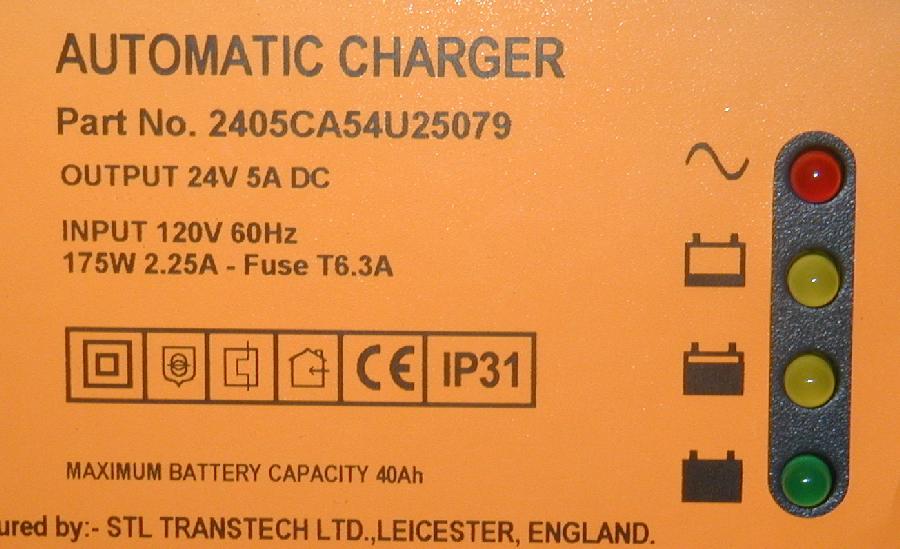 Every small aspect has been carfeully studied and elegantly executed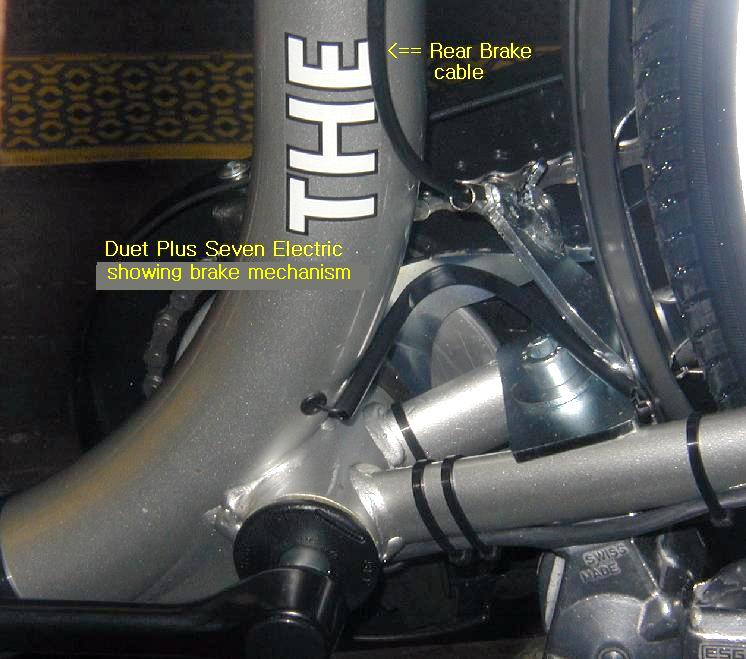 This is an artful solution to the rear brake actuation. Since it's best if all the mechanism for the bicycle half stays on the bicycle side of the linkage, the rear brake is appplied by a cam built into the crank - backpedal to get positive secure braking from the industry-standard VBrake. Why do we mention that specifically? Because it is so cleverly done! Take a look: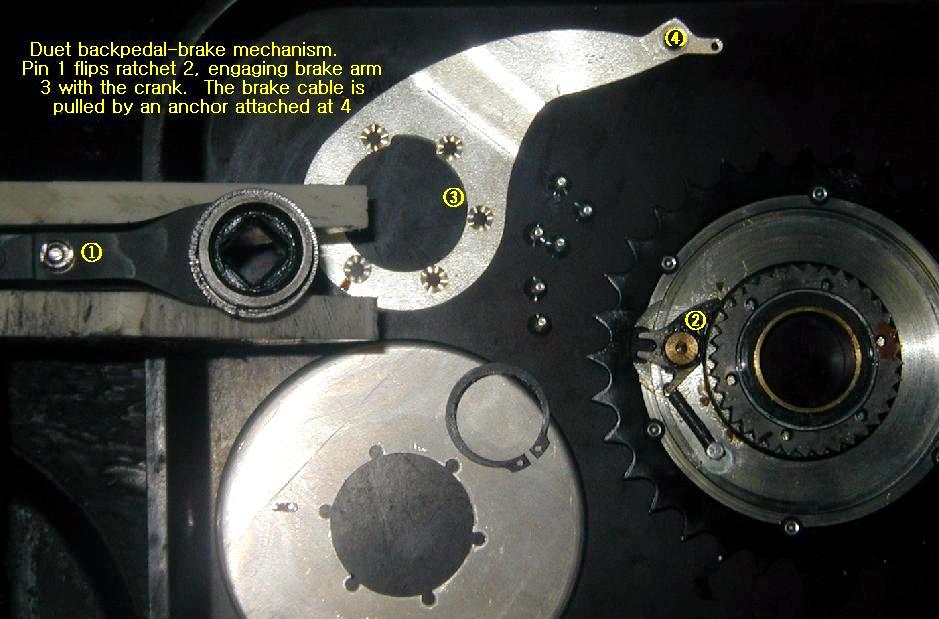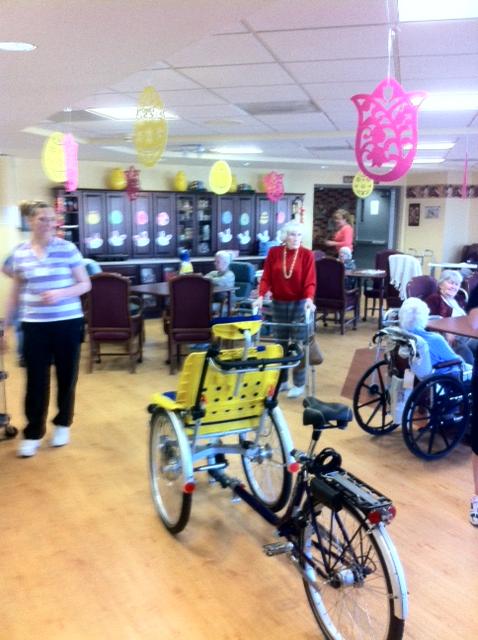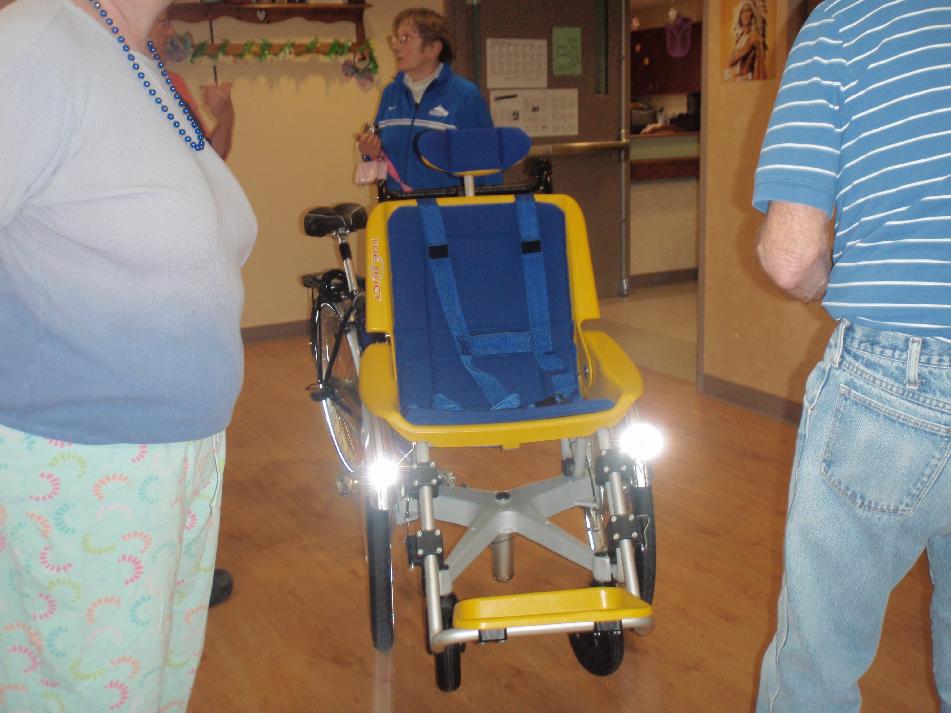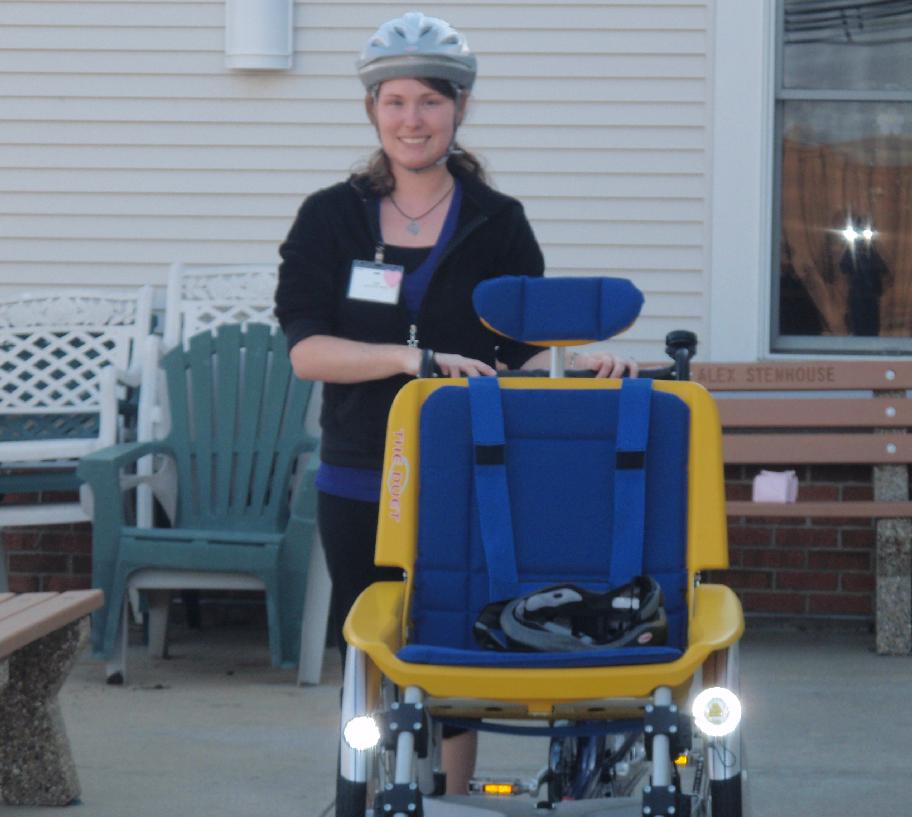 So overall, we think this is a great extension of your mobility and the Duet is even more fun than these pictures suggest!
. . . and we'll deliver your Duet within 200 miles of Madison at no extra charge!
Looks good, but I have some questions-click here to email