Holidays

at

Yellow Jersey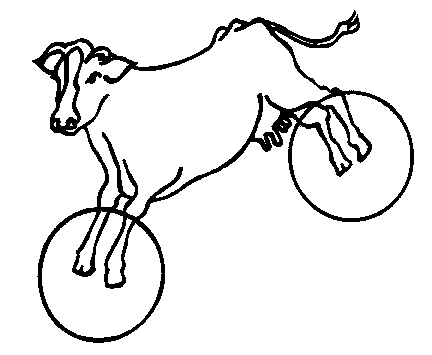 New Year's Day we ride the New Year's Day Bike Ride. This ride was started by Jerry Klotz and Fred Gooding in 1969. Call us sometime during Christmas week to find out the start point (someplace with coffee!). It used to be at 8:00am when Jerry organized the ride but cooler heads prevailed so now we leave at the crack of noon. The bike shop opens after the ride which may be 1:00pm or maybe as late as 4:00 or so if the weather's nice and we go for a long one.

Lincoln's Birthday is one of the victims of Richard Nixon's holiday revisions. We kinda like the guy (Lincoln, that is). Not much of a celebration, though, as we're open regular hours.

Chinese New Year is a good time to use up the leftover fireworks. It's better in New York. We are open regular hours.

Washington's Birthday too. See Lincoln. Both were sadly cheated of their holidays. We are open regular hours.

Valentine's Day we are here for regular hours. There is always chocolate.

St Patrick's Day is a big day here as that's when we change from salt-season bikes back to our summer bikes. Shine up that old friend and give it a little attention and oil today. We can help with that (we're open regular hours) then off to see Murray the bartender on his favorite holiday.

Vernal Equinox doesn't get as much attention now that our Wiccan bookkeeper has gone. On this day of regular daylight we hold regular hours.

It's our birthday on A p r i l F o o l ' s . We celebrate by fixing flat tires during regular hours. Snacks and beverages abound.

Easter is a Sunday so we're here on regular 12:00~5:00 Sunday hours. We don't celebrate Passover either.

Earth Day used to have a strong connection with bicycles. We liked that. Ride over and we'll celebrate with you, we're open regular hours.

Cinco de Mayo has a lot of potential to become a bigger holiday. For now, we're open regular hours.

Decoration Day is one of the holidays that Lyndon Johnson screwed up mercilessly. We will gratefully remember our fallen warriors. You and everyone else can go to a park and drink beer. They died so that you may live in this country and forget them entirely. We're open from noon 'till 5 pm. And we remember.

Flag Day doesn't get much attention nowadays so we're just open regular hours.
You won't 'see us naked in Michigan' for the Summer Solstice because we're here and open regular hours.

July Fourth is the very best holiday in the very best country ever! We can't tell you about our wonderful and copious fireworks because they are not legal in Wisconsin. The bike shop is open from noon until five.

Bastille Day .Our good friends at Rainbow Jersey bike shop in Milwaukee (no relation) make a bigger thing of this than we do. We are open regular hours and it's one of the few times we seek out a television (to watch le Tour). We could probably find a couple of firecrackers for you if you feel strongly about it. Regular hours.

Labor Day is the holiday when you decide that you need a car rack installed right now because your children are rambunctious. We can do that. See you between noon and five pm.

Autumnal Equinox we're here for regular hours but with markedly less joie de vivre than we once displayed (see Vernal Equinox) as our staff is presently deficient of Wiccans.

Reynolds and Easton eat your hearts out! Other tube mills don't get a holiday but Columbus sure does. Rudi Giuliani and the Pope will join us in celebrating Columbus Day, regular hours. (oh, I suppose St Vitus' Day but you can't really call that a holiday) Don't hold your breath waiting for Dedaccai Day, Tange Day or True Temper Day. Forza Italia!

Halloween we're open regular hours but we dress for Haloween at breakfast. Arlington doesn't do mayhem Did we mention the candy yet? Our sales counters always have topical treats on holidays.

Election Day is more important every time. Please remember to vote. We are open regular Tuesday hours, 10:00am until 6:00pm. Polls close at 8:00pm.
For Armistice Day We print a stack of John McRae's "In Flanders Fields". We're open regular hours and yes, we do remember.

Thanksgiving is quiet and calm in the bike shop. This is the day to put away the summer bike and get the other one ready for the salt to come. We can help with grease and get all the bits in order, which always seems like girding for battle. Can bikes say,"We, who are about to die, salute you" ?. They must think that anyway. You're welcome to share some nice jazz and a glass of wine with dinner. Officially noon to 5 but we serve all day long. This is a football-free zone and no family guilt or stress is allowed. Calendars notwithstanding , bicycles know this is the true start of winter.

We're happy that there will theoretically be more daylight after the Winter Solstice but you can't really tell in Wisconsin. It's dark when we ride in and it's dark when we ride home. We're open regular hours.

Christmas bike deliveries interrupt our morning. Then it's John Lee Hooker's 'Blue for Christmas', a little Miles Davis and food and drink for all. Roughly 12:00~5:00 but sometimes we go to a movie in the afternoon.
Back to Yellow Jersey Open Hours Page
Write us! Send an order , a question or your comment . We actually read your letters!