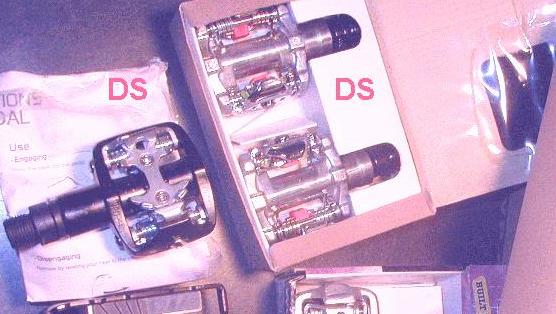 Waiting to go clipless? Wait no more! Clipless at Yellow Jersey now cost less than regular pedals with toeclips and straps. I'm not exaggerating.
We have some basic styles
.DS pedals The double-sided MTB type usually in either silver or black. 475g.$34.95
AC/DC Pedals
Our new model, above, from Welgo, is all metal, has 'smuv' bearing technology and is fully SPD compatible, $59.95
the not-quite Look discontinued
Genuine Look + Compatibles $69.95 & up
For everything except walking, the Look design is superior and now it's available. from WelGo for less!
Real French Look nylon or Welgo Aluminum, either $69.95
---
All pedals include cleats and hardware.

---
To use pedals with steel cleats, your shoes need to have two holes side by side and 15mm apart (that's most shoes). The first three pedals listed use steel cleats which are included along with all neccessary hardware. You even get the bowtie inserts with the female threads for the inside of your shoes which you may not need.
For the Look type pedals your shoe needs three holes- one in front and two beside each other. That is the standard format for most road shoes. They're hard-soled (shiny on the bottom) for more comfortable riding.

LOOK
2007 Update Look's classic pedal patents are expired. We now have 100% Look comatible pedals at $69.95, genuine Made in France Look pedals $69.95 and $99.95
Look's newest design, KEO, is a 'mini' version at $99 (cleat is similar shape but smaller) and up
Campagnolo Pro - Fit from $139.95
WelGo Look 100% compatible aluminum $69.95.
WEIGHTListed weight is Yellow Jersey weight - True and complete with two pedals, two cleats, inside plates and all the hardware. People who weigh one pedal and not the cleat often advertise lighter weight than we do. The pedals are the same pedals. We don'think pedal weight is worth a lie.

COMPATIBILITYWe buy pedals from a lot of sources and so they may vary a litte bit from the photos. Most of these pedals use a two-bolt cleat system that is not compatible with Shimano. If you own a pair of shoes with Shimano cleats already they might not clip into these pedals. If that's important, call us and we'll try to match what you have already, no promises. The cleats screw into all standard shoes. Any time you want two bicycles to be useful with one pair of shoes you'll need to plan ahead and get some advice. .

ORDERINGclick below and write us with your shipping address, daytime telephone and credit card number. Shipping in the continental US is $7. Wisconsin residents pay an extra two dollars and thirty one cents just because*. . If you want pedals shipped to Alaska or Switzerland or someplace we'll email with the shipping charges. You will get an email confirmation when we ship.
---
*For further information about Wisconsin's Sales Tax call 608.266.1212 .

ORDER DS Pedals

phone orders:
608.257.4737
or 608.257.7733
Fax orders:
608.257.5161

Some unusual pedals