Kestrel, in southern California, developed an original process for forming bicycle frames in one piece from a carbon-spectra matrix. Their bikes have won countless triathlons (and quite a few road races as well) and set the standard for carbon construction in our industry. Their process patent keeps Kestrel unmatched for strength and light weight with excellent handling and durability in spite of several attempts to copy their work. Other frames that look something like a Kestrel are actually glued together from separate tubes and bondo-filled to look as if they are all one piece. Kestrels are wonderful bikes - ask any Kestrel rider- but just a bit expensive, especially for most weekend triathletes who don't have a rich sponsor to buy their equipment.
Kestrel's engineers began to look at cost and concentrated on the huge steel molds that Kestrels require. How could they introduce a less expensive model when each frame size meant a new six-figure mold? Kestrel's answer is the new Talon - the most exciting new American bicycle design in years.
Talons start with a one-piece main triangle similar to their earlier bikes but with a bonded rear assembly. The main frame is a much smaller unit and the tool for it is of course much less expensive, too. To design around the bonding problems lesser bikes show, Kestrel made the bond area ten times larger than anyone had before. To keep the nice responsive feel, the Talon's stays are a clean aerodynamic profile but many times deeper than any other carbon frame. The result is a good looking lightweight frame that's just $1399 with Kestrel's famous carbon fork - the first and still best carbon fork system
Here's a page to help you with Kestrel frame sizing . The geometry is a very standard race layout, so look to the top tube length primarily.
---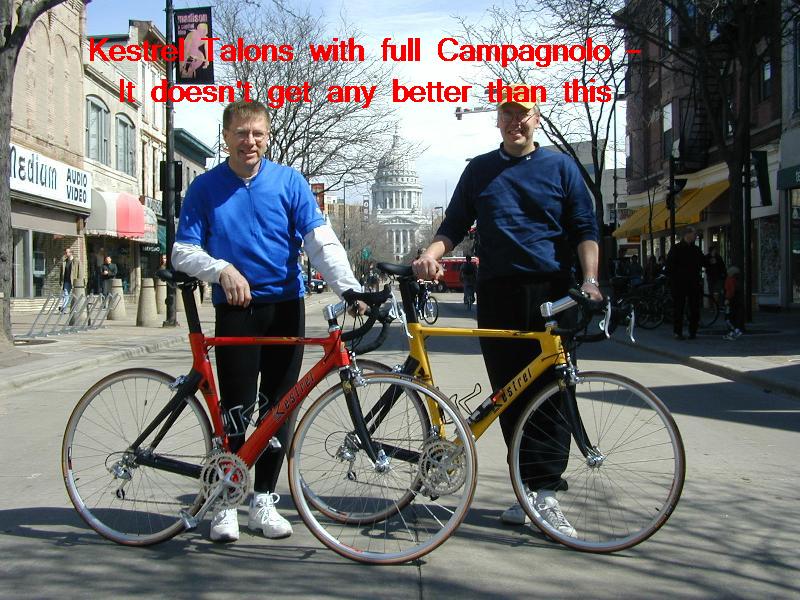 Not to do this halfway, Kestrel's engineers listened to riders to find out how they rode and what they needed. The result is so obvious but never done before. Kestrel's Talon comes with an insert so you can use your favorite round 27.2 seatpost. If you're a triathlete, Kestrel offers a wonderfully sleek seatpost, aero of course, that has two positions. Set it back for your basic Italian road position. It's comfortable for long training rides all week long. On Sunday morning just change the seat clip to the forward position and you have an effective full triathlon position well over the pedals for maximum power. Add your aero bars and your Talon becomes a real triathlon bike with real triathlon full aero format. If you wish, keep your Talon Aero Seatpost set up for triathlons and use the included insert with your a round post for daily training. Either way you use it, the Talon gives a legitimately correct seat position for both formats. Kestrel dual-position aero seatpost $99.95
Of course, the Kestrel Talon seatpost (either one) is secured with a positive wedge system that won't bind or deform even the lightest carbon post.
---
Here's a closeup: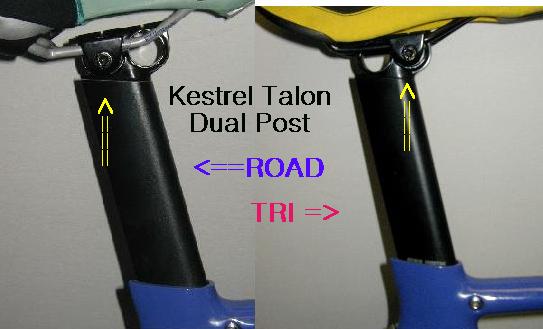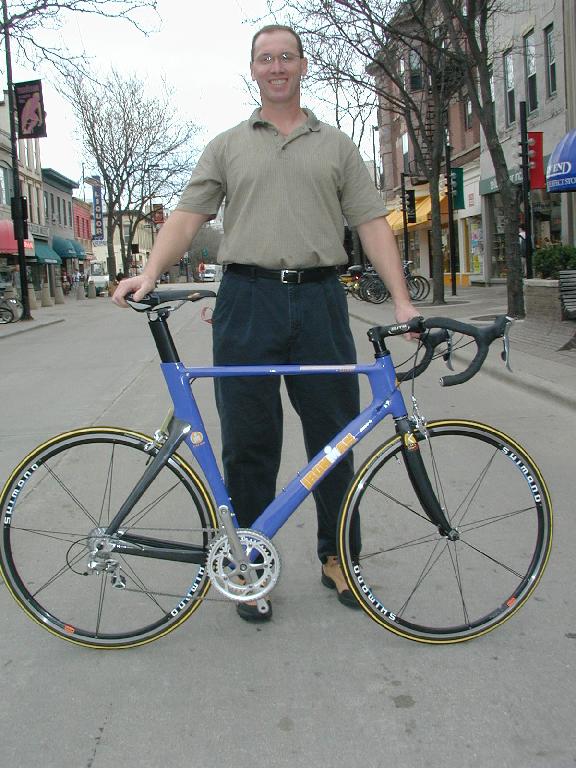 Like the bike above, you can select Kestrel's factory package with Shimano 105 and the new Shimano aero wheels for just $1999. That's a complete bike, built and ready to ride. Sorry, no substitutions on this model except stem length and saddle. Pedals not included. If you prefer handbuilt wheels and a full spectrum of custom options, our Campagnolo packages start at just $785, complete Talon bicycle $2050. Campagnolo's newest group, the Centaur, in either nine speed or ten speed is just $985 for a complete bike package, so of $2225 (plus pedals) as shown above in the photo of two Kestrel Talons together. Chorus Bike $3030, Record $3395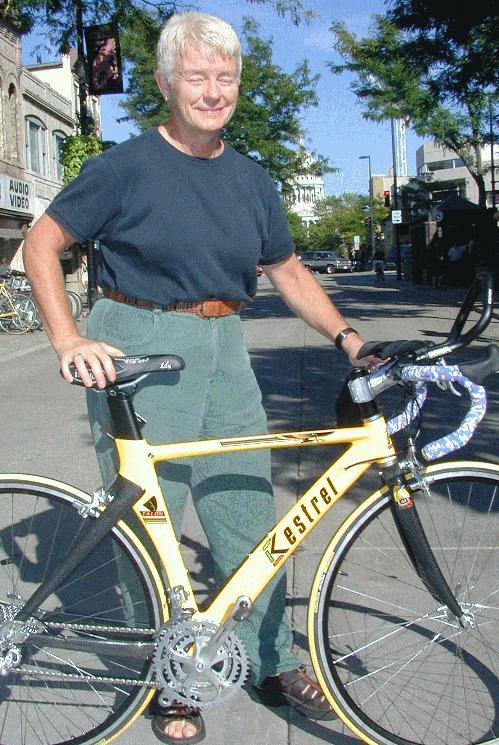 A bit nicer yet very affordable is our Campagnolo Chorus package (shown here in the racy Talon Yellow) for only $3030 plus the Speedplay pedals. As always, choose nine or ten speed cassette and either double or triple - same price! (Upcharge for Record Triple crank on a Chorus bike)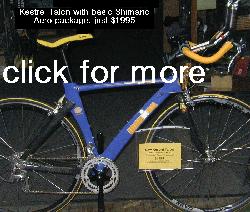 We are often asked to build bikes differently from the factory specs. Kestrel's Ultegra Aero package has become a very standard bike on the Triathlon circuit. But with an eye to economy, we built this flashy Talon Ironman for only $1995! See the details here: Talon Basic Shimano Aero
COLOR NOTE: 2007 are Red or the New Blue below; some YELLOW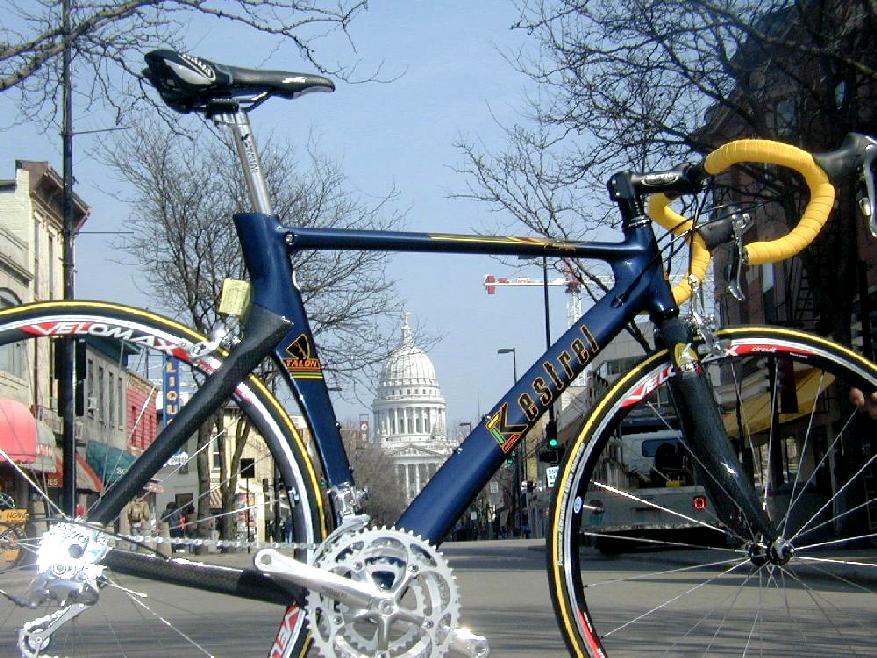 The new blue color is so awesome I wrote a webpage just for Kestrel's New Color and lots more photos
Also new this year is a true 3-pound Talon. Here is the new SL version - same weight as the famous Kestrel 300EMS- the Talon SL model is only 2.4 pounds! Talon SL are offered in nattural carbon only with white/light blue graphics, Talon now just red or gunmetal blue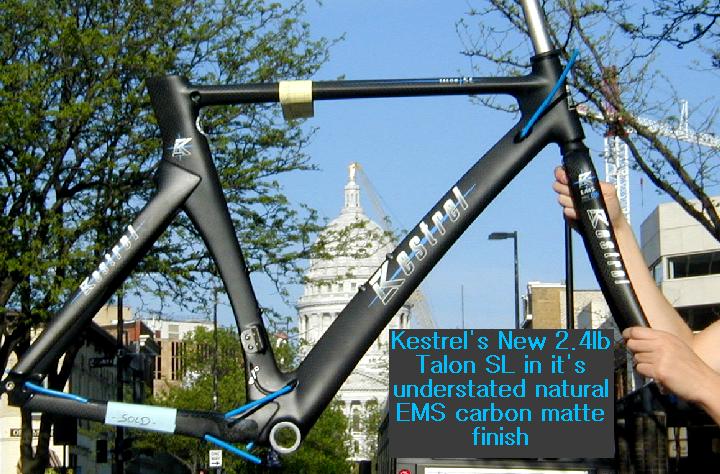 For more options see our full Campagnolo equipment options by clicking the Campagnolo logo:
Campagnolo at Yellow Jersey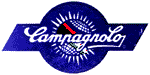 New Super Light Kestrel Talon SL
Super Duper Light Kestrels for 2007
Our Italian Kestrel expert Christine Grimando & Kestel 500SCi , 200SCi, KM40