The "The Seat" Bicycle Seat from Yellow Jersey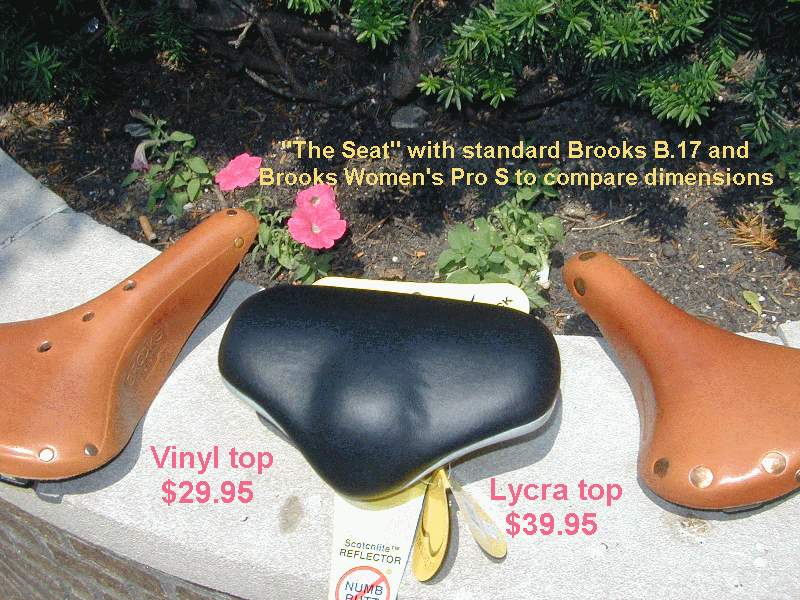 This timeless design, described in Archibald Sharp's book "Bicycles and Tricycles" (published in 1899) recurs sporadically in the bicycle industry and has popped up again as "The Seat". If you have some predilection or an affinity toward a bicycle seat without the center part, this seat's for you! We've put it next to some classic shaped Brooks men's and women's models in the photo above to give you an idea of how "The Seat" varies in shape from standard saddles.
The current version uses normal steel saddle rails so it will fit virtually every bicycle currently produced using the standard hardware on your bike already with no special adapaters or expensive modifications. Just bolt it on and ride!
Two models are offered, a vinyl cover at $29.95 and a lycra top version at only $39.95. They are then essentially the same price as other seats with similar materials. There's a hard nylon trim around the outside so if your bike should happen to kiss the pavement the top won't be easily torn. The back edge of The Seat incorporates a reflectorized strip for safety and there's a full generous inch of high-density padding.
We can ship these promptly anywhere, $8 to most addresses. Not everyone is comfortable on any given saddle and we understand that. You may exchange or return your saddle within 30 days as long as The Seat is like-new with the original packaging. Shipping and return shipping charges are on you, but no restock fee. If you've always thought the middle of your seat doesn't like you, perhaps this would address that problem. What the heck, it's only $39.95, so why not try one?
Installation.& adjustment, please see below
YES! we have a broad selection of saddles
in every imaginable permutation, click for larger images: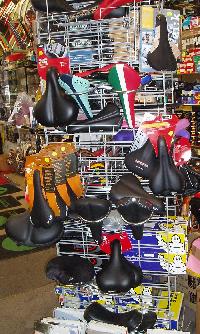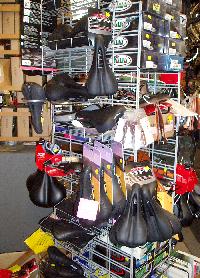 How to install and adjust your saddle
Sure, I'd like one today

I'm just not sure - tell me more

How might I order one of these?

I'd like to see some more saddle choices