Toeclips, straps

and

classic pedals

at

Yellow Jersey

The common wisdom now is that everyone should have clipless pedals.

Well, we like those.

Clipless are comfortable and positive, excellent for racing,
century or just meandering up to Lodi for breakfast on a Sunday morning (one of
our favorite rides).

For short errands, like riding to the grocery, for commuting to work or school, do you
really want to stop to change your shoes? I sure don't.

If your only bike is clipless, you're probably missing some nice short trips.!

If you've adopted neither clipless nor toeclips, you should reconsider. Although Grant
Peterson has given us his nice essay on the virtues of simple plain flat pedals ( and he
has a point), for most riders on most rides, some better connection between bike and feet
is just a good idea. For starts, I think I can ride farther more comfortably when
my feet don't slide around. I admit I hardly notice this going couple of blocks, but on anything
beyond that I feel tension in my calf and foot. I have the feeling I'm restraining my efforts, just
to keep from slipping off. And anything out of the saddle is just plain safer with clips. I'm intimidated
by even moderately high rpms on a fixed without the security of those nice straps.

You're probably inclined to toeclips already or you wouldn't be reading this, right?

Let's digress for just a moment to look at How Things Don't Work.
Click that and then come back , OK?

We carry a large selection of classic toeclip- compatible pedals from about $14.95, including some
nice MKS products:(vintage equipment is a different discussion)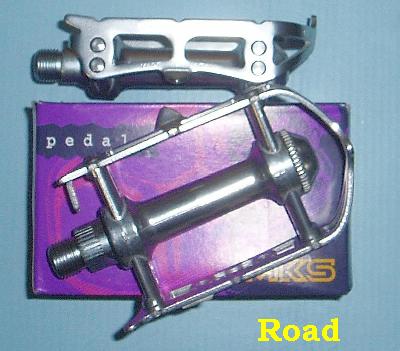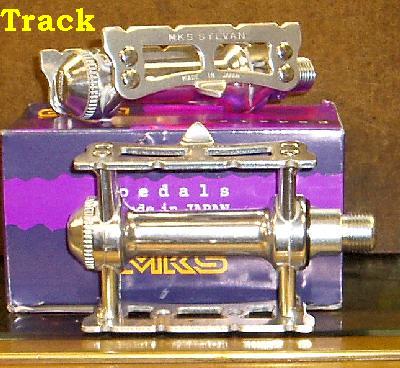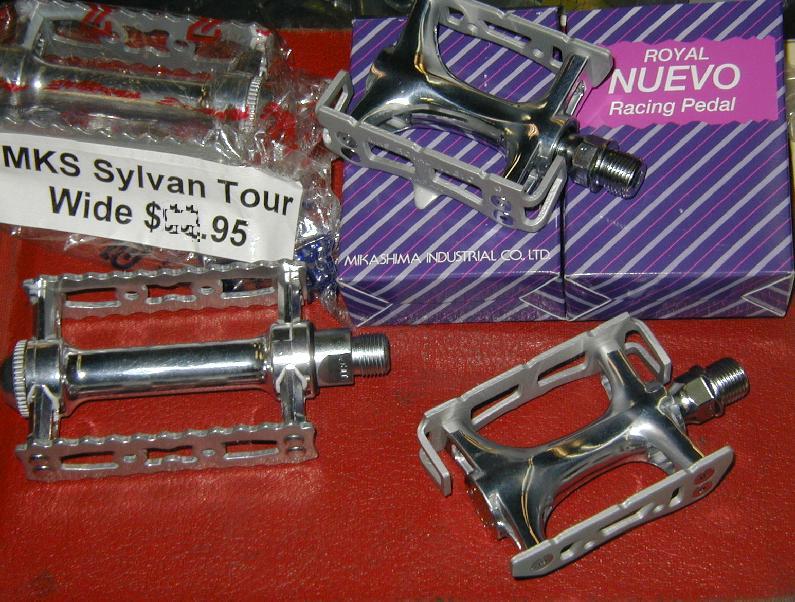 There are a lot of nice traditional format pedals here but the best overall values seem to always be
MKS products. Carefully made in Osaka, Japan, the MKS Sylvan series at just $34.95
includes a track, road and the super wide touring model. All have forged CrMo spindles, beautifully finished
forged aluminum bodies that last forever, smooth adjustable and rebuildable bearings and they accept
standard toeclips and straps easily.
Are you the curious type? Do you crave minutiae? No problem!
Simply click for M K S Technical Data, than click "back" to return here.
Mikashima's latest model, the MKS Royal Nuevo is what a Superbe pedal would look like
if there were a 2011 Superbe pedal.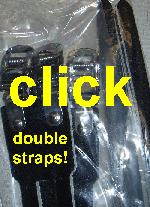 New Products!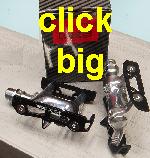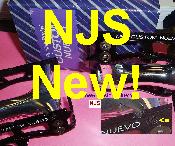 Some Traditional Style Pedals
all are 9/16" and all are pairs
MKS Royal Nuevo $169
MKS Pro R X 1 $169
MKS Custom Nuevo NJS $169
MKS Sylvan Road $34.95
MKS Sylvan Track $34.95
MKS Sylvan Tour (wide) $34.95
MKS Stream Track $34.95
MKS MT-Luxe $39.95
MKS New! MT-Lite shown above $39.95
MKS copy by Cyclist Choice (cast aluminum) $19.95
Limited selection of nylon toeclips from Zefal
They are made out of DuPont Zytel.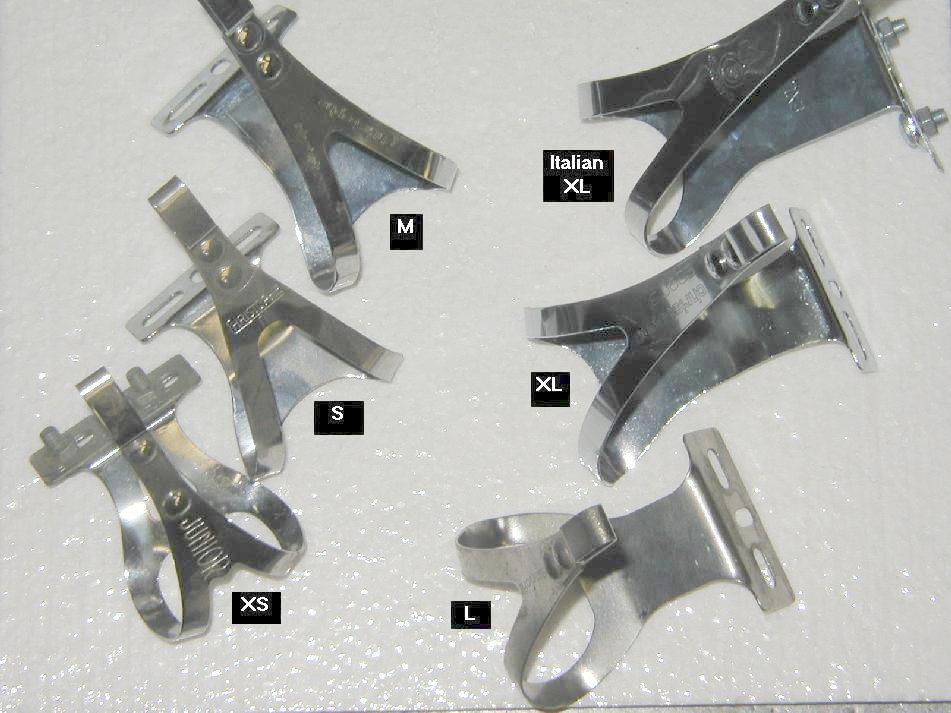 We are sold out of Zefal nylon Zytel toeclips in Road (S-M-L-XL)
YES still Zéfal Mountain Bike style
(Small-Medium or Large-X-Large sizes).
sold out of Zefal's half-clips (no strap)
Zytel is a premium nylon that doesn't shatter like the chintzy Asian ones you just broke - the ones
which inspired you to find this page.
YES we have MKS half clips in Chromed Steel $19.95
and with leather covers $39.95
We still have some classic chromed steel toeclips in S-M-L-XL . Sadly , extrasmall children's toeclips
are out. Genuine Italian Doppio Pista double-rivetted chromed steel clips available.
Beyond that we have a smattering of other "special" toeclips - please D O ask for assistance
if yours have some weird mounting
- we may be able to help.
Toestraps are either the modern no-rot Nylon or if you prefer, classic Leather.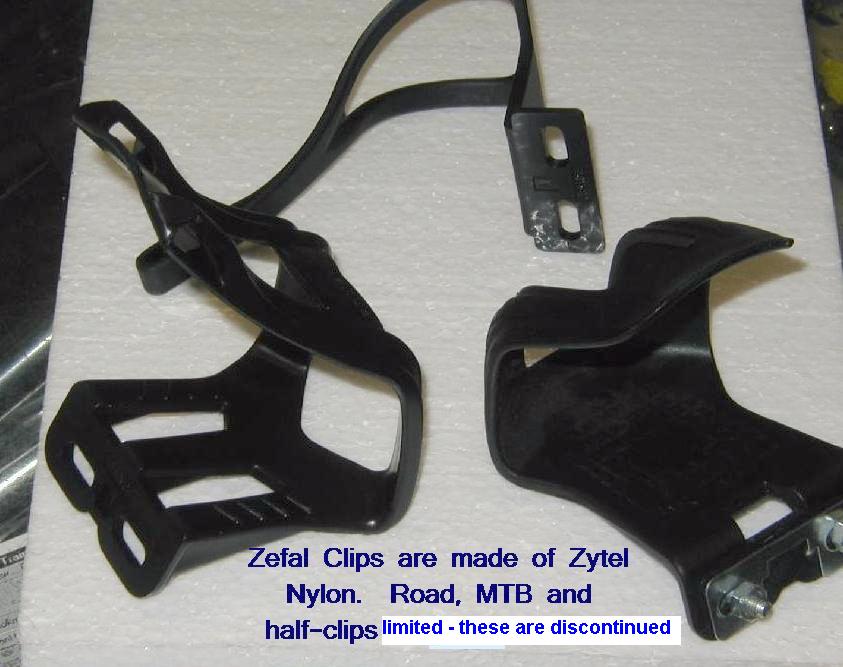 MANY HARD-TO-FIND ITEMS HERE!
Click the picture below to zoom larger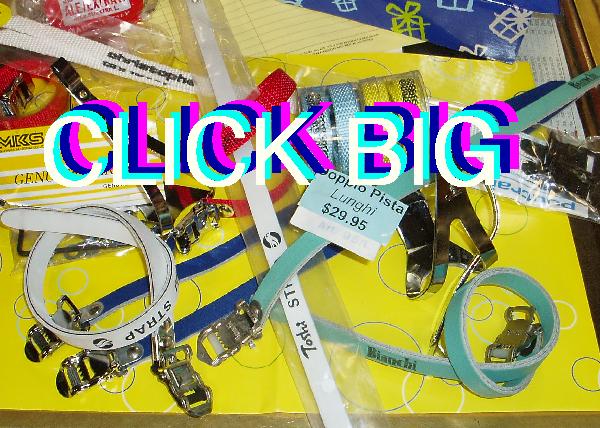 Basic Toeclips and Straps
all are pairs
Zefal Zytel no-crack road toeclips S-M-L-XL $- out -
Zefal Zytel 'mountain bike' tall section toeclips M or L $29.95
Zefal Zytel half-clips SM-LG $ - out -
Cyclist Choice Black nylon toestraps $9.95
Cyclist Choice new VP Black Leather toestraps $19.95
New! VP natural brown Leather toestraps (long!) $19.95
New! VP now in light or dark brown $19.95
click
S O M A DOUBLE WIDE Black leather toestraps $29.95
S O M A DOUBLE EARS toeclips $29.95
Cyclist Choice DOUBLE EARS steel toeclips chrome or white $19.95
S O M A DOUBLE EARS, DOUBLE STRAPS toeclips $29.95
Cyclist Choice Wide one-strap steel toeclips chrome or white $19.95
Zefal nylon toestraps (limited colors) $- out- , use ALE
S O M A PAKE tough PVC toestraps, bright colors tougher than nails. Really. $19.95
if you liked French Toutan toestraps, these SOMA are like those!
A few of these things can all fit in a 2-day packet -
anywhere in USA for eight bucks
Esoteric Toeclips and Straps
Zefal - Christophe Chromed road toeclips S or M $49.95 (L are -all sold- )
A.L.E. chromed steel toeclips -out-
A.L.E. Stainless Steel toeclips size M only $49.95
A.L.E. Doppio Pista chromed steel doubled toeclips Large only $49.95
Christophe Leather toestraps; Pro White, sometimes colors $39.95
A.L.E. Italian leather toestraps Blue $19.95
MKS Real leather toestraps black, natural, Pro White, heavy buckles $39.95
A.L.E. Premium white professional leather toestraps $29.95
A.L.E. Pro buckles Nylon colors Red Yellow Blue SilverGrey straps $34.95
Shimano three-bolt grey nylon toeclips size LL only $39.95
Shimano three-bolt blue nylon toeclips ONLY 'LL'$39.95
Shimano hardware packet -six screws and two triangular plates -out-
MKSchromed steel toeclips sizes M-L-LL*$19.95
TOSHI premium laminated leather Keirin straps, white only $89.95
Bianchi genuine Italian vintage leather Celeste straps $ O U T
Campagnolo standard style chromed toeclips link below
Campagnolo standard style aluminum toeclips link below
Cinelli standard style aluminum toeclips link below
Campagnolo vertical bolts 'aero' chromed toeclips link below
Campagnolo vertical bolts 'aero' aluminum toeclips link below
Campagnolo Classic toeclips, straps, pedals CLICK HERE
3Rensho Original Keirin straps made by Sugino * s o l d ou t *
stainless!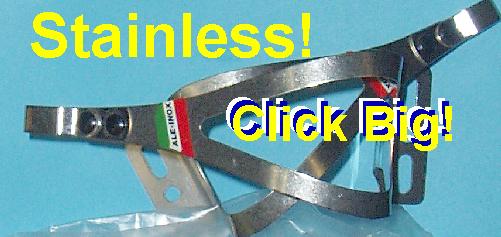 EVERYTHING ON THIS PAGE => PAIRS ONLY

We have available a few pairs of CicloLinea Italian toestrap end pull tabs, $4.95 MKS end pull tabs $9.95
Click to enlarge photos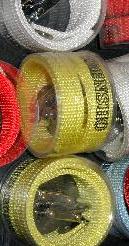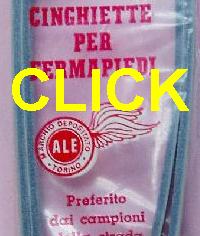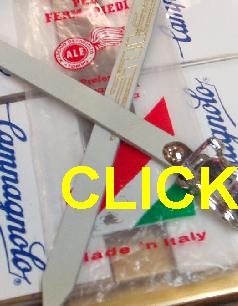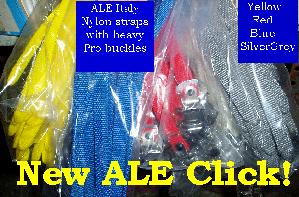 *Here's the note to go with that asterisk
Japanese toeclip sizes
are scaled smaller than
Euro toeclip sizes.
Japanese S equals Euro XS

Japanese M equals Euro S

Japanese L equals Euro M

Japanese LL equals Euro L

Japanese don't produce Euro XL
BLUE CLEATS
Cleats for traditional toeclip pedals on modern shoes