With the currently renewed interest in fixed gear and single speed, some riders find themselves locked out from all the fun as their frames have skimpy little vertical ends. Sure you can switch between the 42-17 and the 43-17, scrounge up a half-link after the chain wears in a bit and even risk a dorky chain tensioner (a $40 lump of ugly!) but face it - - nothing beats a normal fixed wheel with a peanut butter wrench!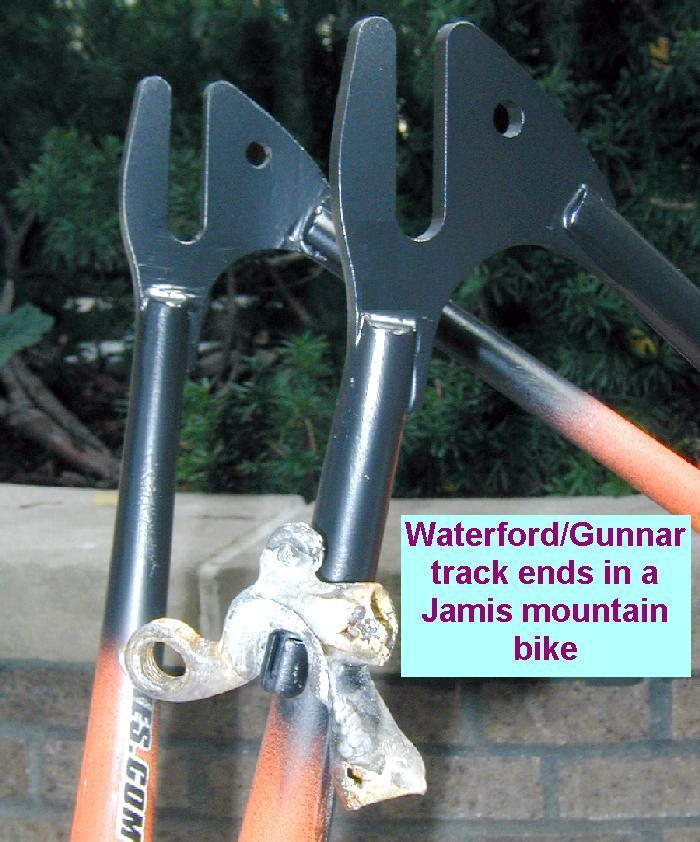 We use top quality ends and we are fast. No, you do not have to use real track ends, either. we can braze in classic road ends so you can still have the option of a derailleur.
We get rid of those pesky little ends: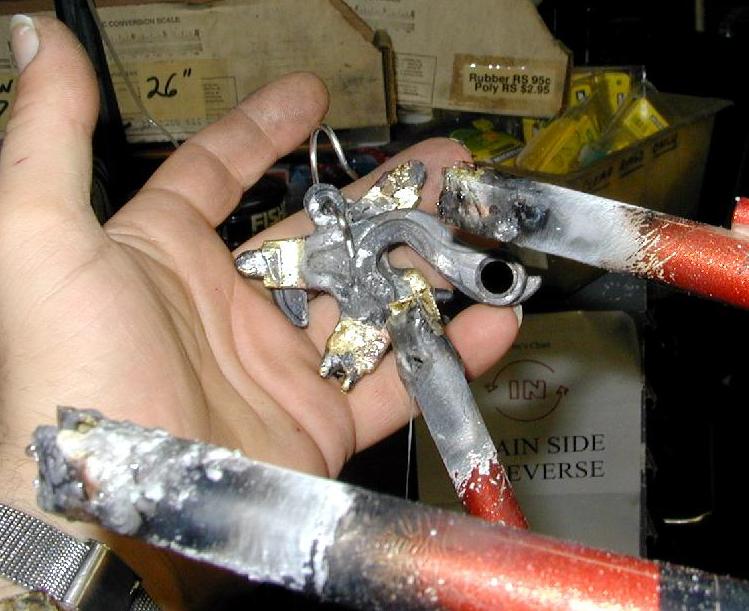 Then you get an email like this: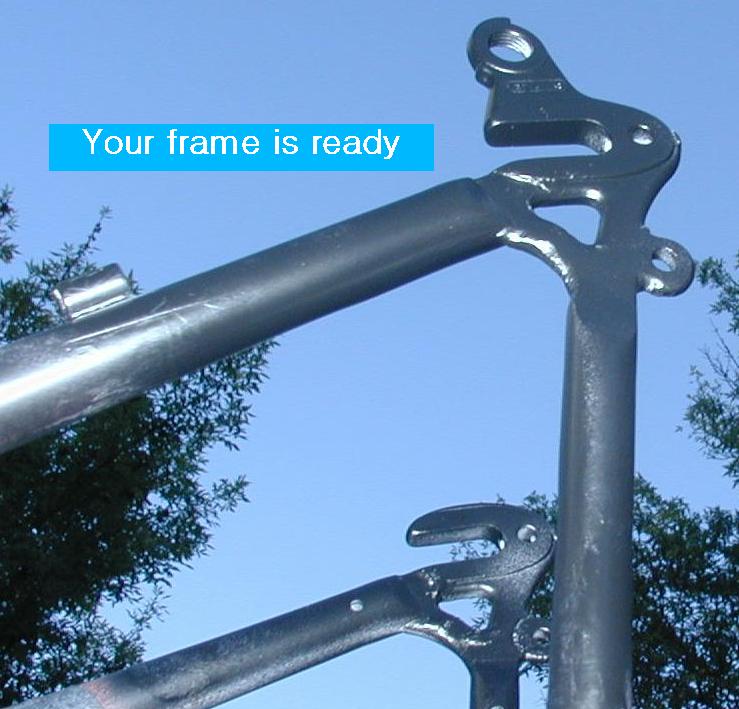 You may have mudguard/rack eyelets if you wish - just ask! We're good either way - or you may ask us to cut them off. Same story with a derailleur mount. Want one? Just ask! As long as we're there it's no trouble to add or remove as you wish.
So, what does this all cost? Not much! For most normal road bikes, $150 for the whole job
That includes metal prep, primer and a shot of our classic flat black spray paint. (Flat black matches everything). There's an upcharge to dechrome existing plating. extra for excessivecorrosion, for unusual frame/wheel format, and for other impedimenta We also shoot real DuPont auto acrylic paints. Any one color solid or metallic $300 . Write us by clicking one of the email clicks on this page.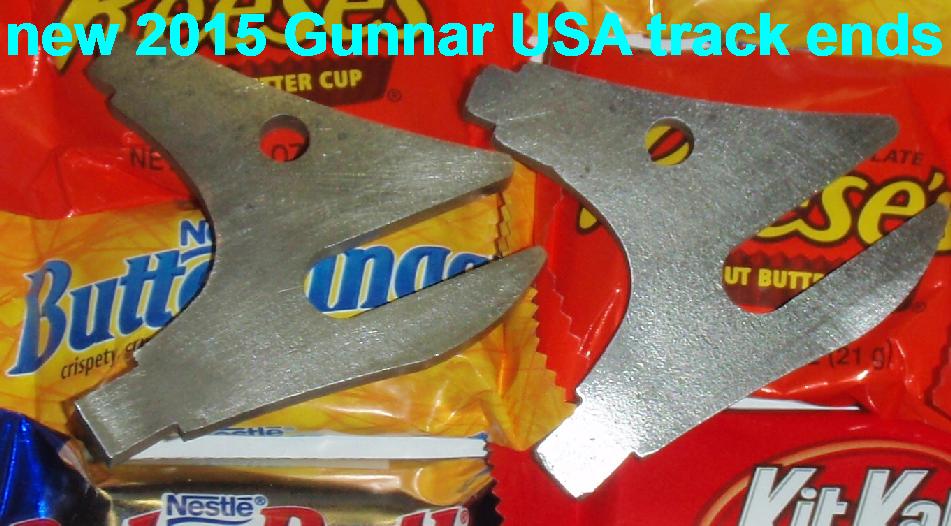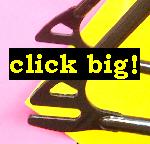 click big image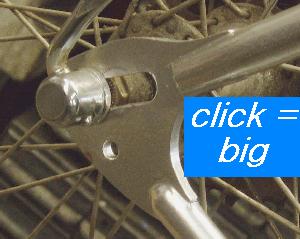 Click for larger detailed photo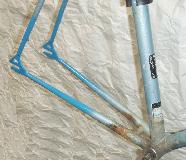 Click for larger detailed photo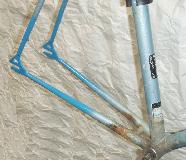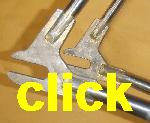 Click small images for larger detailed photo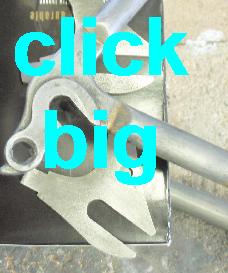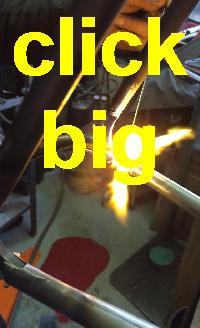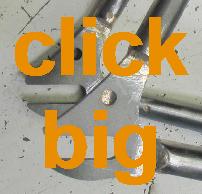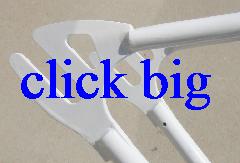 Click small images for larger detailed photo
A few months ago I brought in a frame that had been run over by a car. You replaced the chainstays and installed track ends. I never got a chance to get back to you after I received the frame in the mail. The frame looks excellent. I had the frame refinished and just, in the past couple of weeks, re-assembled everything and took it for a few rides. Everything is perfect. Thank you very much for your work on this. I've been telling everyone great things about this frame repair.
Anyhow, that's all. I just wanted to say thanks!
---Eric
Send us email about upgrading your frame.
To send a frame for alignment or frame repair, wrap a paper with your name and day telephone number and/or email address around one of the frame tubes.
Ship it to:
Yellow Jersey, Ltd.
219 Main Street
PO Box 17
Arlington WI 53911 USA
Include your name/telephone/email on the frame itself please
Insure your carton!
We'll ship it back to you promptly!

Need more info? email us
Here's a frame alignment photo series.
Here's another frame alignment
If you need help joining track chain, we have a page on that, too
---
And we can repair your broken frame end , too, promptly and cheaply: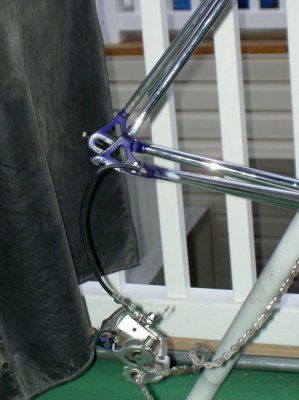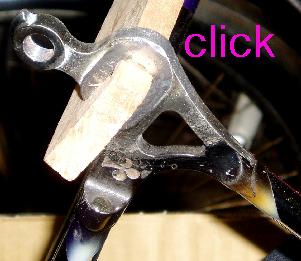 Here's a whole page about frame end repair
---