Tubular Update at Yellow Jersey
Tubulars $19.95, 3 for $50
NOW TWO COLORS
Tan or Black
Servizio Corsa -black tread natural sidewall 127tpi 300g
Yes! -newly arrived!
Servizio Corsa -black tread black sidewall 300g, 127tpi all black
all with premiun quality removable brass valve cores
Yes you may mix for "three pack" price
We carry a broad range of tubulars always
Servizio Corsa is our best value tubular for all around riding!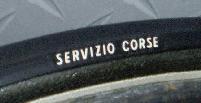 `
Here's more on those and other tubulars