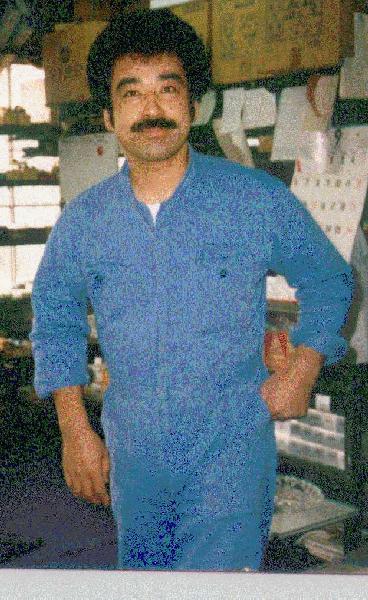 We'll assume you arrived at this page from our main Nagasawa webpage so you're familiar with Mr Nagasawa and with his work.
For 2004, 2005 and 2006, we supplied a very few frames. We do not expect to supply more than a very few frames for 2007, either. We always have one or two and you may order custom track but no longer road . After over twenty five years we've never seen a Nagasawa frame that wasn't absolutely stunning. Take a few moments to view our linked Nagasawa pages [links below]
| | |
| --- | --- |
| | Mr Nagasawa is not accepting any new frame orders |
For a few years, we were able to supply Nagasawa Road frames on a limited special-order basis.
As a skilled, competent and respected framebuilder at the top of his game, Mr Nagasawa builds extreme track, and the occasional "Road Fixed" frames. He's developed a distinctive and refined style. He builds bikes his way. His bikes ride very well. Mr. Nagasawa built nine of Kiochi Nakano's ten world championship frames and hundreds of victorious Keirin machines. You'd be pressed to name more than a handful of men alive who are his peers.
However Mr Nagasawa will not be held to a schedule. For the pinnacle of track framesets, you may specify frame size to center, top tube, high or low BB and one color. It will not arrive quickly. You'll get his geometry and his selection of frame material. Nagasawa framesets are proven, solid straight and sexy -- carefully hand finished and fully lugged with solid forged crowns , hanger shells and tough cast ends. All castings and fittings are of Mr Nagasawa's own design. He remains enamored of ornate bottom bracket shells and clean traditional lug cuts.
Technical specifications are normal ISO: 1.370"x24tpi BSC frame threads, 1"x24tpi threaded steerer, 30.2mm head tube, 120mm-plus* rear end, 26.8 seatpost.
Forks are tight, clean and stiff and will not accomodate any currently produced caliper, so please don't drill them, OK?
Track framesets ship with a Hatta Pro headset and crank bearing assembly installed, just the way the pros ride.
NO ROAD SPECIAL ORDERS.

---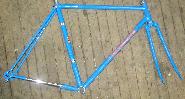 Here is a beautiful 2003 Nagasawa frameset. If you were wondering, "Just how nice could they be ?", the answer is, "Pretty darned nice!"

When you are ready to own a new Nagasawa Track frameset, CALL , we may have it here!

Yes, they are few. But we are always #1in Nagasawa so do ask!

We know which other Nagasawas are in USA right now.

Custom Frames in your choice of size, top tube and color require a deposit
No more frame orders
$XXX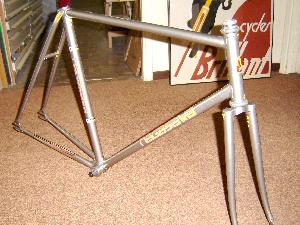 c l i c k __ f o r __ l a r g e __ p h o t o
---
Keirin

Nagasawa World Champion Keirin framesets were available to your choice of size and color at $XXX. Mr Nagasawa was a certified Keirin builder and his record of famous and victorious customers speaks for itself. No more frame orders
| | |
| --- | --- |
| | Mr Nagasawa is not accepting any new frame orders |
Nagasawa Custom Frame Orders
placed now
will arrive in roughly [n; where n is large] years
OFTEN LONGER
| | |
| --- | --- |
| | Mr Nagasawa is not accepting any new frame orders |
---
Nagasawa Road Fixed Gear
Nagasawa's immaculate workmanship, gifted design and stunning lugwork with just a touch more clearance to allow modern 450 brakes make the Road Fixed Gear Nagasawa frameset. As always, custom to your choice of size and color at $XXX. Mr Nagasawa does not build a 'second quality' frame. Every aspect is super premium quality, balanced for the urban rider who needs brake clearance. (Keirin frames cannot accept any currently produced caliper) .
Road Fixed have drilled crown, allen-mount seatstay bridge and top tube cable loops. Clearances are adjusted for current 450 calipers> Delivery [n; where n is large] years.

click for a beautiful white pista example of his work