Campagnolo Ergo-10 or Ergo-11
Drivetrain Upgrade Packages

$ask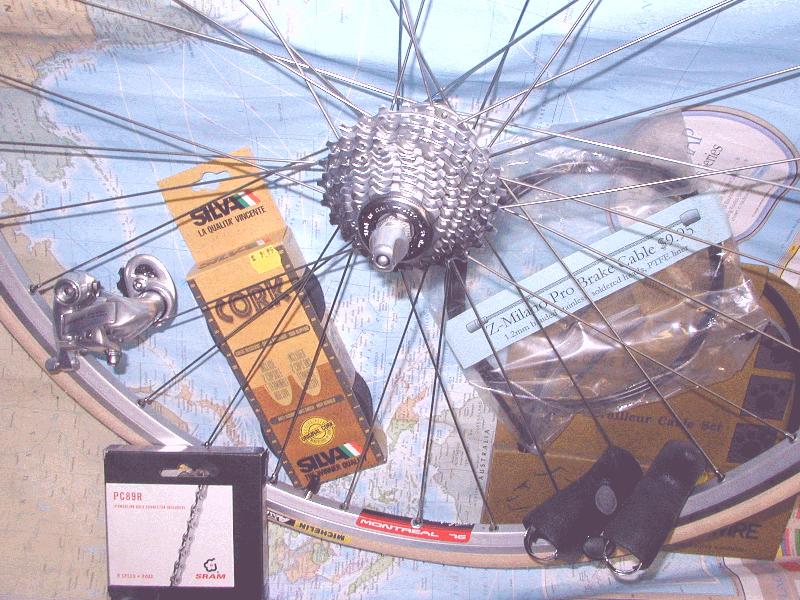 We can bring your classic bike into the modern world

---

Campagnolo compatible Velocity sealed bearing rear hub, 32 or 36
Campagnolo compatible Miche sealed bearnig rear hub, 32 or 36
Campagnolo Record 32h rear hub (or pairs) option
Yes, Record 32h Black is the only current Campagnolo road hub
Yes a pair of matching hubs/wheels is always an attractive option
Velocity Aerohead O/C or Velocity Escape rim, [tubular or clincher ]
alternate: Velocity rims, in colors box or aero section, or Araya, SOMA, etc rims
Stainless butted NJS spokes, 14-16-14 with DT Swiss hardbrass nipples
Professionally handbuilt Yellow Jersey wheelbuild
KMC-Pro Ten or Eleven chain includes snaplink optional chains available
Campagnolo Ten or Eleven cassette, 12 or 13 start, low from 23 to 29t.
optional Spidered cassettes or 11t start cassettes at slight upcharge
Campagnolo matching rear derailleur
Campagnolo Ergo lever set
Complete stainless gear cable/casing set
Comlpete stainless brake cable/casing set
New handlebar tape - go nuts for colors , we have everything!
Frame cleaning and alignment check. Minor alignment included.
Gear system installation and adjustment
Brake system minor adjustment

---

optional equipment at reasonable upcharge- ask!
Priced separately, you'd expect to pay a lot, plus labor charges. 2017 marks our 21st YEAR with this exceptional value and ever popular Ergo conversion package. This year, we're able to provide this excellent upgrade from
$call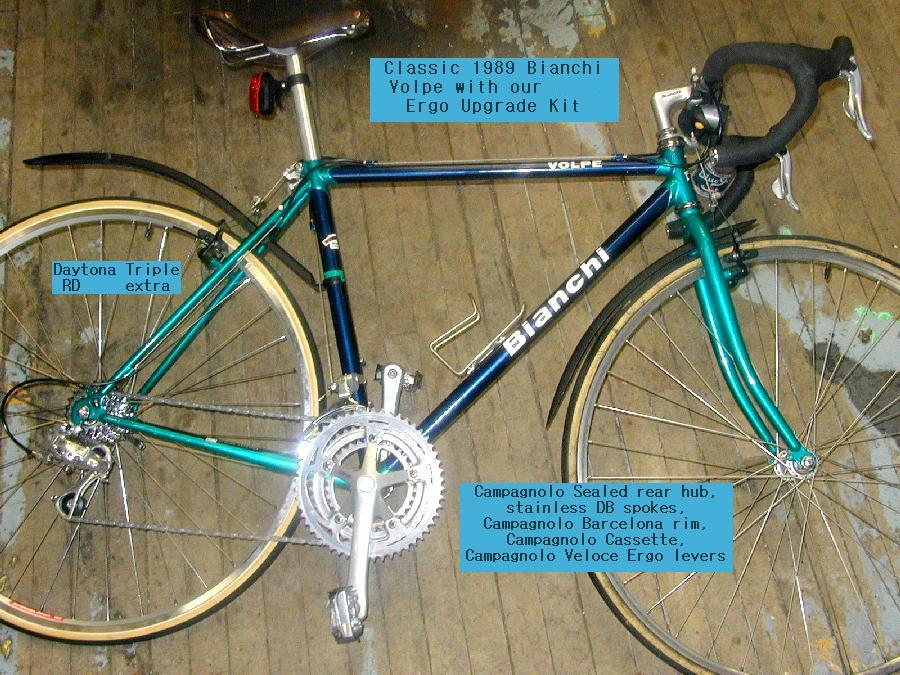 Other Optional Formats
Photo above shows Veloce-9 Ergos $-out-
no more Mirage/ Veloce 10 equipment
Centaur* $-out-
NEW Potenza 11
NEW Athena 11
Chorus-11
Record-11
Super Record 11
Due to more complex comaptibility issues with modern
Campagnolo systems, we now estimate each conversion
based on your particular prior equipment and requests
And we're amenable to your custom requests - feel free to interpolate within these suggested packages and we'll do it your way! Feel free to tell us what you require. This may be the right time to give some attention to the other components on your bike. Maybe shelf that classic race crank with a 42 and get the modern compact crank with the lower gears you really want!
Yes, you can ship your bike to us ( we don't need the old wheels so you can ship in a frame carton). We'll treat your bike to a Campagnolo upgrade kit, smother it with love, pack it well and return it to you the very next morning, insured, with online tracking. You'll be riding in just a matter of days - often less time than your local bike shop takes to process service - because we're the masters of prompt service. Everything we need is in stock and our mechanics are Campagnolo certified.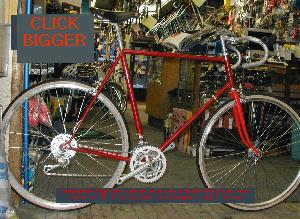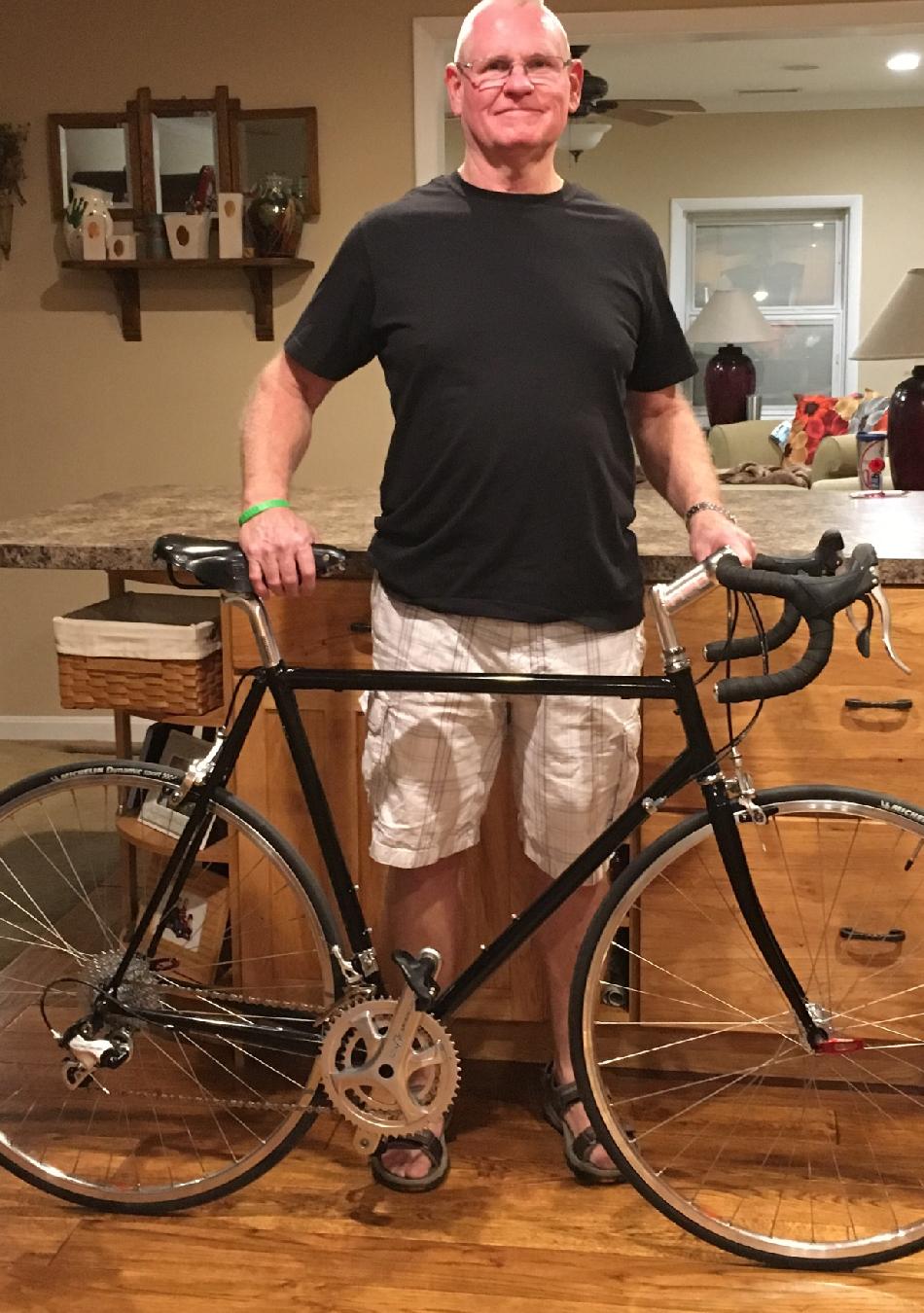 Although Campagnolo Ergo systems are a good value and very popular, sometimes your requirements lead us to a mixed package. Talk with us! We have everything. No matter what you need, we've probably solved the same problem for someone else before! Ride in or email and we'll help.
Perhaps you have trepidation about
sending your bike away for major surgery?
Here's a customer comment:
I received my bike yesterday afternoon,spent an hour or so putting it back together and then went riding. What a great job by you and your staff. I rode 25 miles last evening from my house to Saratoga and back. The bike performed flawlessly for the entire ride and rides better than ever. I plan on going out again, as soon as the sun is up this morning. Please extend my thanks to your staff for doing a wonderful job on my bike. Also many thanks for your promptness, accuracy and courtesy. I will certainly not hesitate to do business with you again.
Sincere Thanks,
Leslie
---
We can deluxe your bicycle, too! email us!
---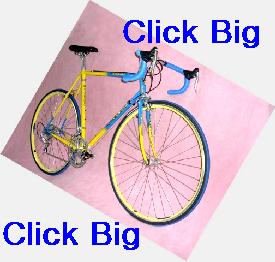 We'll work with your old equipment to the extent you request
I have been putting some miles on it and enjoying it immensely. The only problem with a better bike is that I have to cover more road to get the same workout - or is that the advantage?
Robert
---
We can work with your vintage equipment! email us!
Some other recent Ergo upgrades we've done:
1968 Hetchins
1984 Santana
1981 Santana
1973 Jeunet 630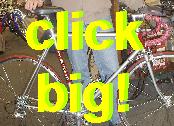 1983 Trek 750
. Here's a classic Jack Taylor
Another view of that Jack Taylor

See another; 1980 Holdsworth, the acualDrive Train, and closeup of Front End

OK! That's what I want. I'll order it right now!

Sounds intriguing, but I need more information first.

*Campagnolo Daytona is now called Centaur. Current (post-2006) Campagnolo systems may have compatibility issues with older equipment and thus may require front changer, crankset or other changes.
TECHNICAL UPDATE
For Campagnolo Ergo levers after 2007, front changer and crank compatibility is severely reduced. Ergo have been improved such that they are designed to shift only with modern current Campagnolo front changers and cranks with current modern shaped and pinned Campagnolo chainrings. For double cranks we may be able to use some of your present equipment. For triple cranks this is usually not possible.