Bicycle Frame Pumps
for Road Bikes
at Yellow Jersey

The overwhelmingly best and dominant road pump design since 1974 is the Zefal HPX.
Well, in 1974 it was still called Zéfal HP but it was largely the same.
new hose-in-handle pump below!

Why do we like these so? It's hard to stop, the list is so long! Here it is: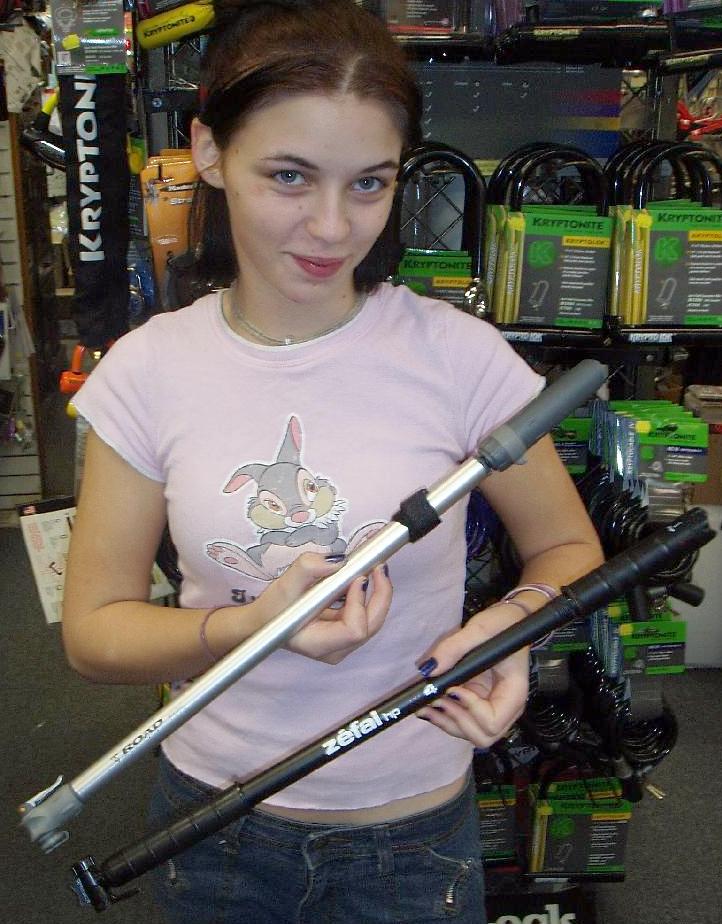 Compared to our well loved but tempermental Silcas of the era, it was a big breakthrough.
Zefal HP Frame Pump
Seamless all aluminum body
Seamless is nice.
These are also skinny!
Right. Skinny = easy stroke at high pressure
leak-proof end seal
easily replaced metal head
all-metal head
no plastic
check valve inside the retaining screw
Yes a steel retaining screw
no plastic
big easy to turn metal cover plate
it isn't plastic
nylon faces on head and handle
good place for nylon
beefy tight seals
express head design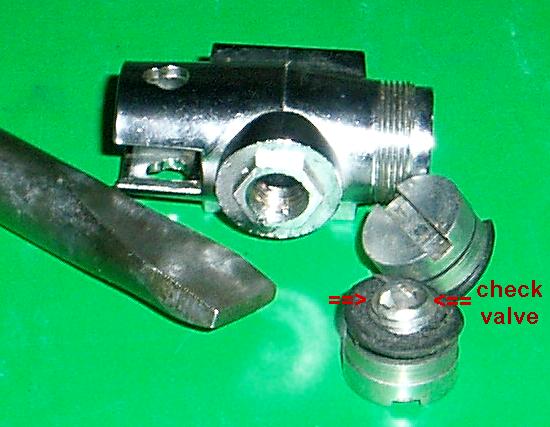 And that was in 1974! The first model was an express type which means you simply push it over a presta valve. Soon Zefal had improved it with a clever chromed aluminum locking lever system. The inner sleeve has a positive O-ring seal and so just a light flip of the lever locks the seal washer tightly to your valve. With that change, Zefal also made a Schrader valve optional washer kit available. By then, the pump had lost its distinctivey Gallic red-white-blue handgrip on a shiny barrel for a simple natural matté aluminum finish with black grip.Continual improvements brought us to the current design
Later Zefal HPX improvements
reversible Schrader-Presta design fits all valves
Right, no need to carry extra pieces
field-strips with no tools
frame-shaped handle obviates dreaded pump clips
yet still fits classic umbrella or peg clips if you are so inclined
replaceable nylon end "wings" save your finish
three sizes fit darn near all bikes
lockout in handle pumps easier
Although once available in colors, the current model is black only. A simple twist of the handle locks out the spring ( What spring? The one that keeps it from falling off your bike.) So? Locking out the handle spring means you don't push against that spring while pumping. Much easier- try it!. This photo shows the Zefal HPX fitted in a frame. They go along top tubes or seat tubes. You'll see them along tandem "boob" tubes. Some riders tuck them between rear frame end and seat cluster. Experiment!
The silver pump in the top photo is Topeak's Road Master Blaster. It's the same price and pumps equally well. Zefal spare parts for classic model are no longer available . Topeaks work and some riders don't care for black. Choice is good.


Pump clips hold moisture againast your bike's finish. No more clips!
Zefal Pump Size System - Overall length - Compressed length
#1 - sold out!
#2 - 40cm - 46cm
#3 - 46cm - 51cm
#4 - 51cm - 56cm
Zefal HP 40cm - 47cm
All original flat-end Zéfal HP(pre-framefit; silver only) are now SOLD OUT



New 2007 Gel Handle Zéfal HPX
Size #2 only! Zéfal WHITE HPX -out-

Original 1970s model HP
Zefal HP 40cm - 47cm
All original flat-end Zéfal HP(pre-framefit; silver only) are now SOLD OUT
---
---
Back in stock!!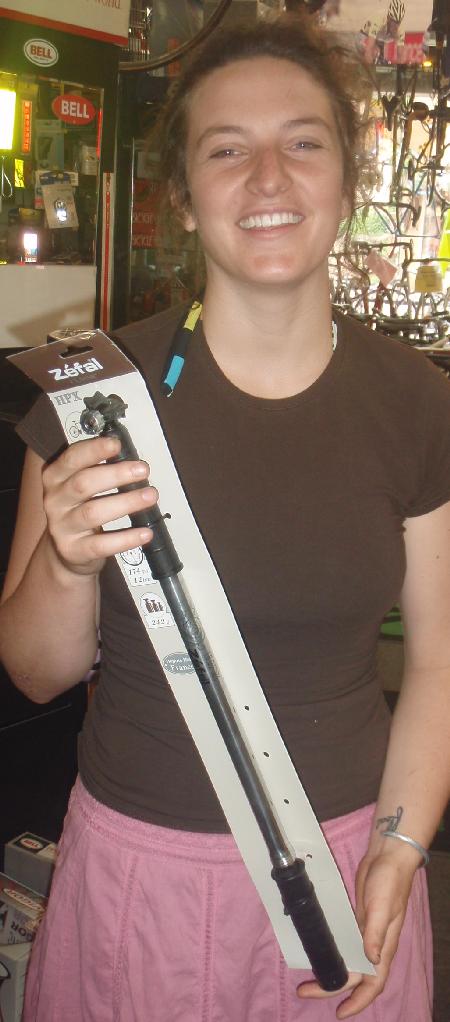 Classic HPX now in argent (silver to you) $49.95, Size 4 only
Our own new pump!
Aluminum frame pumps with hose in handle
fit classic RALEIGH pump pegs!
Presta or Schrader hose, spans pegs 38cm to 40cm apart
pump 42cm before compression)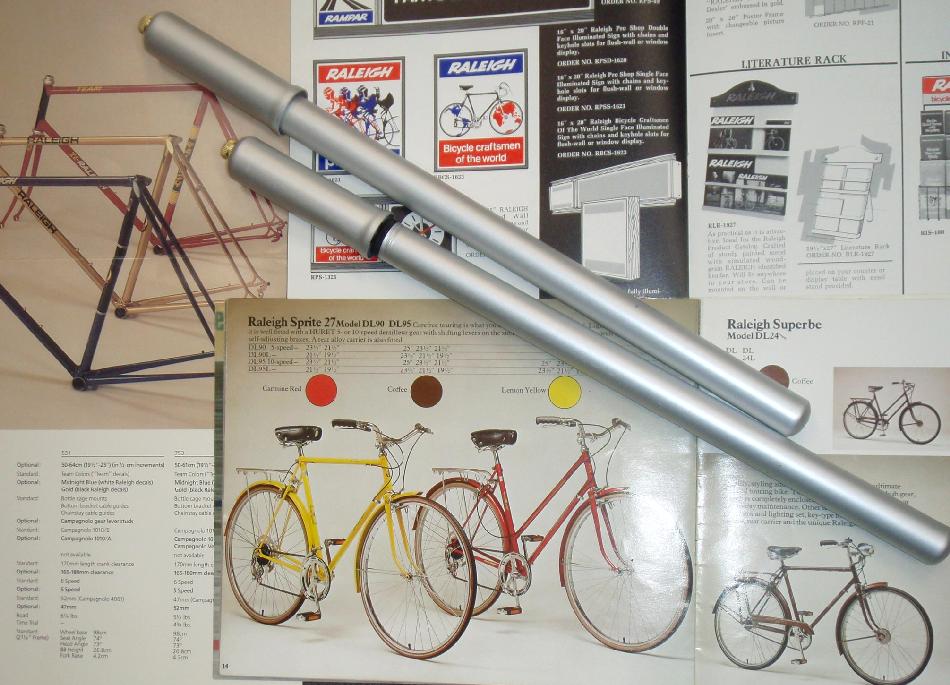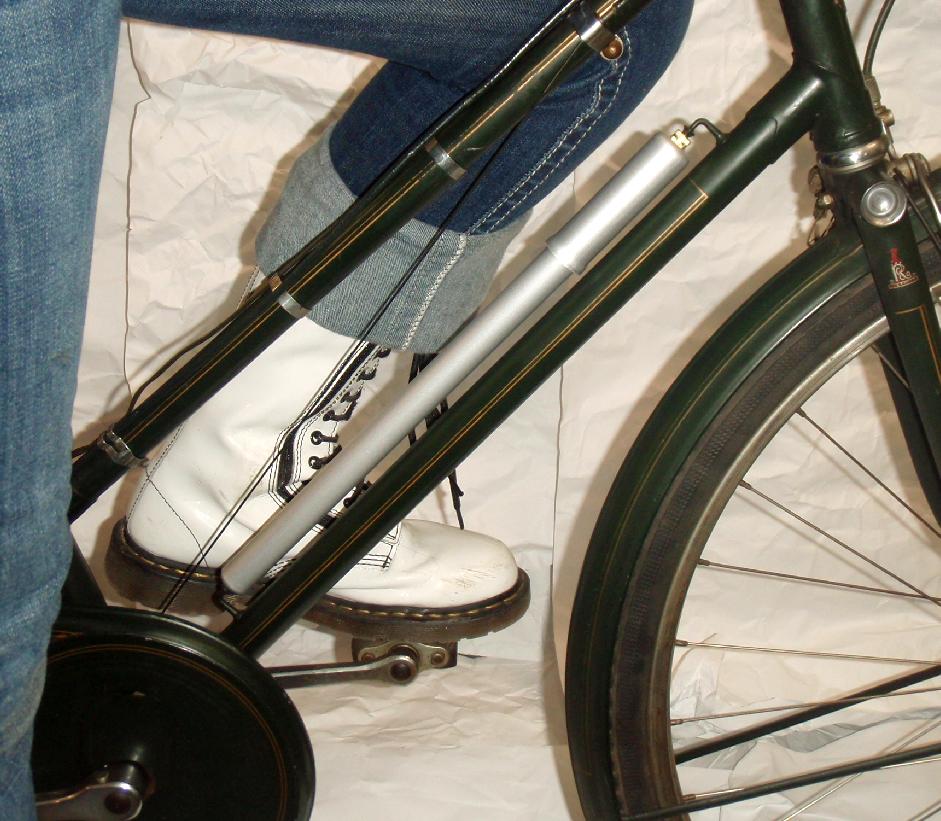 Some pumps we carry here at Yellow Jersey:
Zefal Original '70s silver HP $ all gone!
Zefal '80s pump in white HPX all gone!
Zefal HPX black pump size 2, size 3 HPX $49.95
Zefal HPX silver pump size 4.only HPX $49.95
No more size 1. All gone forever.
Topeak HPX copy silver, sizes 2, 3, 4 Topeak $39.95.
New! Gel handle, PV-SV 'smarthead' Zefal 2007 HPX auto Black , $49.95

New aluminum hose-in-handle pump PV or SV $29.95 fits classic Raleighs!
Genuine Zéfal -AFA chromed 'umbrella' pump clips new in package $-out-
Genuine Zéfal -AFA cute Zytel Nylon pump clips new pair in package $9.95
Genuine Zéfal -AFA cute Zytel Nylon pump clips singles $4.95
Zefal service parts for classic models are now sold out -Zéfal USA closed in 2005
delivery 48 States 2-Day USPS $10

All Kinds of Valve Related Sundries