classic Italian Impero model
Silca Framefit Pumps
at Yellow Jersey

traditional styling complements vintage and modern bicycles!
click for new 2017 Silca


Limited availability and still affordable, timeless classic Silca pumps add a vintage look to complete your road bike.
Pumps $59.95, Body Only $49.95 See update below
Click for Silca Prices Click for New Silca Colors

Silca frame fit pumps are larger diameter than most modern pumps so they require more muscle at road pressures. And they are plastic so you can only bash something with a Silca once. And although we can supply a Schrader head, it's marginal. So consider them an express presta only pump. These pumps are not for everyone and we don't have every size/color but while we do the price is very low.


Click for Silca Prices
Click for New Silca Colors
How to measure a Silca Impero Frame Pump
Silca has used several different size systems over the years
The last version made is shown above in pearl silver with an integrated black sleeve/head
(this model is all gone)
For classic Silcas, measure the space between the tubes so we know the span required.


Click for Silca Prices
Click for New Silca Colors

Silca Dimensions
Please measure your frame's span
"span" meaning inside-to-inside where the pump fits
along the tube where you want this pump
Give us your general preferences for color
i.e., first, second, third choice
If it must be a certain color, just say so
We'll do our best!
With Silca Impero pumps, you get a choice of heads
Presta or Schrader head
And a choice of colors, too!
last made c. 1993
color options are very limited now (2017)
2017 Limited sizes. Colors limited. LAST CALL !!

Silca Frame Pumps & Parts Price List
2017 all USA Silca Impero $159.95
Complete Silca Framefit Pump With Head $59.95
We have all the Silca small service parts too.
Extra Presta Head $**OUT**
Schrader heads $19.95
Extra Aluminum Sleeve $**OUT**
We have all the Silca small service parts too.
Washer between pump and head, 'body seal' $4.95
Washer inside head, 'valve seal', $9.95 vintage black
Washer inside head, 'valve seal', $9.95 synthetic red
Leather Piston $9.95
REG Italian chromed pump clips pr new in box $29.95
Shipping 48 States in mailer tube $10
one, two, up to four frame pumps USA delivery $10
---
Silca Floor Pumps & Parts Price List

Classic Silca Pista floor pump $79.95
Classic Silca Super Pista floor pump $99.95
All Italian made Silca floor pumps include big bourdon tube gauge, leather piston, steel barrel.
minor features may vary, all are new NOS, these are now discontinued.
click for floor pump service bits page
Floor pumps are big and heavy, please ask for delivery estimate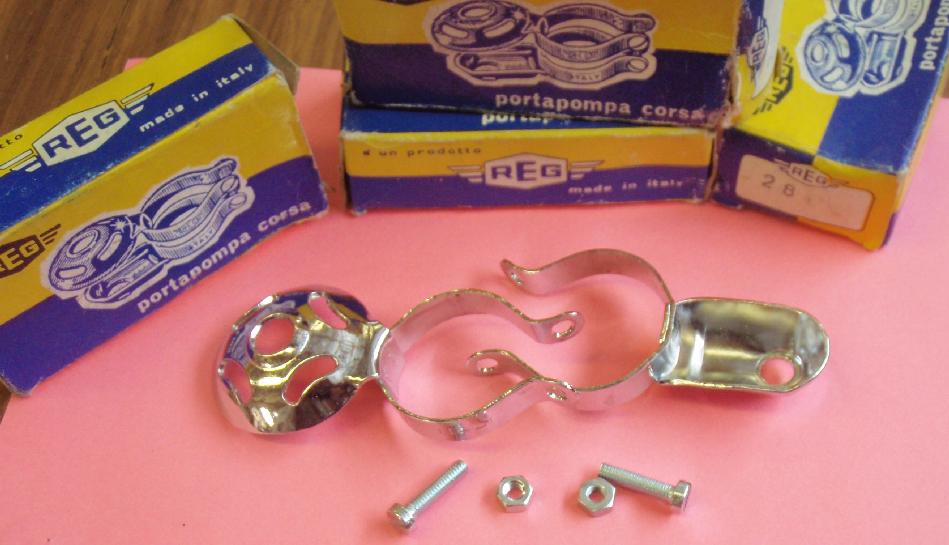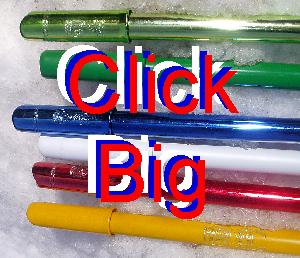 Live a little!!
Just arrived, more!
electric colors !
accent colors !
bright colors !
even white [ easily sprayed any color!]
2017 Limited sizes, mostly short sizes Limited color selection. LAST CALL !!
SAME $10 DELIVERS ONE PUMP OR TWO ! !
c l i c k __ t o __ s e e __ l a r g e __ p h o t o __ !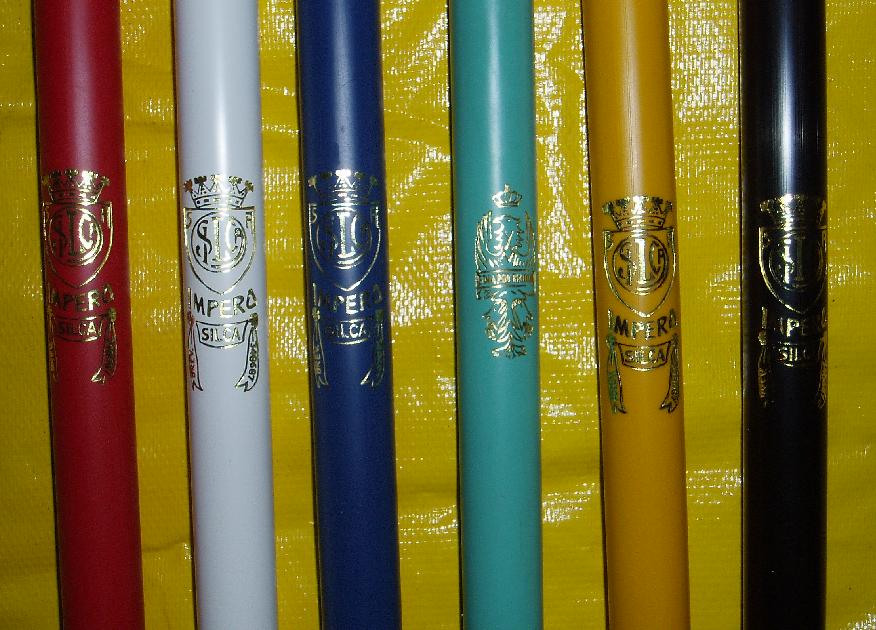 How To Order A Silca Framefit Pump
Measure your frame please
for your intended tube, measure carefully
Please measure the span inside to inside
Call us at 608.257.4737 or 608.257.7733
Ask which colors are available in your size
Or email a request and we'll check color selection for you
2017 Few original Silca remain
Short sizes only. Color selection is limited. LAST CALL !!
Any major card or PayPal is fine with us!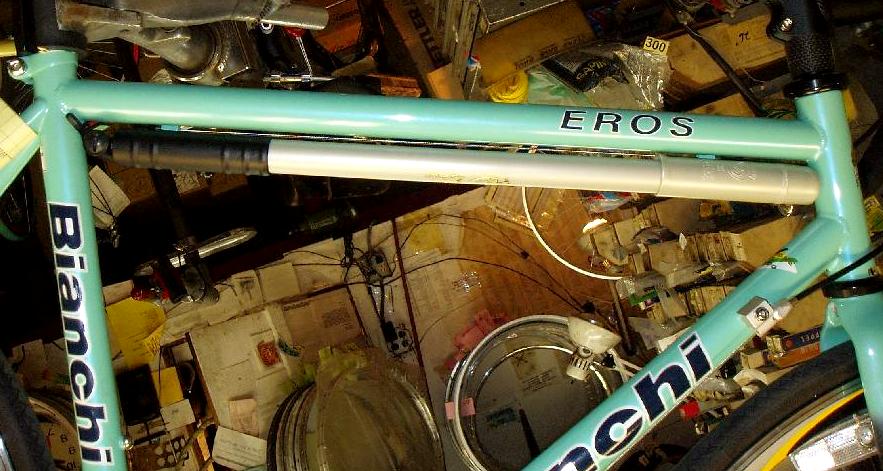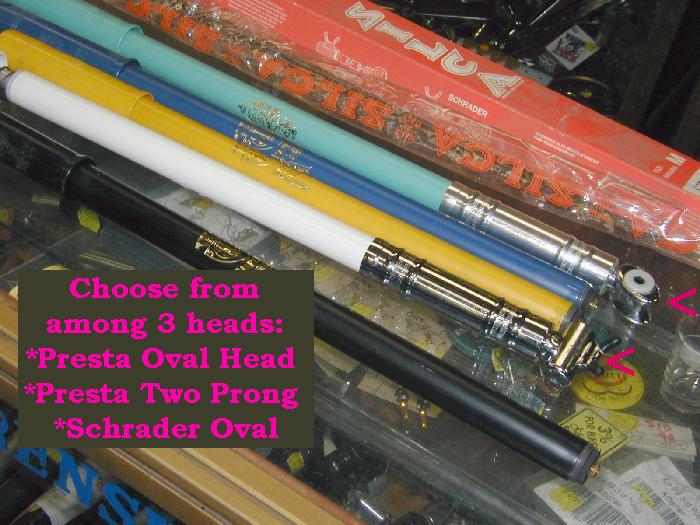 Note all Silca heads are "express" type- - push on, push off, no threads
which makes the Schrader model daunting in use.
Click here to email
Update:
Spring 2005
We acquired a tranche of Silca and wrote this page
October 2005
we have sold all the Bianchi Celeste color pumps. Size / color choices quite limited now.
Winter 2005-6
We found another collection of new vintage Silca! (Still no Bianchi Celelste). Now several colors in every size!.
March 2007
Wow! Another shipment found in Italy, mostly white.
Autumn 2009
Purchased a small tranche of new Silca in Europe
Spring 2010
Limited sizes/colors. LAST CALL !!
Spring 2014
We received Silca black heads so complete pumps $59.95 Pump bodies in mostly short sizes Limited colors. LAST CALL !!
Spring 2017
Small NOS Silca selection discovered in Europe
including some classic flat-top early version $59.95 body w/o head
2017 Classic Impero now limited sizes/colors. LAST CALL !!
just in time NEW USA SILCA
Click for Silca Prices
Click for New Silca Colors
Call us today!
608.257.4737
608.257.7733
Or just click to send an email
NEW 2017 MADE IN USA SILCA IMPERO
the best is now even better!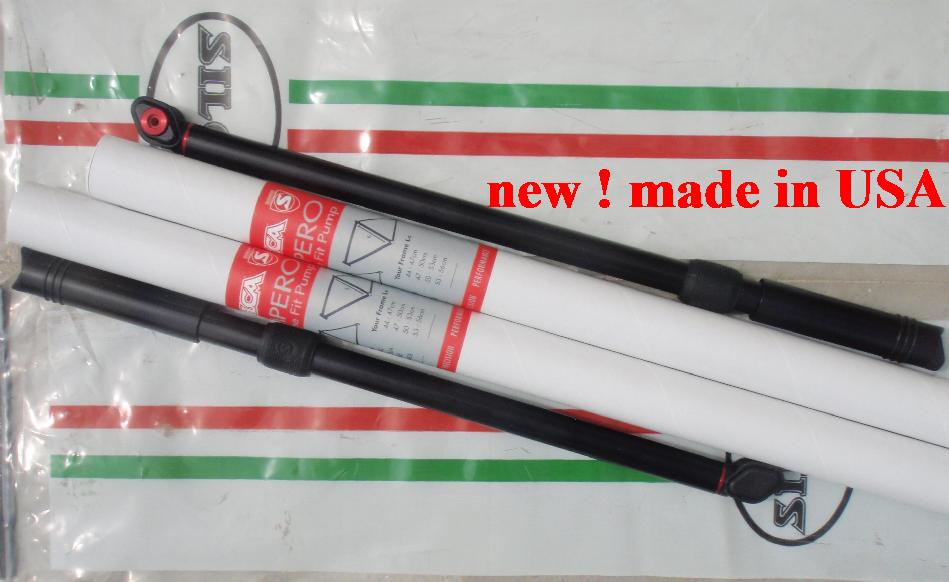 all USA aluminum pump
smaller diameter; easier to pump at high pressures
easy 4-size fit system
same valve seal as prior Silca and Campagnolo heads
well, same dimensions, now in long-wearing USA urethane not rubber
new soft no-scratch faces at both ends
new soft handle bumper fits various frame tube diameters
new tighter construction can't rattle
now made in USA! really!
any color you like if you like Black
anodized Black only
Best Silca frame pump of all time. Period.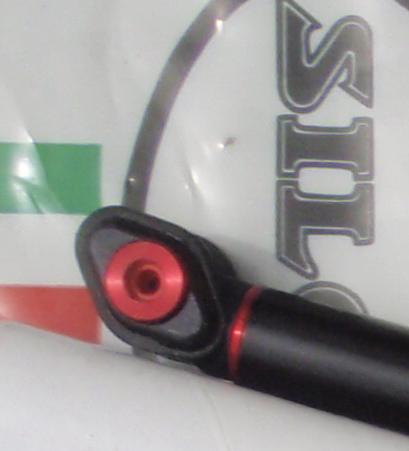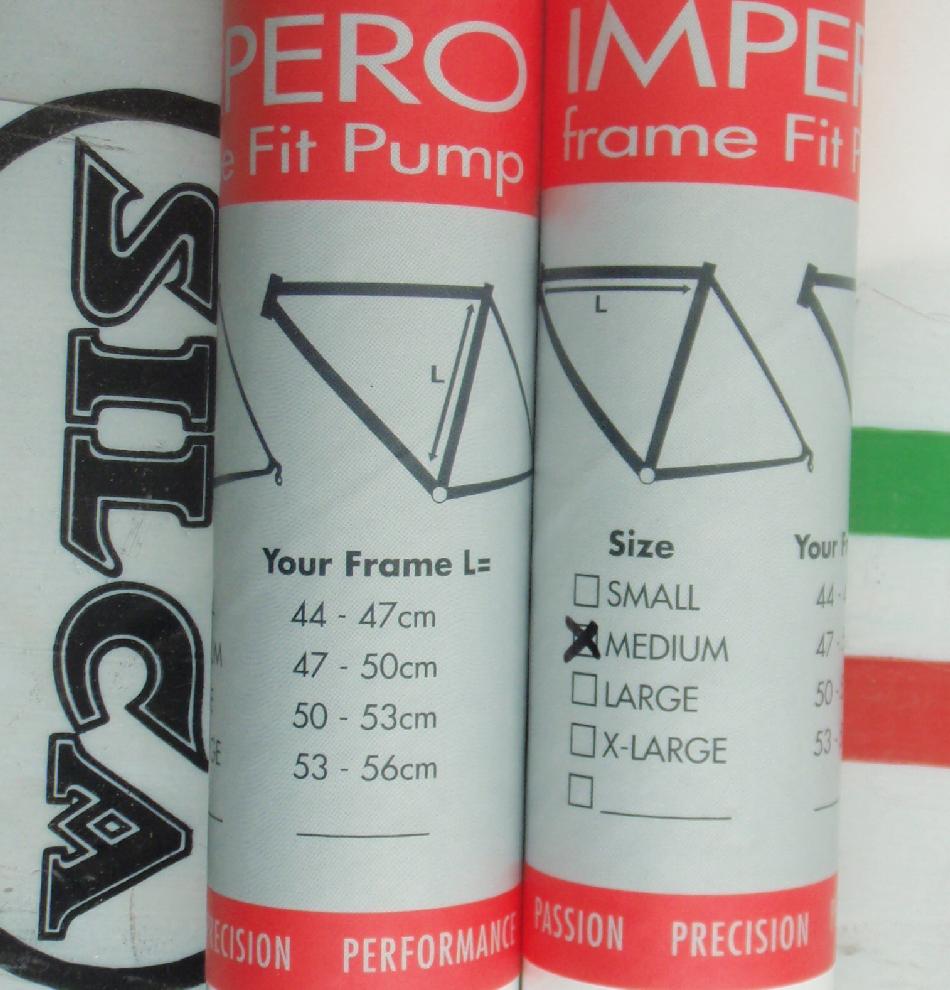 2017 Best Silca ever, new USA made Silca Aluminum in stock now!

SILCA pumps are not returnable
for 'wrong size'
Please measure as noted above before ordering