Standard Bicycle Dynamo Lighting Sets
standard being 6V3W output yet a Super Low Price
at Yellow Jersey

Not every bike needs premium equipment.
Besides our exceptional German Dynamos, we've found
some extremely low price dynamo sets.
| | |
| --- | --- |
| | Tun Lin are back in stock. |
Here's a copy of a classic British Miller system, using standard 6V2.4W head
and 0.5W tail bulbs. The $1.95 kind. Everything here works. These are not
exceptionally bright but we've found them dependable. The original Millers
were cute, but no brighter. We do have many alternate headlamp
mounting brackets (as above and also caliper bolt mounts.)
$29.95
no kidding, $29.95
complete as shown - no substitutions
But wait, there's more!
We recently found an Indian set filled with features for only $- out -!
This Eastman set is also styled in the classic British motif
but with a headlamp, switched just like the classic Sturmey Archer
lamp. There's a standard 2.4W headlamp bulb, again the easy-to-find $1.95
type, as well as a motorcycle type two-pin bulb rated at 12V6W
Here's why it's cheap
these are finished poorly
there are intermittent rust spots.
the bolts are threaded poorly
the ground screw strips easily
the dynamo bearing is noisy
It's hard to find replacement 2pin bulbs
They burn bulbs frequently
the switch is flimsy
the lens twists so the bulbs lose contact
the tail lamp bracket is flimsy
this wire is half as thick as any other dynamo set
everything rattles
But if you're handy with tools and you don't mind tinkering ,you'll get more
lumens per dollar here than with any other dynamo system.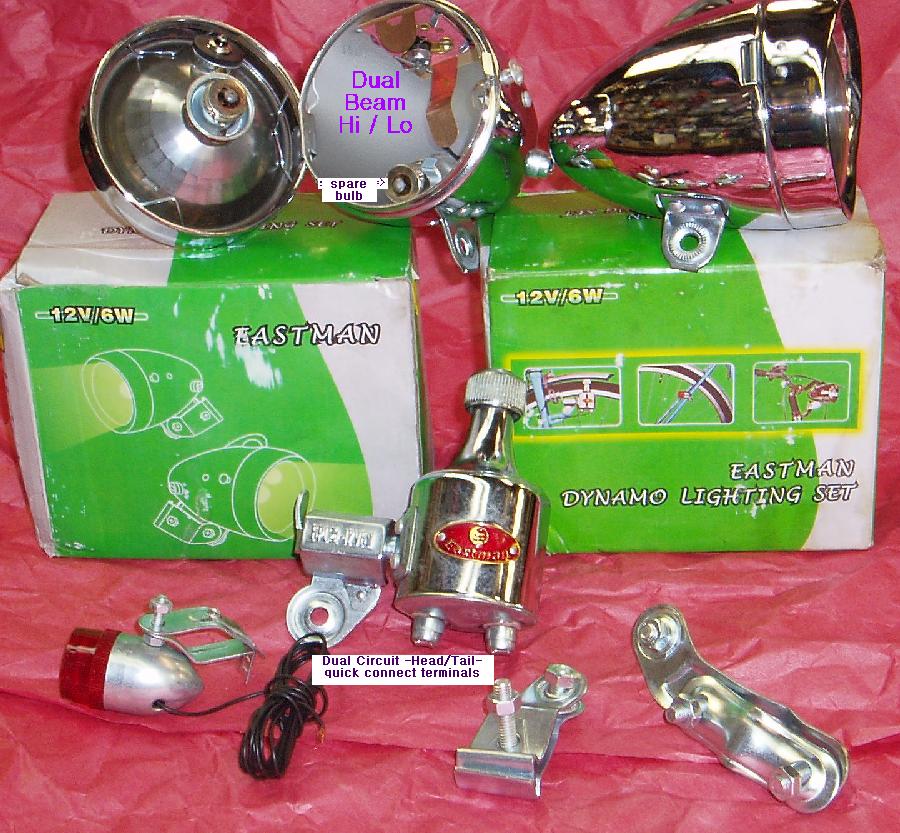 Tun Lin made in our ally Taiwan ROC
back in stock $29.95

please either
call us at 608.257.4737 or 608.257.7733
or email us a shipping address and a card number, and we'll send one right off to you!

For more information, just Click here to email