New!
German Stand Light Kit
for Standard 6V3W
Bicycle Dynamo Systems
fromYellow Jersey

We get asked occasionally for a dynamo system which will keep a red lamp lit at a stop light. While that seems a fine idea to us, we never felt it was compelling. Such systems were fairly expensive and, at least in our neighborhoods, the street lights are at the corners.
But neighborhoods are different and cyclists vary in their needs and desires.

Finally, for those who need a constant safety lamp with a dynamo system, now we can help!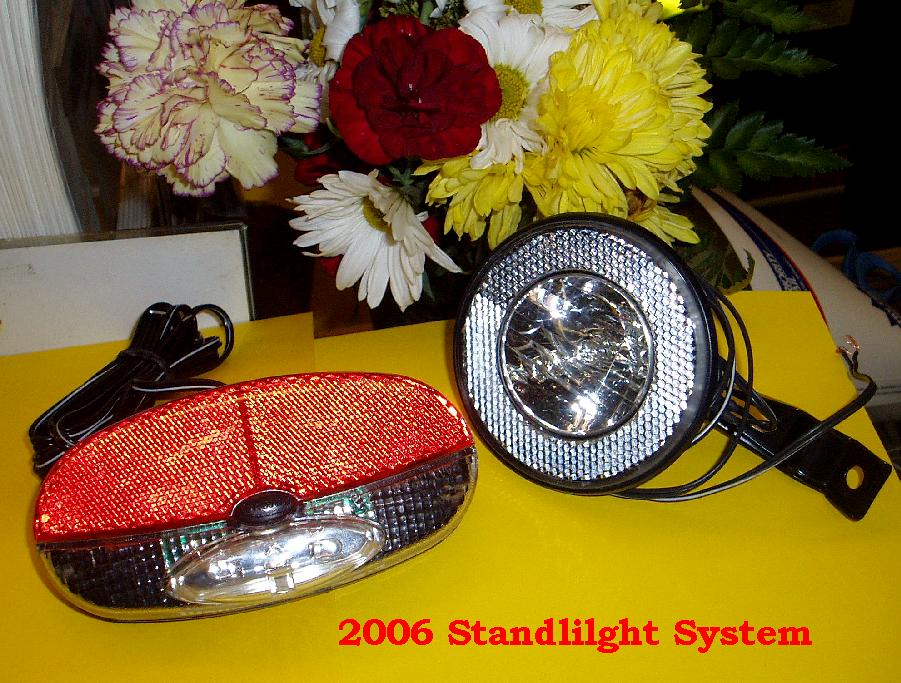 Using any standard dynamo or dynohub (nearly all are 6 volts at 2.4~3 watts) simply connect these nifty German lamps and the integral electronic system will store enough power to light your tail lamp for at least two full minutes when the dynamo stops turning!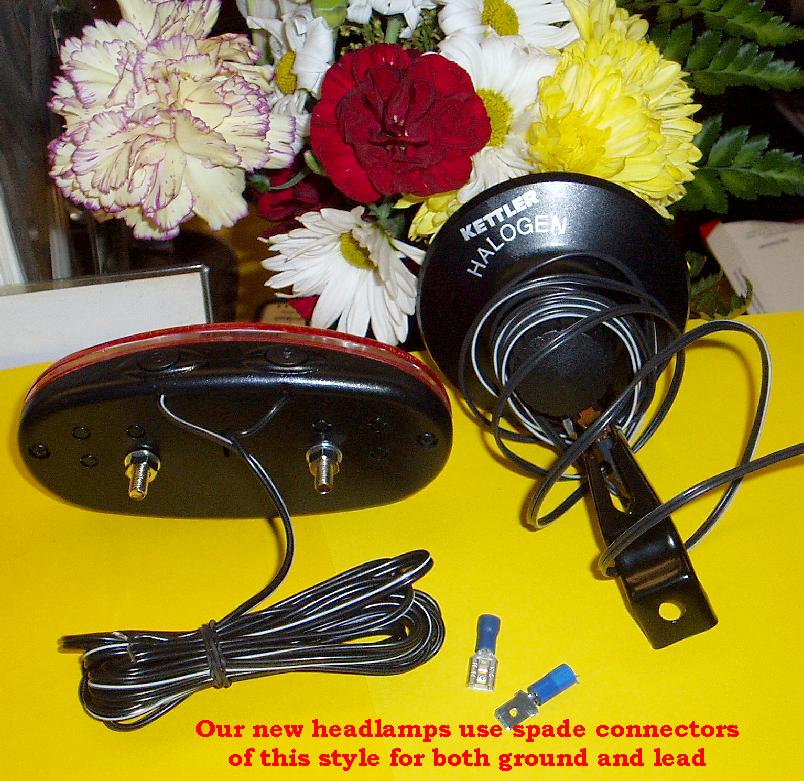 German made model has a battery backed circuit with capacitor switching for more light, more time and it activates with only five seconds of riding.. All the electronic components are tucked neatly inside the new double-sized tail lamp. The head lamp is a 2.4W white halogen bulb, tail lamp is a five-LED unit with a one-LED safety standlight.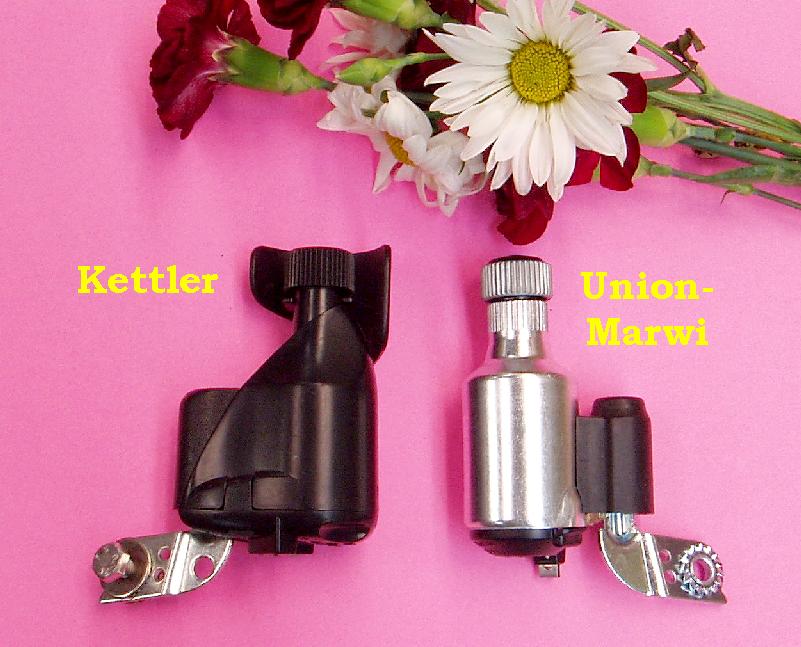 German Stand Light Systems
Headlamp, tail lamp, wiring and electronics $99.95
Complete Stand Light set with Union-Marwi side mount dynamo and mounting kit $124.95
Complete Stand Light set with Kettler side mount dynamo and mounting kit $129.95
Complete Stand Light set with Union/Basta under-BB dynamo, remote lever, mounts $134.95
Complete Stand Light set with LightSPIN dynamo and mount $-out-
Replacement Halogen head light bulb $7.95
No other small parts are available
More Dynamo Systems and Spares on another page
Just for reference - how bad it used to be
Here's a vintage Soubitez stand light system from about 1984.
Note the "Group Bernard Tapie" label, later to form the
La Vie Claire health food empire and famous bicycle racing team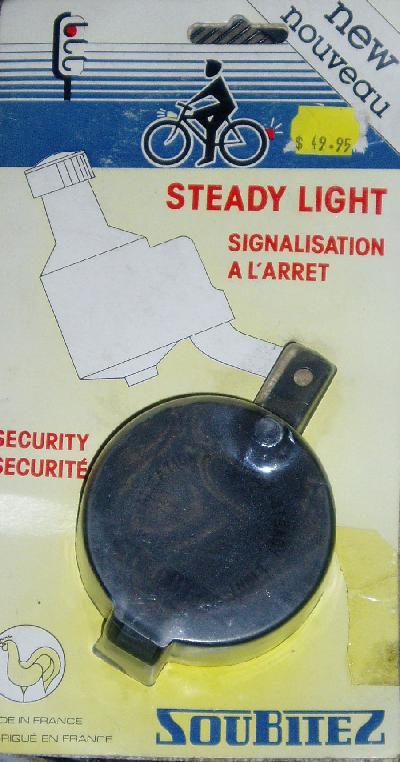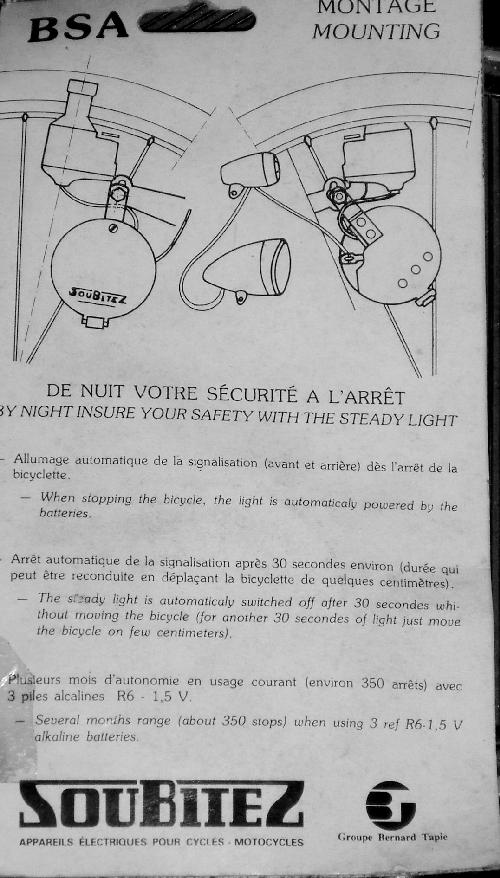 Related items:

German Standard Dynamo Systems
Rechargeable USA Cygo Light Systems
Here's a simple beginner's dynamo instruction page
Another page about the headlamp wire connectors
And all sorts of little dynamo and lamp bits - email for assistance