from Yellow Jersey
We've had a long and colorful history of bicycle jersey printing (and embroidery and sublimation too!) over the years. For an example of an early effort, please see Historic Yellow Jersey Memorabilia
Here's our latest garment: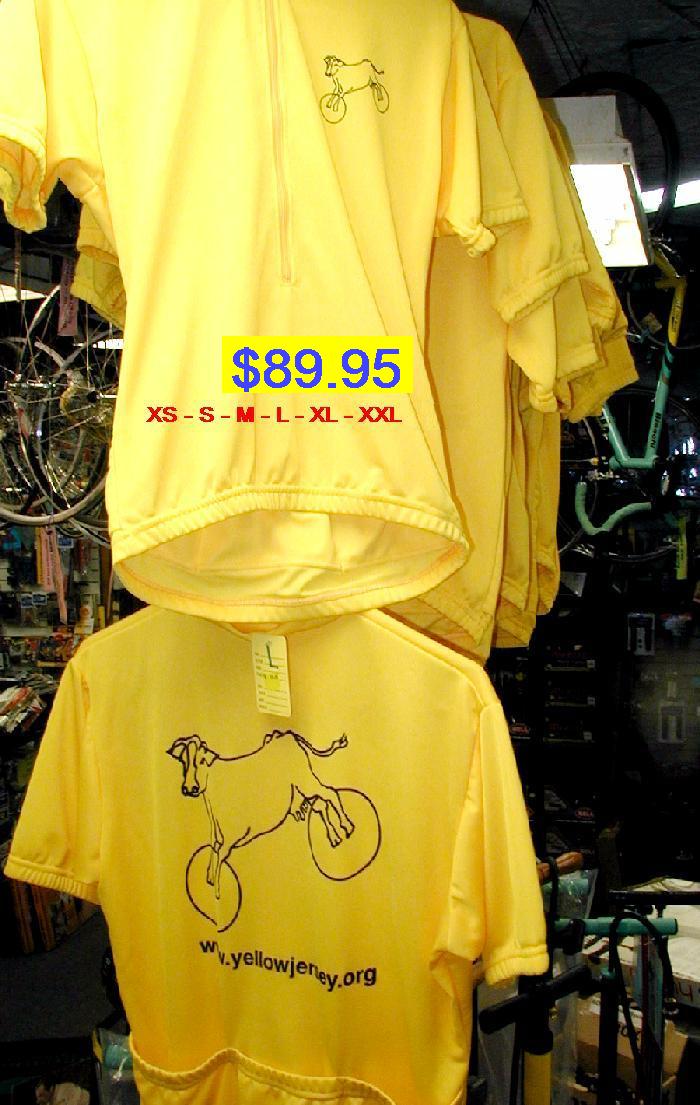 These flashy Traffic Yellow cycling jerseys are nicely hand sewn in USA by John Kuckarik, whose father sewed our early team clothing over thrirty years ago ( I still wear mine!). The USA part is important (no this won't be an economic, socio-political or cultural diatribe, although I do write those) because that means these jerseys fit Americans. Stop in and try one or just email your order and we'll send it off to you!
Ink color is Washington Blue and sizes are extra small through extra large.
Yellow Jersey Jerseys
Small $59.95
Medium $59.95
Large $59.95
X-Large $59.95
some remaining plus sizes:
XXXX-Large $119.95
===================
Shirt sizes are determined by chest size
Size Chest Fits
XS 34 33-34
Small 36 35-36
Mediuim 38 37-38
Large 40 39-40
X-Large 42 41-42
XX-Large 44 43-44
3XL 46 45-46
4XL 48 47-48
5XL 50 49-50

ALL NUMBERS ARE INCHES
===================

OK! I need a couple of those jerseys!

Hey! How about a water bottle to go with that?