More beautiful, clever and useful Brooks New Products!
Brooks Bags and Accessories
for the discerning cyclist

Just arrived for the holiday gift season!
Brooks black nylon seat covers $14.95
Brooks Challenge small leather bag in Black $95.
Brooks Challenge small leather bag in Brown $95.
Brooks Challenge small leather bag in Honey $95.
Brooks Leather Handlebar Tape Hand Sewn in Black $79.95
Brooks Leather Handlebar Tape Hand Sewn in Brown $79.95
Brooks Leather Handlebar Tape Hand Sewn in Honey $79.95
Brooks Large Tool Roll 7" x 23" w/tool set Black $190.
Brooks Large Tool Roll 7" x 23" w/ tool set Brown $190.
Brooks Large Tool Roll 7" x 23" w/tool set Honey $190.
Brooks Grips Black $79.95
Brooks Grips Antique Brown $79.95
Brooks Grips Honey $79.95
Brooks Grips Tan $79.95
Brooks Millbrook Bag $95.
Brooks Glenbrook Bag $199.
Brooks Leather Toestraps Black $50
Brooks Leather Toestraps Honey $50
Brooks Leather Toestraps Antique Brown $50
Brooks Tool Roll details below

All are carefully crafted from selected British hides, finished as only Brooks can do.
They are warm in one's hand and very useful on the road.
Classic styling and Brooks' meticulous attention to detail make
these a must for the cyclist who 'has everything' --
and brings it all along for the ride

Your bag arrives in a cloth bag
( makes a nice liner inside your leather bag)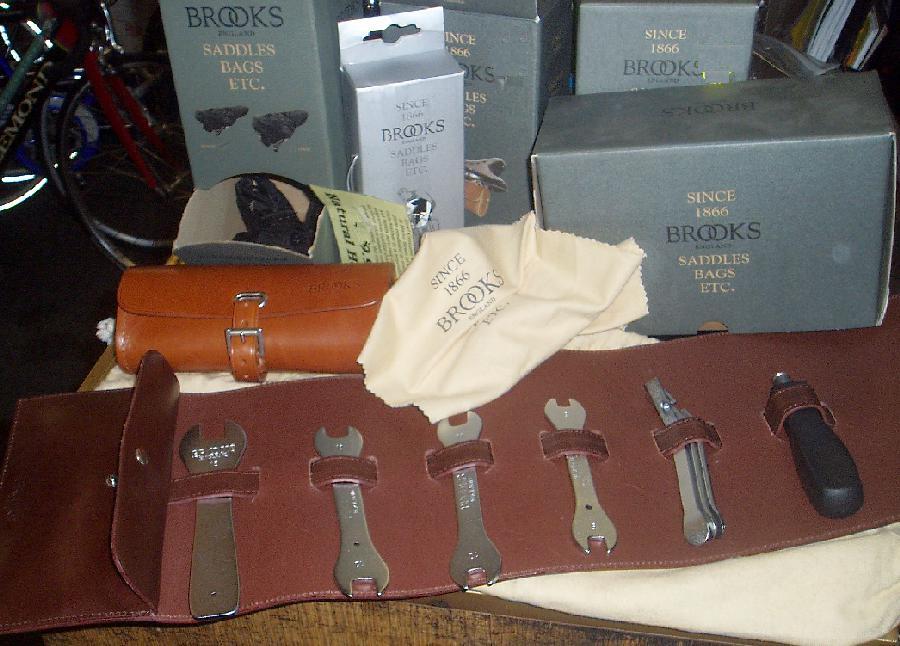 Brooks Tool Roll Details
Beautiful British Hide wrapper 7" x 23"
Hand sewn strap and solid pewter buckle
Quick change screwdriver handle
Phillips & flat 3/16 double ended chromed screwdriver bit
Three chromed steel tire levers
Double ended chromed wrench 8-9mm
Double ended chromed wrench 10-11mm
Double ended chromed wrench 12-13mm
Hefty 15mm chromed pedal wrench
Solid Cast chromed 2-size spoke wrench
Long style chromed allen wrenches 2- 2.5 -3mm
Long Ball-end chromed allen wrenches 4-5-6mm
Natural cotton Brooks cloth
Big soft Brooks drawstring bag
Brooks Products At Yellow Jersey
2-day delivery anywhere in USA just $8
No, these are not in our Shopping Cart system yet, so
Phone your order 608.257.4737 or 608.257.7733, or
email your order below. Just send us your shipping address and card number.
You can be the first on your block with new Brooks Products
Interesting and attractive people, like this famous artist, will ask to touch them!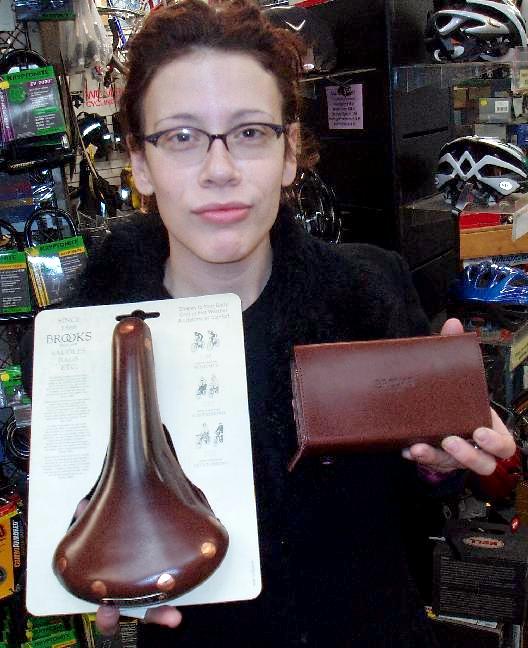 Yes! I want to BUY BROOKS Leather Goods today!
No, sadly, I just want to email about them