Brooks
British Leather
Saddles
at
Yellow Jersey

Now with Adobe Acrobat ™ format!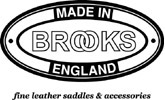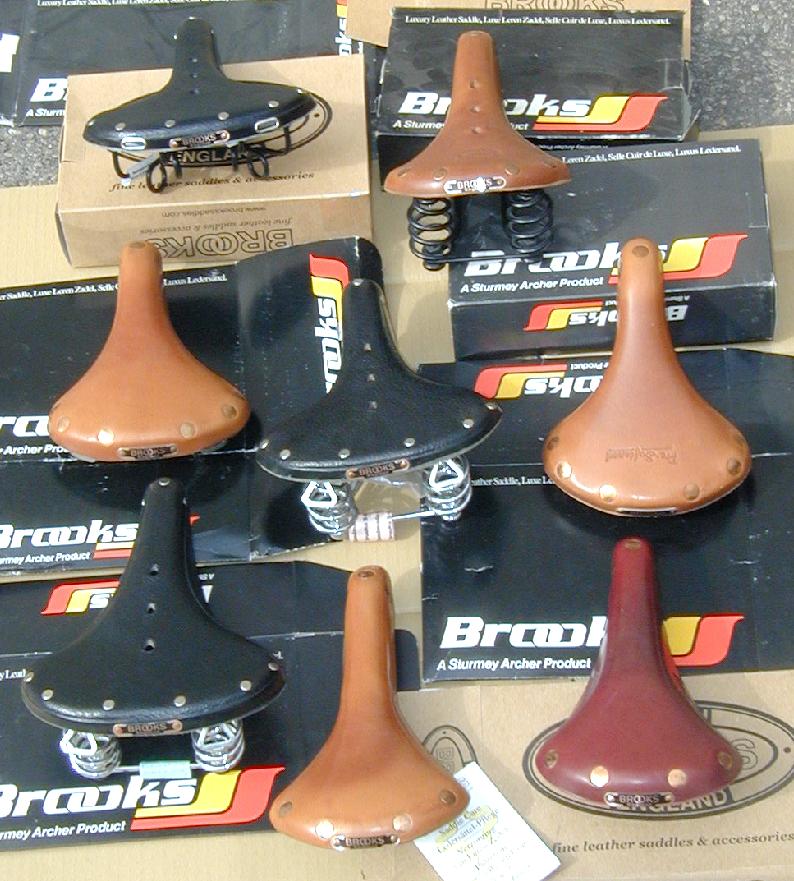 We love Brooks saddles. Although not for everyone, those who take to these wonderful leather creations develop a strong affinity to their Brooks as the fine British leather moves and conforms to you just as a fine pair of leather shoes.
Now's a good time to digress into saddle shape. When you are in a full aero triathlon or time trial position, with your handlebars well ahead and low, with your back horizontal and everything configured for maximal power and minimal wind resistance, your position over the saddle is very forward and low, too. There is less overall weight on the saddle than usual. Because of the attitude of your body to the saddle, thigh clearance is important. Without that, you'd be pushed off the front of the saddle. Therefore, for a time trial or triathlon position, an appropriate saddle has a narrow design, such as the Brooks Swift. or Brooks Swallow
When you're sitting bolt upright, though, as on a classic Roadster or a modern urban Kettler Elegance , all your weight is on the saddle. Since your back's nearly vertical, you don't care about thigh clearance, you just need a nice wide saddle such as Brooks' B.66 or Brooks' B.66S . When you sit upright, those springs are helpful, too.
And that's why there are so very many Brooks Saddles (well, that's why there are so many shapes of saddle in every brand, actually)
Here are those saddles turned over: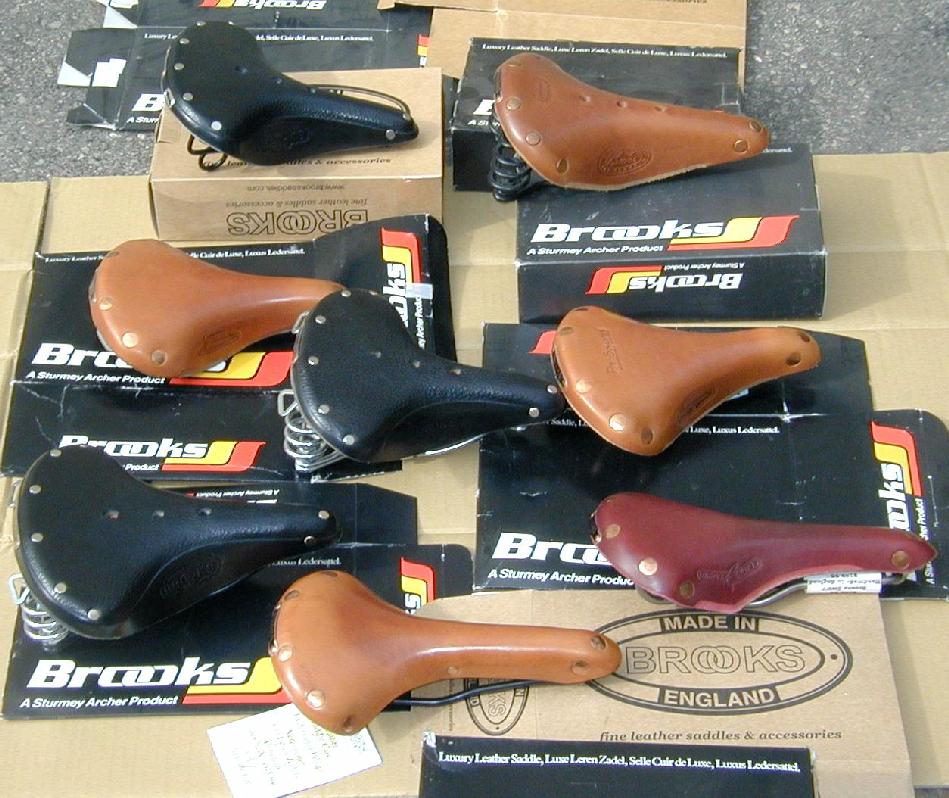 And here they are again: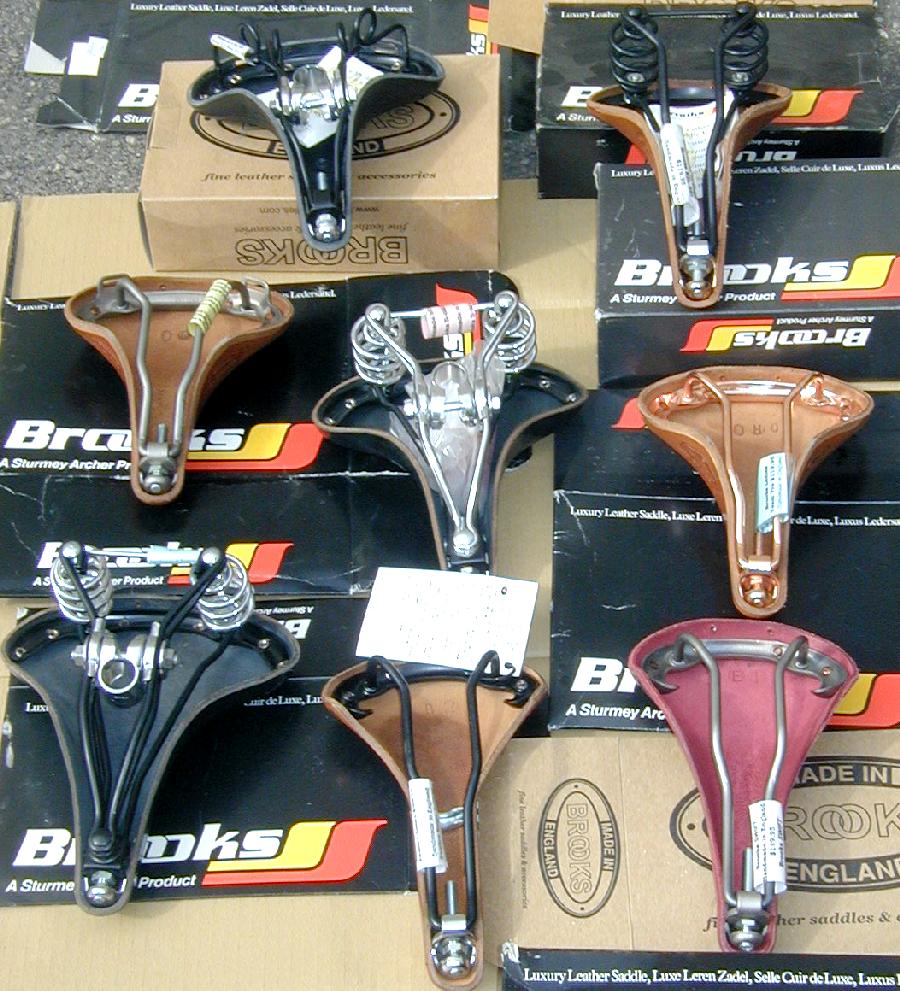 We carry a good selection of Brooks Saddlesalways but we sure don't have every one. If the one you like is not in stock we'll get it for you promptly of course.

Similarly to new leather shoes, a Brooks genuine leather saddle can be a bit stiff the first day. The rider needs to sort out the normal stiffness of a new not-yet-broken-in saddle from the discomfort of the wrong shape saddle or an unimproved riding position. We're available for advice on that - is it the seat you don't like or is it just that your handlebars are too low? There are many possibilities but if you aren't comfortable, please let us help! Bicycling is supposed to be fun!
As always, we accept exchange of saddles if your first choice wasn't the best choice. As with all return merchandise, we can only exchange your saddle if it is indistinguishable from other new product.
Caring for your Brooks saddle is simple. Please avoid those extreme measures that you read occasionally from sesational writers. Like any premium quality leather product, your Brooks Saddle doesn't like to be wet.
If your bicycle sits in the rain regularly, a Brooks leather saddle is NOT a good choice.
Brooks supplies a nice leather coditioner, Brooks Proofhide , which can retain the softness and shine of your Brooks Saddle to keep its nice shape. Oils will damage the leather and lead to a "swayback" saddle, much as one might soften a baseball glove with oil. Brooks Proofhide should be applied sparingly to the bottom of the saddle to keep the leather moistened with its natural animal tallow and small dab across the top to protect the finish. A tin of Brooks Proofhide should last many years - easily the life of your saddle.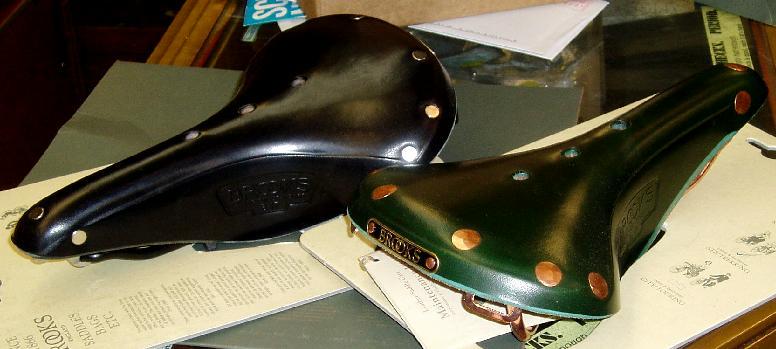 New B.17 Champion Special in Green with Copper Rails
Gossip Department / Rumor ControlBrooks was a division of SturmeyArcher for a good long while and SturmeyArcher was a division of Raleigh Industries. As that wonderful organization grew and changed, Brooks was sold a few years ago. Fortunately, the new owner, Selle San Marco , is run by Italians. They bring modern Italian flair and quality and still have classic Italian passion and dedication. We've been impressed with the product, the service and the people
. Selle San Marco promises to keep the new Brooks runnning well into the forseeable future with good delivery of an excellent product!
---
We get Brooks regularly, but a random selection.Typically a range like this: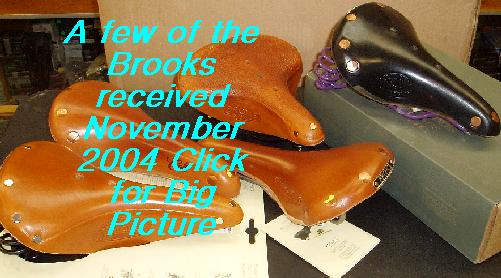 Click HERE for a closeup
---
---
Titanium Swallows for 2006
(update: all sold)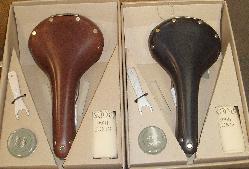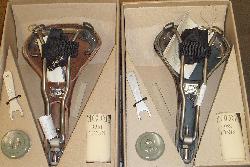 New Titanium Swallow $-out- black, brown , honey
Click for larger photo. Note Swallow clip is very different from earlier model
---
New !
Custom Leather Detail
on any newBrooks saddle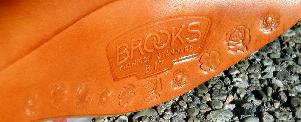 New! Swallow Titanium redesigned by Brooks
New! "Pre-Aged" Distressed finish Brooks Saddles
New! Brooks Titanium Swallow Saddle

click logo for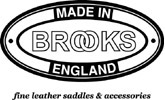 factory website