Classic Roadsters
by Eastman of India
from Yellow Jersey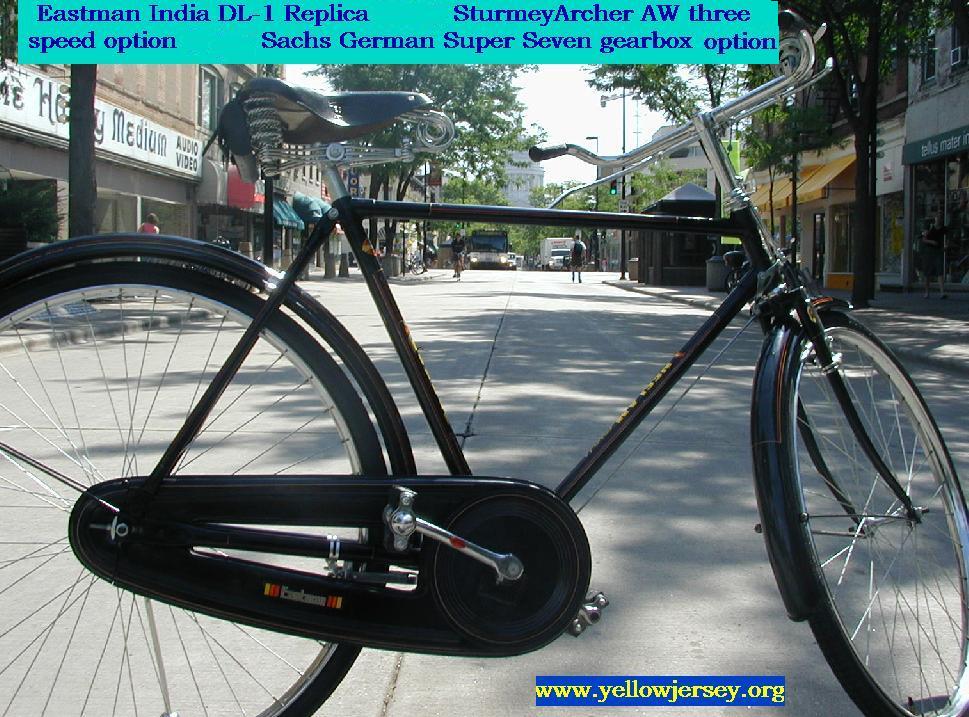 This timeless design, originally built to a British Military contract in 1913, accounts for well over half the bicycles ever made. The Raleigh Deluxe Model One (or "DL-1") incorporated the very latest technology of the post-Victorian era and was such a success that nearly all the world's armies used these at the time. (c.f. "Bicycles In War" by Martin Caidin, Hawthorn Books,NY 1974). In large chunks of the world this is THE bicycle.
Our model shown here is built by Eastman at Ludhiana, in the north of India, and is nut-and-bolt interchangeable to the Raleigh DL-1 (which ceased production after the 1985 model year). They are shipped to us completely KD as shown below so we've taken that opportunity to do a first rate thorough assembly. Colors are anything you like as long as it's black and the three sizes are the standard twenty-four inch as well as the smaller 22" (shown) size and a ladies' open-frame 22" - just like the originals. Note that these bikes sit higher from the ground than many modern bikes - they run big.
And long. One's first impression on a true Roadster is that the front wheel is w a y out in front of you someplace. That's a natural reaction to the 66 degree steering angle ( most modern bikes are about 73 or 74 degrees), a 75mm fork offset ( race bikes are 40mm) and of course that ample 1.2 meter wheelbase! ( it's about 47 inches, modern bikes typically run 93cm or 37 inches)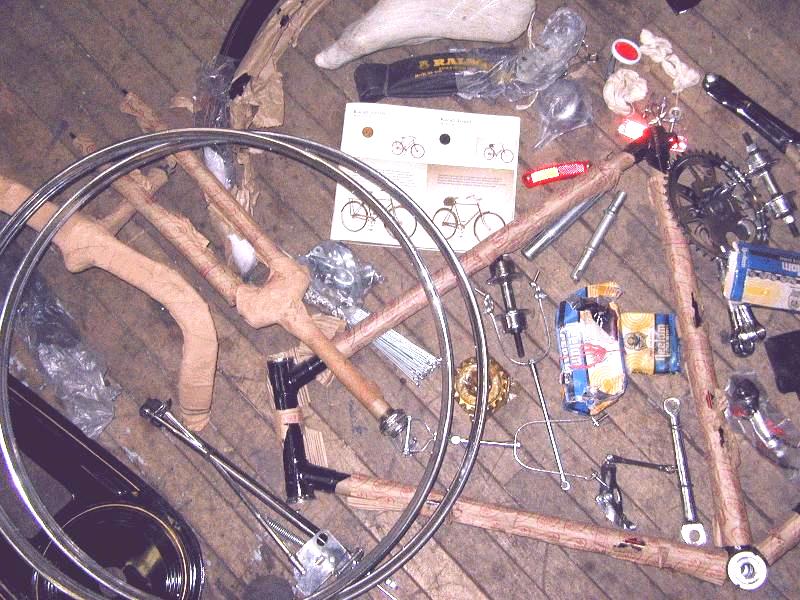 Eastman Roadster bicycles are not at all like the modern bikes we know today. They are long, slow-handling and noisy. Noisy because full metal chain cases chronically rub the chain. Or rub your spokes. Finish is mediocre. That includes the black enamel, the hand striping, the stickers and the brightwork. The factory is not climate-controlled, so there will be rust under both plating and paint. Fortunately the stickers peel off easily. Steel rims do not brake well in dry weather. Steel rims do not stop when wet. Handlebar and stem are one-piece brazed and not adjustable. Those who know and ride Roadster bicycles are smiling at this point. None of those things will bother them much. If those foibles are a concern to you, perhaps a Roadster is not your best choice of bicycles.
For those not already familiar, classic British Roadster bicycles require regular annointing with oil, occasional tire pressure check and little else. We offer two modern revisionist options of either a genuine n.o.s.British made Sturmey-Archer AW three speed gearbox or the very wide range Sachs (SRAM) German Super Seven. Both of those systems are well suited to this style bicycle, both mechanically and aesthetically as we retain the enclosed chain feature. We're open to your further suggestions but both of these gear systems keep the original flavor while flattening the hills a bit. An ample sprung leather saddle with traditional small tool kit is standard. Inner tubes are Woods/Dunlop valve style (these valves accept a standard Presta adapter for use with compressed air lines). Schrader (auto type) valve inner tubes are optional.
We do our usual thorough assembly with care, add plenty of grease to all bearings and we set the crank pins with our 42:1 leverage Var Constrictor #07 crank pin press. However, crating necessitates disassembly of the brake linkage when we remove the handlebar to fit a standard size shipping carton. Please note also that these bikes are longer than most other bicycles. so besides a significantly daunting tedious Herculean and painful assembly on your end, the shipping charges are much higher. Home reassembly of a built & crated Roadster should take at least an hour for a skilled mechanic with appropriate tools, more like four to six hours for a complete CKD build. For shipping costs check with www.ups.com or www.fedex.com Our zip code is 53703. Enter your zip code and the carton dimensions, 56 inches long, 34 inches tall and 9 inches wide, shipping weight 60 pounds with packing materials.
EASTMAN and other ROADSTER BICYCLES
DO NOT MEET FEDERAL CPSC REQUIREMENTS
FOR USE ON PUBLIC ROADS
Eastman Roadster all sold
Eastman Single Speed Roadster $-out-
28-inch wheel Gent's 22" or 24" frame
28-inch wheel Ladies' 22" or 24" frame
Sturmey Archer NOS type AW Three Speed Gearbox Option $150
German SRAM Seven Speed Gearbox Option $250
SRAM Seven with Coaster Brake Option $300
CKD or Factory Crate discount ( NO USA assembly) $-100 Credit
Eastman Roadster Frameset (Frame/Fork/Headset) $95 ladies' only
700-40 Wheels & Cantilever Brake Option $350
We're Amenable To Your Requests
Roadster complete bicycles are gone here; the program is ended
Spares will continue and in fact expand but no more complete bicycles.
Starting in 1988, we imported and sold Eastman bikes through end-2010.
Single speed, three speed, seven speed and a few fixed gear as well!

---
---
This program is completed
No more Eastman bicycles here
---
---
Eastman Roadster Option Webpage for more information

standover 80cm and 85cm on the two frame sizes with 28-inch wheels
Complete Roadster Service Spares Page
Lightweight Models British Brake Spares Page

Sure, I'd like to
buy one today

I'm just not sure -
tell me more

Could you tell me
how to order one of these fine bicycles?

Click here to email
standover height 80cm small and 85cm standard