Eastman Roadsters
from Yellow Jersey

We regularly receive shipments of Eastman Roadsters.These are exact replicas of the original 1913 model


Such nostalgic looking bikes! Besides the traditional 24" frame size, the newish (post WW -II) 22"
and ladies' 22" and 24" 'sweep' frames. All frame styles are the same price
as last year. We have a much improved tire and tube from Hindustan Rubber this year.
Eastman fancied up our bikes with new vinyl prismatic stickers. If you prefer a more
Victorian look, they lift easily with a hair dryer.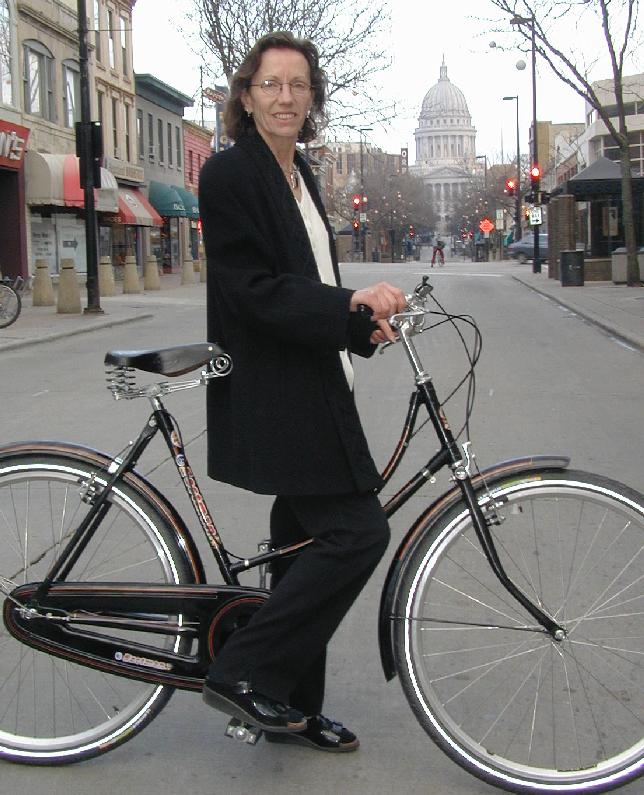 The above photo shows a bike with ROD brakes removed, WESTWOOD rims removed, ROADSTER HANDLEBAR removed and then re fitted with Swan Stem, aluminum bars, cantilever brakes, Velocity Dyad touring rims, stainless spokes and Michelin 700-40 tires with Schrader valve tubes. That option package adds $350 and drops about four pounds from the bike. Curious? Send an email
Pedals and mudguard stays are much improved this year and we have secured another
tranche of genuine NOS Sturmey Archer AW Three Speed hubs in 40 hole drilling. We also
stock 36h rims for use with the wonderful SRAM Super Seven German gearbox
New spares are found on our Roadster Spares page.
We didn't add these bikes into our automatic order system, so just ring us any time at
608.257.4737 or 608.257.7733 or if you wish fax to 608.257.5161
or as always click here to email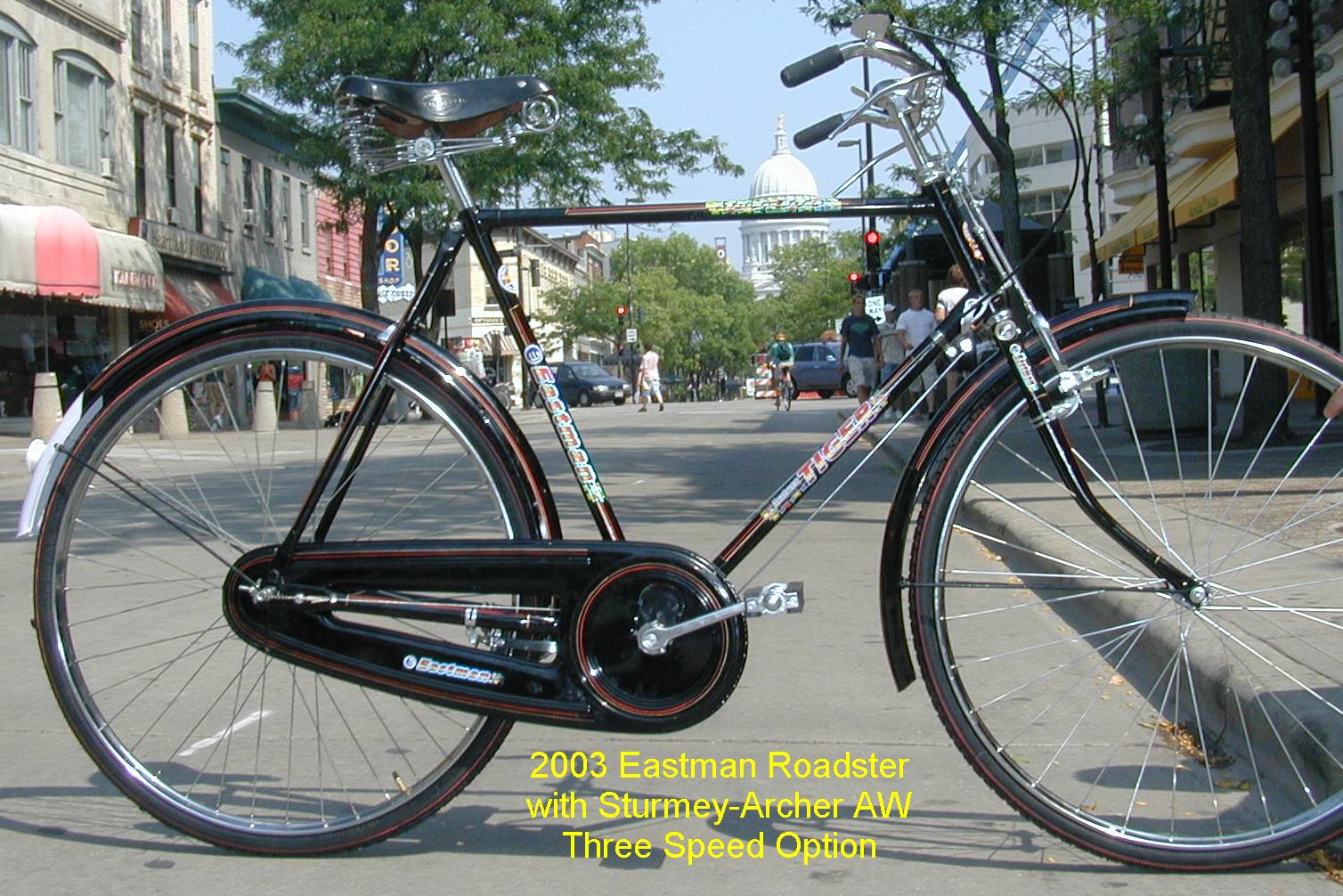 Roadster notes
That nice bell is included
You may swap the inner tubes for standard American valve tubes
Yes we carry spare tires and tubes
Actually, a full range of service parts
about 41 pounds - less than a Schwinn Varsity
Yes Roadster chain cases rattle
Let's not gloss over that, Roadster bikes just plain rattle
This is Victorian or maybe in parts Edwardian technology
No, nothing is changed or improved
Yes we have change gearing
46x18 is a bit high but that's the traditional setup
Long seatposts are $7.95
There is only one handlebar size/shape
No, it can't go higher
That's a real leather saddle
cover it in the rain
We haven't found a suitable kickstand
We recommend Chain L Oil , $9.95 with a nice applicator top
The Sensuous Eastman ladies' Roadster: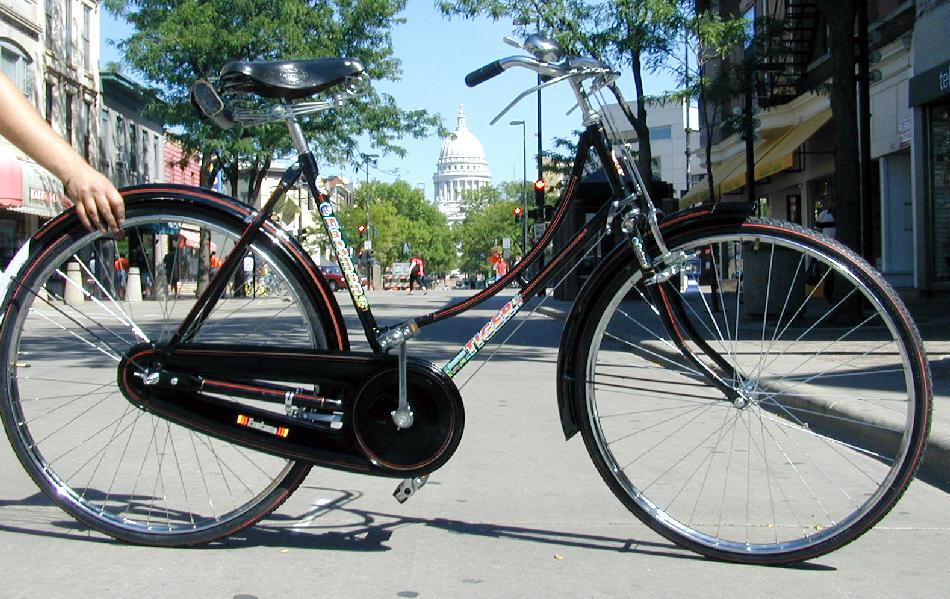 Cantilever Brake Option +$350
Tall stainless steel Swan handlebar stem
Raleigh style North Road handlebar
Hunt Wilde traditional style grips
Tektro brake levers with adjusters
Hand brazed one piece cast SCM brake bosses
Beautiful aluminum Tektro cantilever brake set
Cable hangers and fittings
Stainless spokes with brass chromed nipples
Velocity Dyad aluminum rims
Michelin 700-40 Trans World tires
(same outer diameter, same aspect as original tires!)
Any valve for your inner tubes, SV, PV, DV
Modern Teflon lined cables
When we paint your brake studs, you will lose some of the original hand stripes
Eastman Roadster with options:
including aluminum wheels with Michelins, cantilever brakes, taller handlebar
SRAM Super Seven German gearbox an Eastman chromed rear carrier,
Sugino track crank, wide MKS Tour pedals and a genuine Brooks British saddle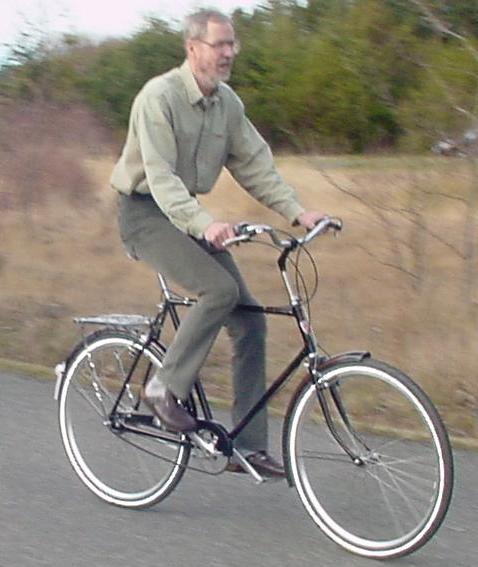 Back to our main Eastman Roadster Page
---
---
This program is completed
No more Eastman bicycles here
---
---
---
---
Complete Roadster Service Spares Page
Lightweight Models British Brake Spares Page

Send us an email we read them!

We enjoy your correspondence! Click here to email.