link to mobile version
French Metric Bicycle Parts at Yellow Jersey

(please see seatpost update box, below)
Newest design posts are HERE NOW!
CALL PLEASE
608.257.4737 or 608.257.7733
Customs has its own inscrutable schedule. Assuming there is a schedule
FINALLY ARRIVED! So often at what passes for bicycle stores today, the young employees are disparaging of nice vintage French bicycles. Since their experience includes lowball Chinese mountain bikes as normative, a cyclist riding a classic French bicycle just doesn't get the respect and service one might expect. (Anquetil notwithstanding. And even Eddy Merckx rode a Team Peugeot PX-10 as a neo-pro in 1967. But we digress)
Since we sold not only French bicycles ( Motobecane, Peugeot, Turin, Jeunet, LaPierre, Olympic Sport and many more) but also bikes from Belgium (Superia), Switzerland (Mondia, Allegro, Tigra, Mairag) and Spain (Zeus) with at least some metric dimensions, we're sympathetic.
Call us with your replacement parts requests.
608.257.4737 or 608.257.7733
No, we do not have everything.
But we do make an effort and can almost always find a functional solution if not the original part.
Complete original French made metric headsets new in box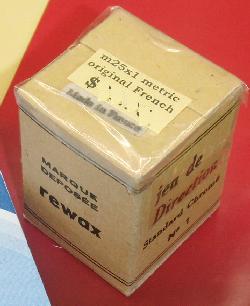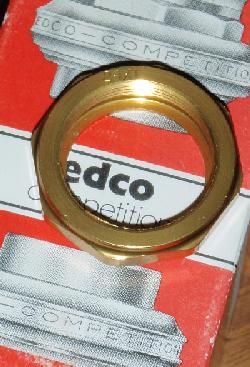 Also super premium EDCO Swiss made metric. Anodized aluminum, new in box. Call please.

608.257.4737 or 608.257.7733

Standard BSC stems are too big to fit your classic French bike. We recently acquired some nice lathe tooling just for this problem. Now, we can modify some, but not all, handlebar stems to fit the smaller Metric size. $35 machining charge with a stem purchase. We can't cut _every_ stem but many models are suitable.
This 29.95 adjustable stem is $64.95 when machined to Metric dimensions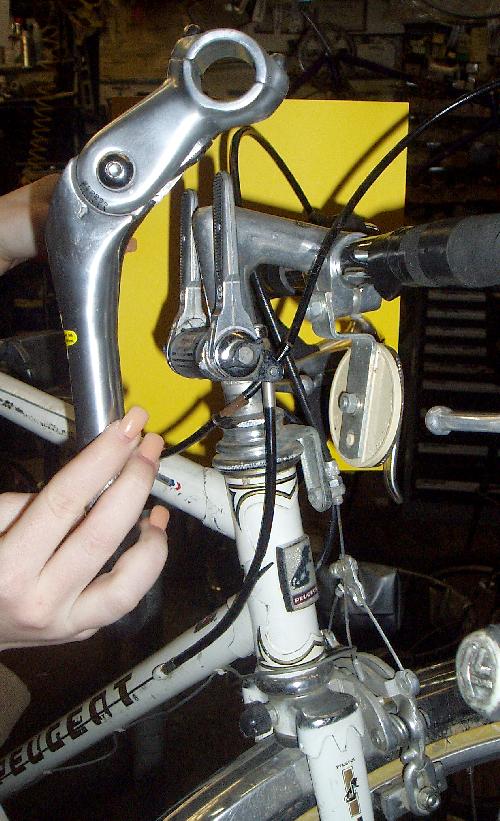 Here's a modern tall adjustable stem going on a French bike
HANDLEBARS END UP A FULL FIVE INCHES TALLER!
new model! prettier, lighter, taller still same price, shown below
up to S E V E N INCHES TALLER!! $64.95
note large range of adjustment - easy to change with one allen key!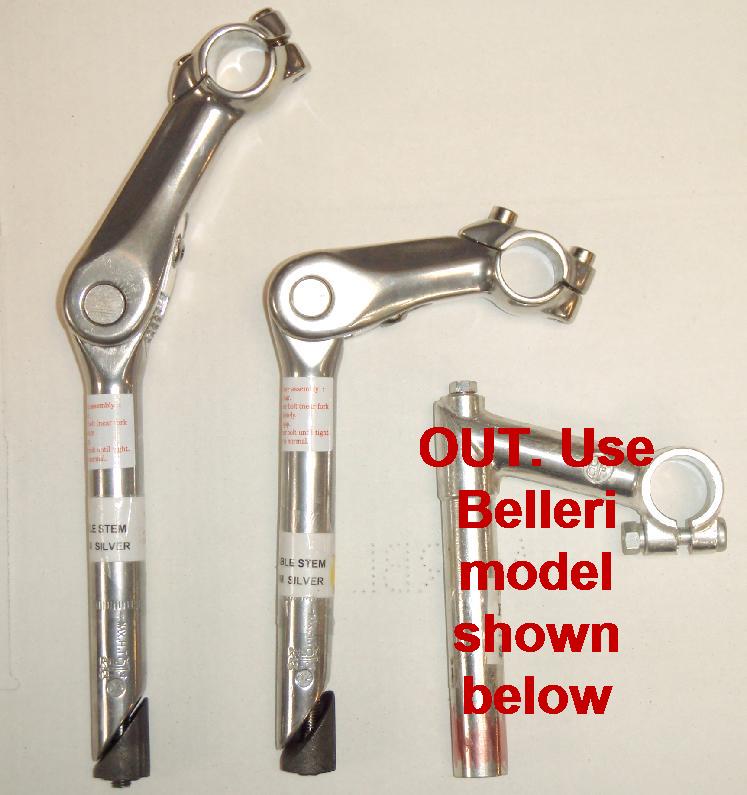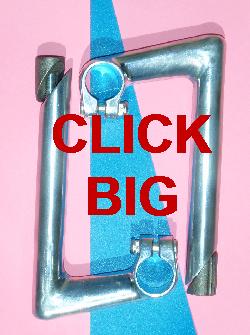 Belleri France 22.0 x 25.4mm $59.95
new service! now Nitto Technomic stems machined to metric size $90
Original French made classic aluminum stems as shown on right $59.95
For metric pedals, we recommend machining your cranks from 14mm to 9/16-inch. That's a difference of 0.0013 inches - we take out a small curl of aluminum about the thickness of a human hair. Service charge $20 the pair and we stamp R+L on the inside of the arms, so you'll know they are no longer metric.
Metric Pedals Today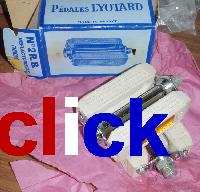 Lyotard #2 White Rubber Metric $59.95/pr
**also available in standard BSC thread $49.95**
Atom 700 Road $OUT /pr
Olimpic Pro Road Metric pedals $69.95/pr
Olimpic Pro Track Metric pedals $69.95/pr
Olimpic were original equipment pedals on Motobécane Grand Record and le Champion models

If you have a French crank, you might want to look at our selection of classic chainrings
In seatposts, we carry standard $20 seatposts (300 to 330mm in natural silver aluminum or black finish )

all the intermediate sizes
25.0mm
25.4mm
25.6mm
25.8mm
26.0mm
26.2mm
26.4mm
26.6mm
26.8mm
27.0mm
besides 27.2
and all the modern diameters as well.
and a few vintage posts
For classic Sport bikes, we even carry a special 320mm ( yes! 230mm of useful length!)
in the rare 24.0mm diameter, $69.95
Newest model HERE NOW AT LONG LAST!
Call Please!
608.257.4737 or 608.257.7733
We'll ship TODAY!

We began machining seat posts to 24.0mm for classic French 'Sport' bicycles about ten years ago. Many French makers built frames with a small-top seat tube. Such models include the Peugeot UO-8/ UO-18, Peugeot P6/P16, P8/P18 as well as Gitane Gran Sport, Motobécane Nomade, Nobly, Mirage, Peugeot VX40 and many others. Since we had sold truly thousands of this style bike ourselves, and, in America, a huge volume of nice classic bicycles remain in garages, we tried to do something about those short cheap steel seat posts out there. In the 1990s, we used 25.4mm ROC-Taiwan aluminum posts, which are readily available. We hired an American machine shop to turn them to the smaller French 24.0mm format

In recent years, with dramatic increases in both aluminum cost and delivery expense, seat post makers have changed to harder seamless aluminum material for post shafts. That change means thinner seat post shafts and, of course, lighter posts! Which is all fine so far as it goes. However, when we cut a smaller diameter from a modern post, we risk ending with a possibly unsafe thin piece.

So we searched for a manufacturer to make custom 24.0 posts for us. This turned out to be quite difficult.

Since we have some experience here, we recalculated how thin is 'too thin'. We set up a test fixture for seat post samples. Until early in 2009, no manufacturer had been able to deliver such a simple thing to our written specifications and within reasonable bounds of safety .

We're sympathetic to riders who have a too-short seat post on an otherwise nice bicycle. We pursued this new design diligently over nearly a year's time. The project came to a wonderful conclusion with a nice looking safe long modern seat post to fit classic French 24.0mm bicycles

-due to the small diameter format, maximum recommended rider weight 195lb-

NEWEST STYLE 2018 POST HERE NOW!
If you wrote us, we notified you .
24.0mm diameter, $69.95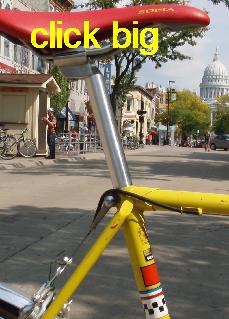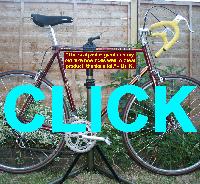 24.0mm diameter, $69.95
U P D AT E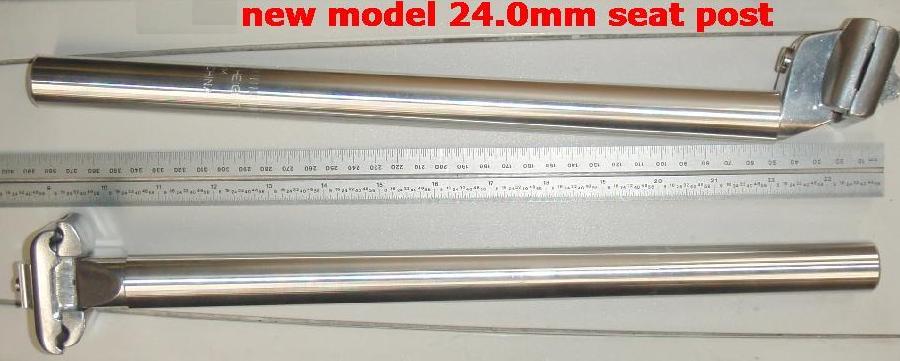 For bottom brackets ( crank bearing assemblies) We have many original parts and a good selection of modern replacement spindles (click for spindle options) . Vintage NOS French (m35x1) and Swiss (the same but with a reversed right side) cups for various frame threads. Phil Wood crank bearing cartridges and all threads of Phil stainless steel mounting rings in stock
French classic ('obsolete') frame end service
NEW! Real Japanese Tange IRD cartridge bearing units in METRIC
Spindle sizes for most modern square taper cranks $59.95
Italian m36x24, French M35x1 and also Swiss M35x1G ! In stock here!
Also original NOS vintage new cups, spindles etc for most top brands
PEUGEOT brand original French made crank pins $9.95 ea Nothing else fits well!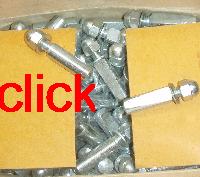 For headsets (fork bearing assembly) we have NOS original French steel sets, $79.95, and a few premium quality aluminum models. We do offer full machining services and we have full precision tooling in French formats. Even when hope seems lost we can help
If you have a damaged fork, we do fork alignments, we have some original vintage forks, we have some replacements in the original dimensions and if all else fails we can switch the front of your bicycle to a BSC fork, stem and headset. Don't despair!
In gear trains, we are one of the last places on earth with good support for Helicomatic systems and Atom-Maillard-Normandy hub service parts.
We also stock classic Simplex diagonal shift AV type front changers for those among you who have noticed that modern front changers are too darned thick and so cannot fit between ring and crank on classic bicycles.