In the 1980s, Panasonic developed a tightly coordinated custom frame program known as Panasonic Order System or POS for Japanese dealers. Shortly thereafter the system was expanded as the Panasonic Individual Custom System or PICS in the USA. This was a breakthrough concept - a custom frame delivered within a month from a major manufacturer and in large numbers using the latest available technology of the day - dealer fax machines and an NEC mainframe in Osaka. More about that on our Panasonic Page
Also NEW Panasonic Keirin Frames
Here is an early example, a custom 55cm Team America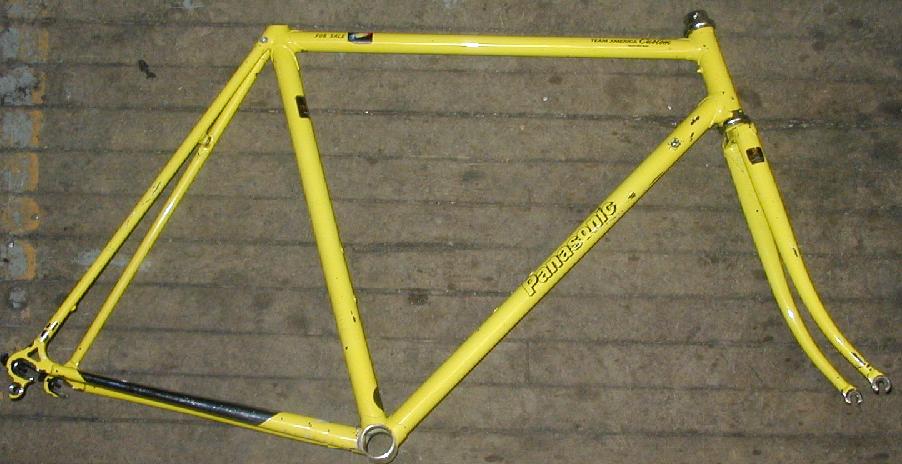 Panasonic included an option of rider's name lettered on the top tube. The owner of this one requested the words "For Sale" as seen above.
One foible of this frame, and so many others of the "aero craze" era, is poorly planned cable runs. The top tube is pierced for sleeves that stop the casing about an inch inside with bare wire for the middle 33cm. Here, it is really nice - well executed with steel tube filed flush. It's much better than the kind with full casing in a steel tube - those draw water and breed rust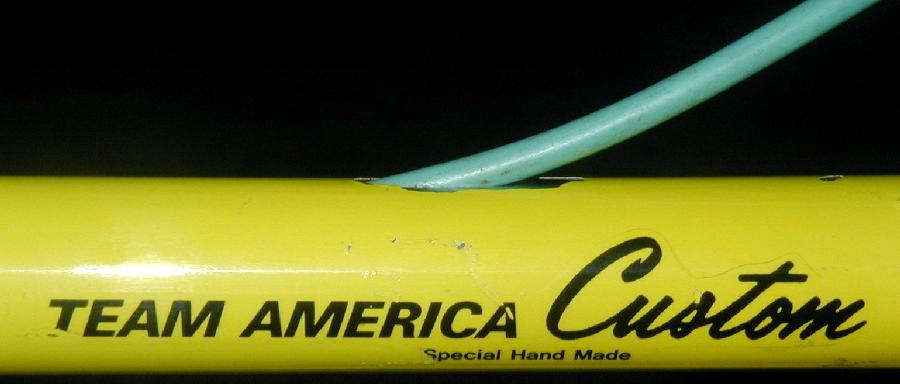 The shift system is problematic. Below the downtube bosses, gear wires disappear inside. That's very aero, very flashy, at the time quite trendy but in this case dysfunctional.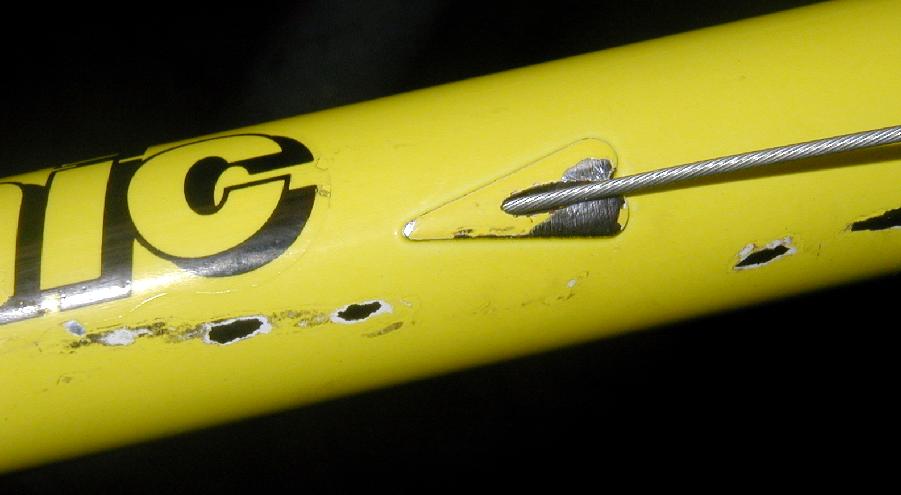 Once the wire goes in we have to get it out, right? Here is the front gear wire path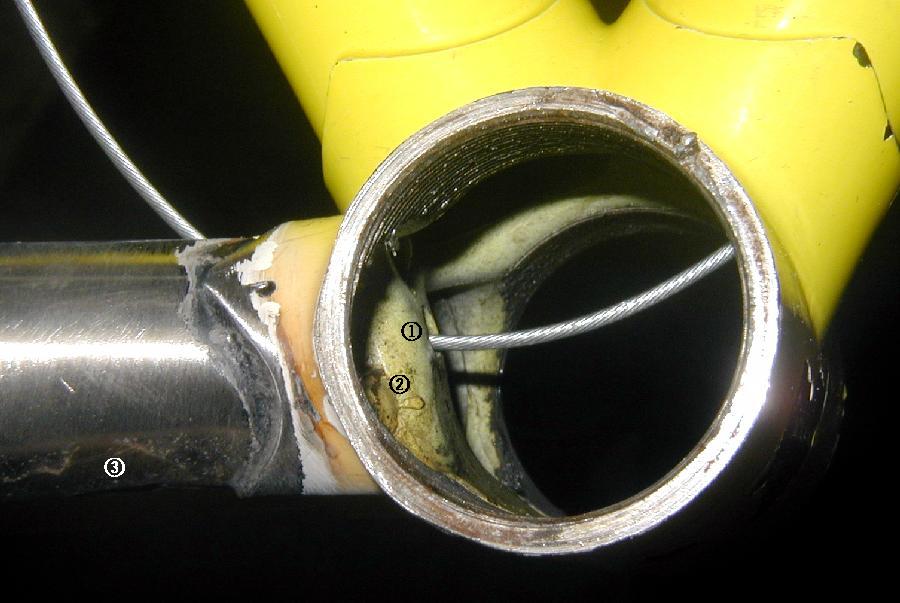 You might notice the path is not ideal and you need to remove the crank bearing assembly to change a wire! The front was easily changed by drilling and tapping the hanger shell for a nylon gear wire plate. But we wanted to retain the rear wire's elegant exit at the chainstay where a neat steel sleeve supports the casing. Besides which that's nicely chromed and any metalwork would spoil the plating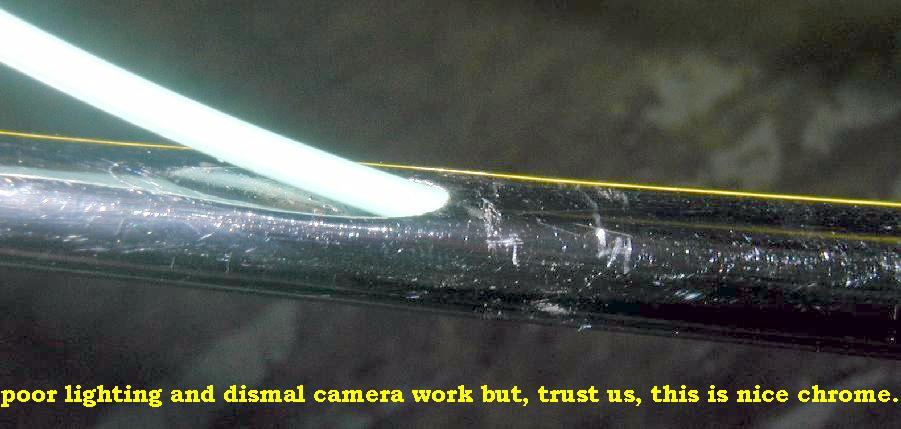 In the photo of the inside above, you can see the front gear wire exit aperture marked (1). The steel tube for the rear wire was brazed at point (2). I broke it away and bent it out through the chainstay at (3). Then I brazed it in and finished the piece as the other liners on this frame. The end result isn't a perfect gear wire run but it does work pretty well, retains the nice chromed stay and the rider no longer needs to drop the crankset to change a wire!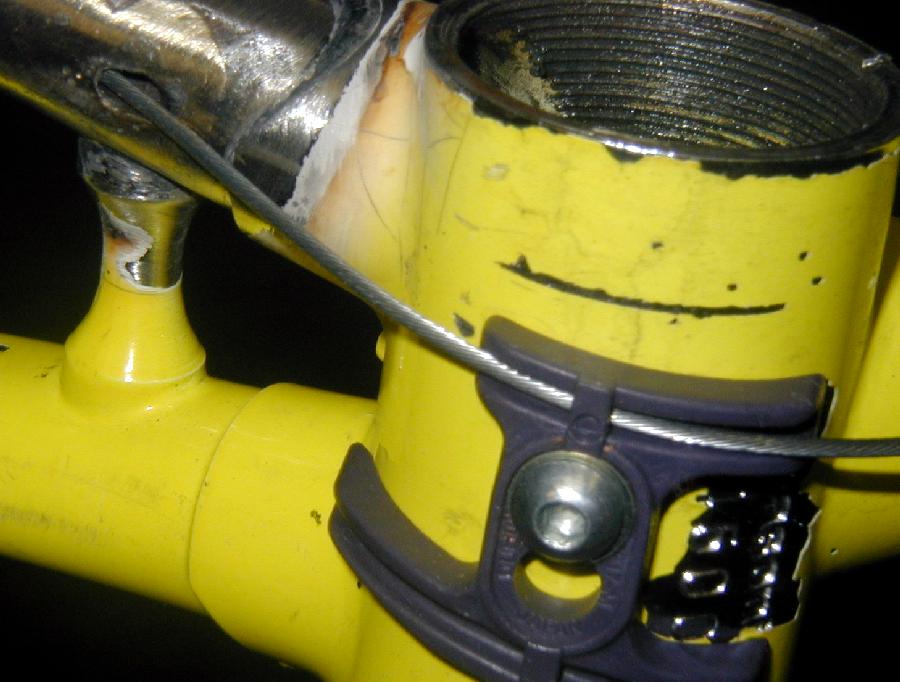 We are always available to discuss your frame formatting, machining, upgrades and alignments. Shipping frames is cheap and we'll return it to you the day after it arrives.
---
---
Seat Lug Repair

Many midprice lugged bikes develop crushed seat lug ears becaue the builder left the lug ears open.
That works if everything is perfect but in the real world, bikes get loaned, seatposts don't fit
perfectly and there seems always to be a helpful neighbor with a wrench who turns the bolt until
the lug is ruined.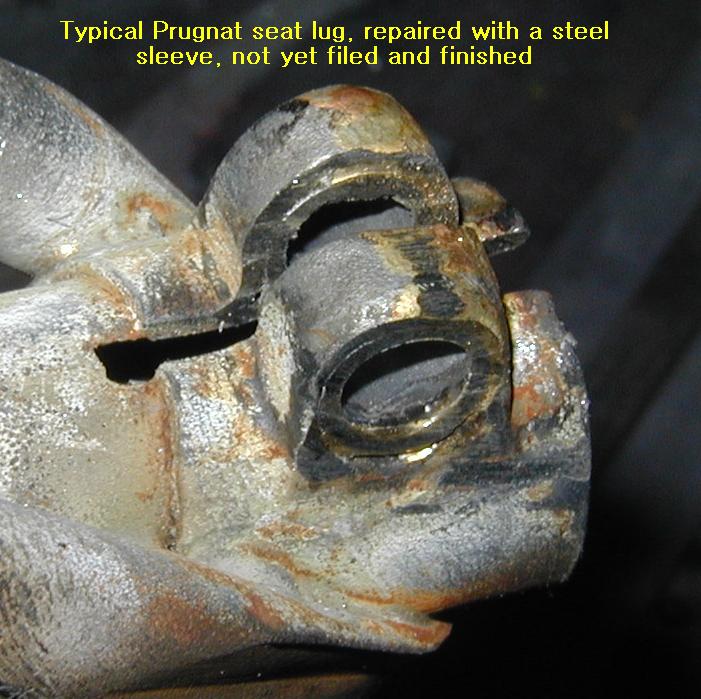 On this 1974 Urago track frame, Tim has pulled out the crushed ears, made the top of the seat
tube round again and then brazed a piece of seatstay end through the ears. He drilled the bore
8mm for a new allen bolt and cut a new slit. Another few miniutes of filing and it will be done!
We've done scores of these and so we can get your bike in and out promptly. Don't put up with
that sort of annoyance!
Typical Crashed Frame Photo Series: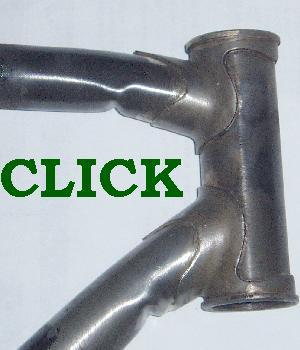 Crashed Puch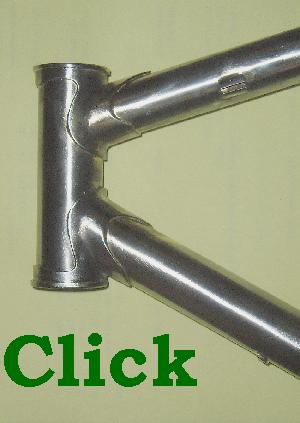 Repaired Puch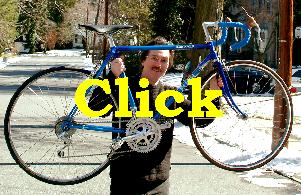 Rebuilt Puch