Suntour Freewheels

at

Yellow Jersey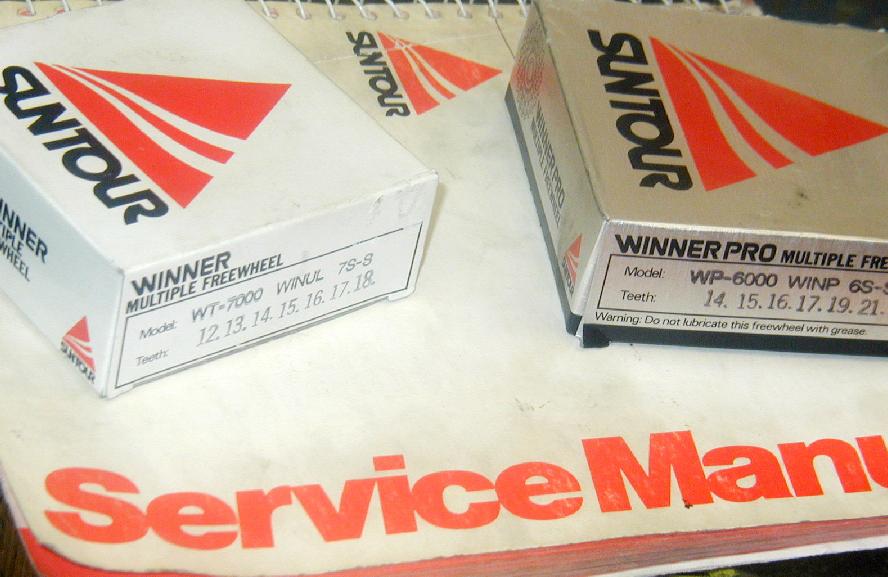 SunTour was a much smaller entity than most riders realize. The business, formally Maeda Industries, was a hotbed of young creative designers at the end of the sixties and through the 1980s, forever changing the French & Italian dominance of cycling both in oem and aftermarket equipment. But SunTour wasn't a large integrated industrial powerhouse like Shimano. Suntour relied on a host of small high quality manufacturers to bring SunTour's designs to fruition. Cranks were made by Sugino, brakes by Yoshigai Kikai Kinzoku Kaisha (DiaCompe). Hubs were built both by Sanshin and by Suzue in various models and some large forgings were done at SR-Sakae (seatposts, handlebar stems). These alliances remained just that - industrial manufacturing alliances with freely exchanged engineering and design among the various companies. Contrast that experience, known as the JEX group, with Shimano's ravenous appetite for engulfing smaller entities. The short-lived realtionship of Shimano to Takagi (Thre Arrows Brand), for example, quickly ended when Shimano simply bought them out and integrated their operations into Shimano Industrial Company, once Shimano management decided to seriously enter the crank market in the early eighties.

Among Suntour's lasting contributions to the sport was the Winner freewheel series. The platform was established with SunTour's ProCompe and Perfect models in the late sixties. These simple and dependable designs introduced SunTour's clever two-notch remover and established splined low gear cogs as the new standard.

European freewheels before SunTour left a small lip on the top of the inside half of the body. This lip was only 1.5mm thick and 25mm diameter so the predictable tearing of the body with a simple two-prong tool was common. Campagnolo developed a better tool which encircled the body's lip and located the two prongs better. At about the same time, Atom and their other brand Normandy were establishing a more familiar spline tool. Atom's was 22mm which, like Shimano's 20mm spline format, required removal of the axle to get a freewheel tool into the splines. Normandy at least avoided that with a 31mm diameter spline, but their body precluded very small high gear cogs. Phil Wood was soon to launch his thinwall Atom tool (Atom and Regina cross-marketed this body and many other design features in that era.) But SunTour went a step beyond. By making the inner lip of the body a full 3mm thick and by setting the notches 4mm deep, their removal system was fast and positive besides being dirt cheap to manufacture.


Some SunTour Freewheel Removing Tools - Click for details
So SunTour was already well known for freewheels by the time they introduced the original Winner system in 1975. That debut was contemporary to the Cyclone series of gear changers. Light, cheap and nothing special in terms of design, the Cyclone was instantly popular for its amazingly low weight and price. The very first Winner used the SunTour two-notch remover tool and shipped with a choice of black steel cogs or natural finish aluminum. That first series had a different mid-size thread for the middle gears unlike any SunTour freewheel before or after. Freewheel bearings were adjusted by turning an adjustable race at the back of the body - it was also the lip against which the low gear is pressed. Tightening the middle-diameter threaded cog home locked the bearing adjustment. The actual adjustment could be done in one's hands once the middle cog was unscrewed. Unfortunately this made the bearing adjustment difficult with the freewheel still on the bike.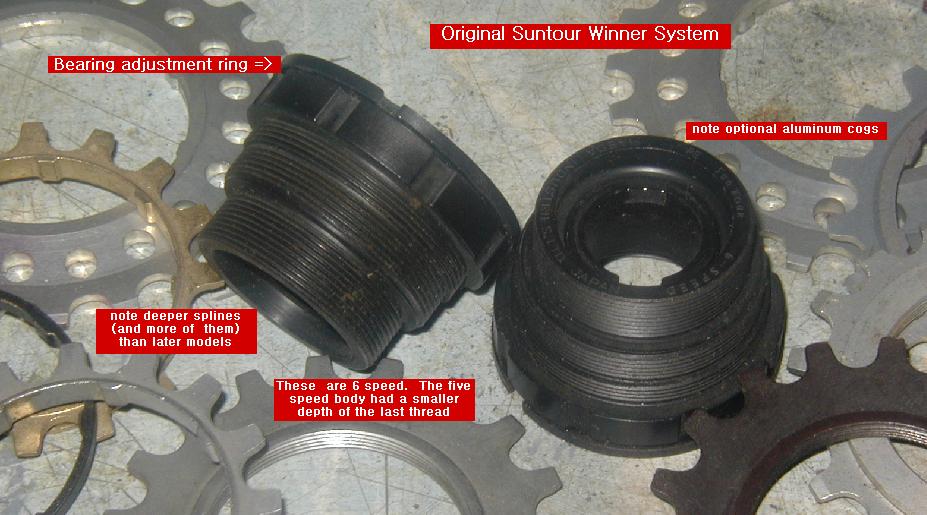 The second revision is the classic New Winner we know so well. And now you know why the old one is called the "New Winner""! More than just a cleaned-up version of the Winner, New Winners retained a quick-adjust body but moved the adjuster to the front of the body and required a pair of special wrenches. Gone was the mid-size cog thread so the sprocket selection was simpler. Cog color choices included the classic SunTour gold, the black from earlier Winners and a new distinctive silver finish. Interchangeability with the lower-line ProCompe and Perfect was very good. That is to say every ProCompe cog was included in the Winner system. Beyond that, though, the New Winner was expressly designed or versatility. In a breakthrough concept, One body supported five and six speed systems with cross-compatibility of cogs for a simpler and more easily customized freewheel system than anyone had ever done.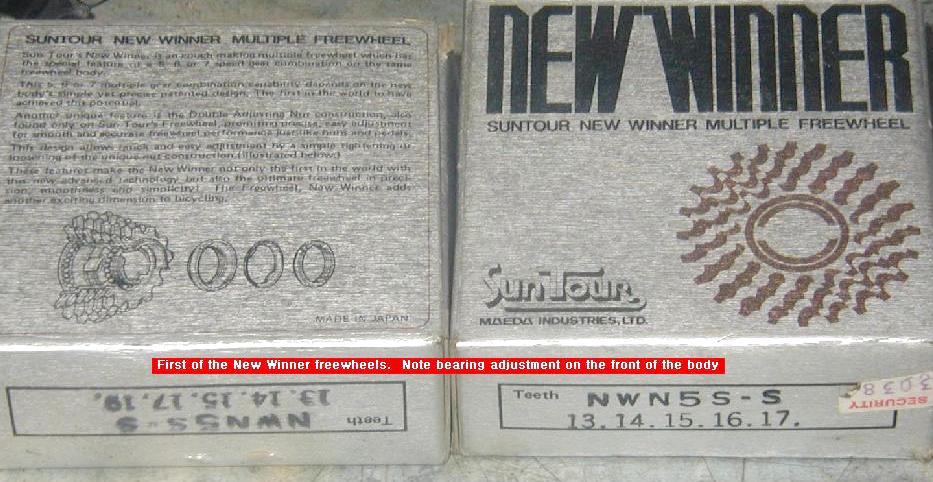 Suntour began a trend [that is still progressing with Campagnolo's Eleven Speed] to more cog selection. Their breakthrough concept was to scrunch the cogs just a little closer together. Now five speed bikes could be cheaply and simply upgraded to six speed in the same space [121mm] and six speed bikes could bounce up to seven. You may think that's trivial but consider that the classic touring bikes of the era used a freewheel with 14-17-23-28-32. There are a lot of gaps there! Riders commonly taped a list of gears on the handlebar stem as a missed shift meant sometimes a twenty inch or more skip. Being able to fill in the progression is generally a good thing and we owe the inception to SunTour
Here's the layout of the New Winner system: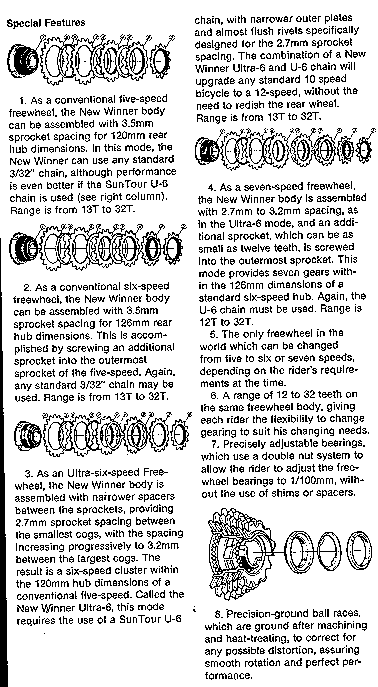 And a cog chart of available choices: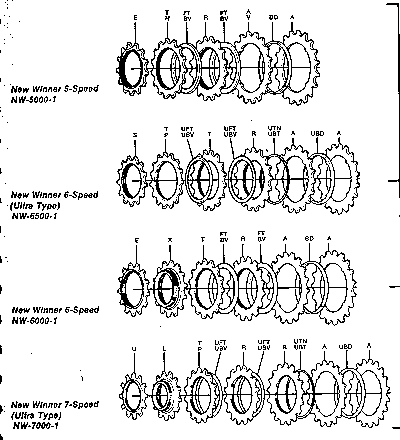 Later, having painted themselves in a marketing corner by calling the old product "New Winner", SunTour called the mid-80s revision the Winner Pro. The middle threaded cogs were replaced with splined cogs, offering more verstaility and faster changes. The adjustable bearing body was dropped and a new spacing protocol was added for six and seven speed "Accushift" indexing systems. 1985 also saw the second effort at a lightweight freewheel, the Microlite, with an aluminum body, a six-peg removing tool and aluminum cogs. It was quietly dropped from the catalog two years later.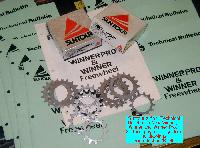 Comprehensive Official Suntour Freewheel Manual, reprint $5.95

For the vintage freewheel buff, we have reproduced Suntour's excellent and comprehensive Technical Bulletin on Winner, New Winner and Winner Pro systems. Every page has large crisp line drawings in a big 11"x17" format showing the layout of the late series freewheels. This is the only publication showing step-by-step giudes to interchange cogs between the New Winner (threaded middle cogs) and Winner Pro (splined middle cogs) systems. Sharp reproduction in sixteen pages.
We have sold all Suntour New Winner, Winner Pro complete freewheels.
We have good sprocket support for five, six and seven speeds.
TODAY IS A GOOD DAY TO CHANGE THAT WORN CHAIN
METRIC NOTE: If your bicycle was made in France, Switzerland, Spain or Belgium please click to see Metric Freewheel Markings If you have intellectual curiosity, here are the actual freewheel thread dimensions , courtesy Regina SICC. IF YOUR FREEWHEEL IS INDEED METRIC we can't replace it. We do have replacement sprockets to fit your metric body.
Here's a customer comment on replacement Suntour freewheel cogs
Thank you for the quick service. I ordered a 19 tooth gear cog for my SunTour winner freewheel on Friday evening Sept 10th and I received the cog on Monday the 13th! Not only was it fast getting here, but I was able to install it and ride too! Nothing against my local bike shop, but they were unable to find a cog for my old freewheel and it would have snowballed into a new cassette with a new rear wheel that doesn't match and they said possibly a new frame because mine is the old 5 speed spacing! My old bike has been stored for 13 years and is in near perfect condition so throwing away good parts seemed foolish. I know I am riding a dinosaur but it was once a state of the art dinosaur!
- Gary W
---
I received the freewheel yesterday.
Thank You once again for your prompt service.
I have bookmarked your web site and I will tell others about Yellow Jersey.
- David T
Yes! That's our favorite word. Yes! we can help! Just call us or email us!
---
Our Amazing NOS Suntour Accushift Drivetrain Components page.
Our Suntour Accushift Cassette page.
Our Suntour Accushift System Tech page.
and tangentially related, Suntour Cyclone Rear Changer Diagrams mostly nostalgia

2015 Update
New 1976!
Suntour Perfect Five
14.18.22.28.34
$39.95 limited quantity, no sub.
New-In-Box complete Suntour Freewheels. $-out-
ALL SOLD OUT ** NO MORE ** ALL GONE **
Standard 5: $-out-
Standard 6: $-out-
Ultra 6: $-out-
Ultra 7: $-out-
In 1995, when we uploaded our first web page, Suntour had only recently passed and we had virtually every size and style of Suntour Cogs and spacers.

Now, in 2015, after many years of building custom freewheels, we've sold through some sprocket sizes. Now, assembling any given combination of cogs to rebuild your Suntour freewheel has become a bit less certain.
We are still willing, but not always able. Call us! The listings in our Web Store are out of date. Some cogs listed there are no longer available!

no B18, B19, B20, B21, most others in stock
Threaded cogs $39.95 each limited supply
Splined cogs $29.95 each most not all sizes
Spacers $9.95

New cogs for your worn freewheel:


WE REBUILD
Clean, lubricate and replace worn sprockets
see parts prices above please
$25 service charge
PLUS PARTS
Mail your freewheel here

.