Licensed profesional Keirin riders have their frames built to measure by a small number of Keirin
Certfied framebuilders. Foremost among them is the acknowledged master, Nagasawa
Certified Keirin components bear this NJS Keirin Approved label: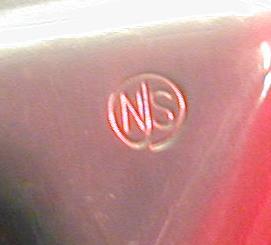 The quality standards are so high that Campagnolo Record Pista equipment didn't make it. Campagnolo
dedicated years to developing their Keirin Pista series, which was finally certified in 1987. We mention
that as an insight into the fanatically high standards of Keirin
Lately, we've seen a trend in road equipment to silly-light handlebars. Weights have plunged to the limits of
safety. And beyond. We don't generally recommend road bars below 200 grams. They exist if you are so
inclined. Some riders prefer them for their inherent flex as much as for the ultralight weight.
The exact antithesis of silly-light is Nitto Keirin gear.

Nitto / Tokyo is a family-owned manufacturer of quality bicycle equipment.
no moped parts, no fishing gear, no electronic tchotchkes, just good solid bicycle parts
This is one of Nitto's oldest and best-known products.
Few handlebars are as heavy. We know of none more rigid.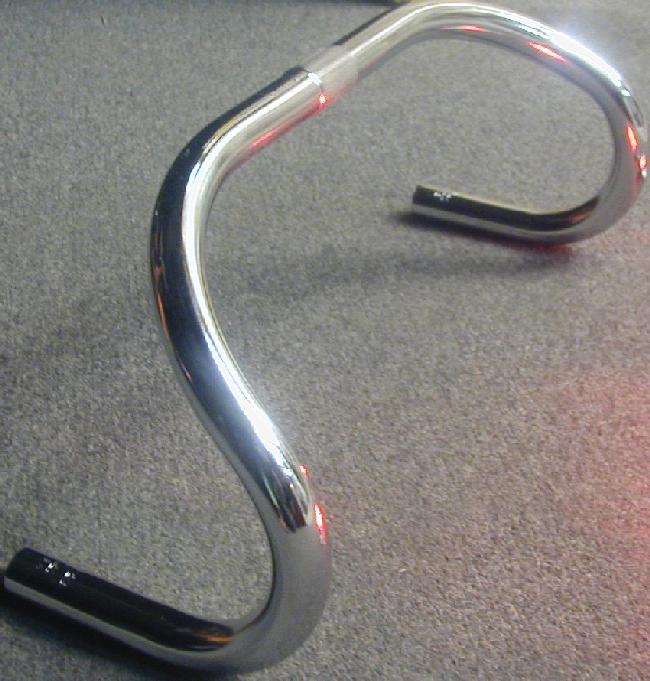 Nitto's matching Jaguar Professional Keirin stems show the same style. Elegantly plain, these 58-degree
Keirin Professional stems are cold forged and then hand polished to a seductively smooth finish.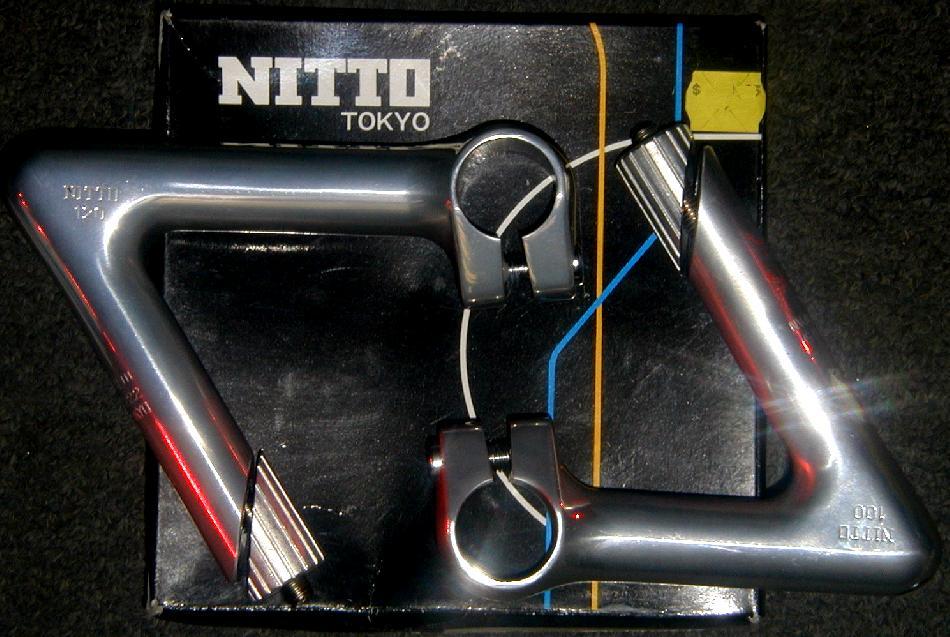 The Jaguar forged aluminum model above
and on the left below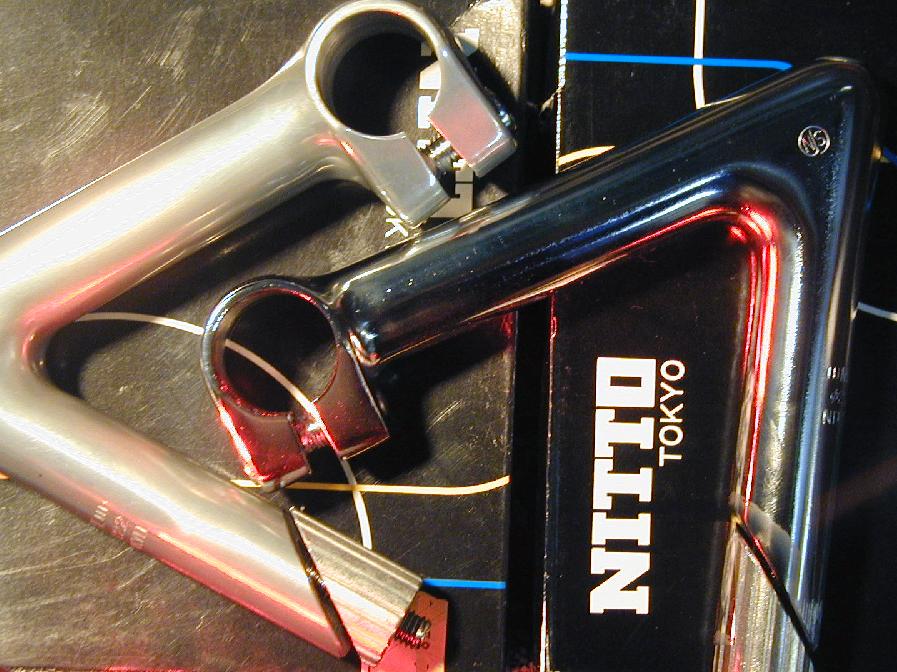 Nitto Forged Steel("tetsu") Keirin stem on the right
Yes, there's always one just a bit nicer. Here it is.
Nitto's premium Professional Keirin stem, this # 65 is solid forged steel,
beautifully polished, seductively chrome
plated and comes in whole sizes only.
Sizes are nine through thirteen [90 ~130], one size longer than Nitto's aluminum model.
$159.95 anodized aluminum, $259.95 forged chromed steel
both stem models are meticulously hand polished to virtual perfection
Nitto Dimensions
Nitto's NJShandlebar-stem interface is 25.4mm
Nitto measures handlebar width on centers
Nitto Pro Keirin stems are 22.2mm Quill format
Nitto NJS Pro Keirin Handlebars and Stems
Nitto Pro Keirin CrMo bars, sizes 38 - 40 - 42 $79.95
Nitto Pro Keirin CrMo bars, size 36 $89.95
Nitto Pro Keirin Hardened Aluminum bars, sizes 38 or 40 $99.95
Nitto Keirin aluminum stems 22.2mm quill, for BSC forks, 9~12, $159.95
Nitto Jaguar Pro steel Keirin stem, 58 degrees, sizes 9~13 $259.95.
Nitto Jaguar Pro steel Keirin stem, 65 degrees, sizes 9~13 $259.95.
*NEW!* Nitto O/S AH forged steel stem for Deda bar below $179.95
Yes! You may buy now! Click here
and tell us which size you require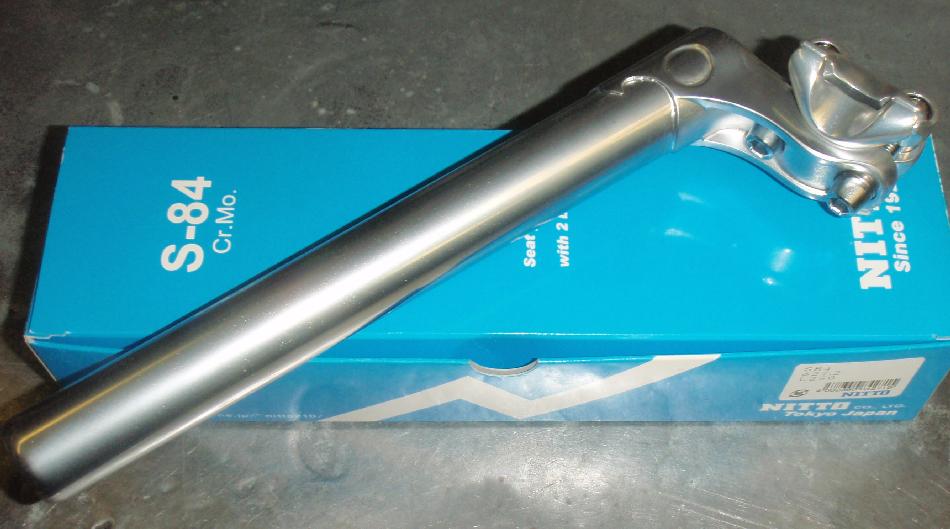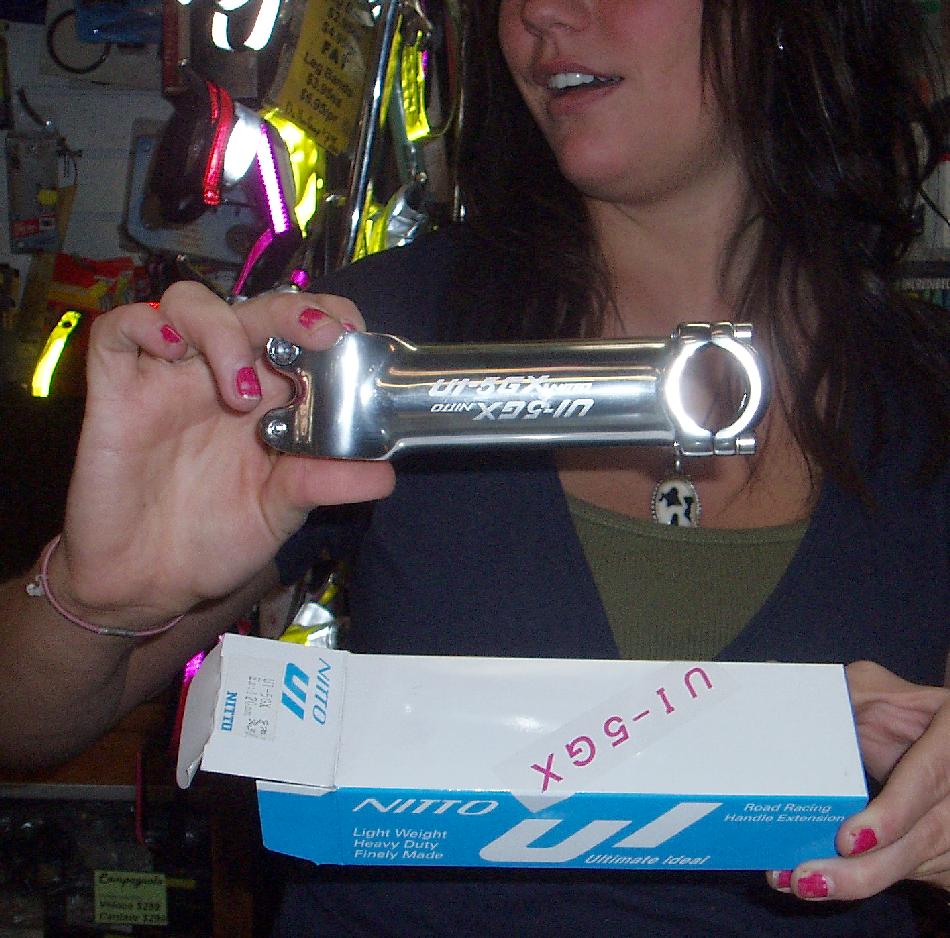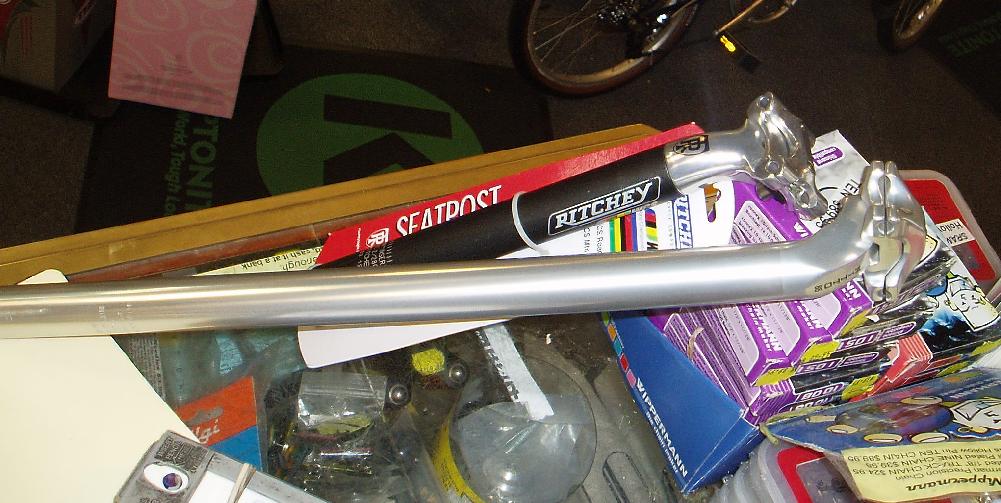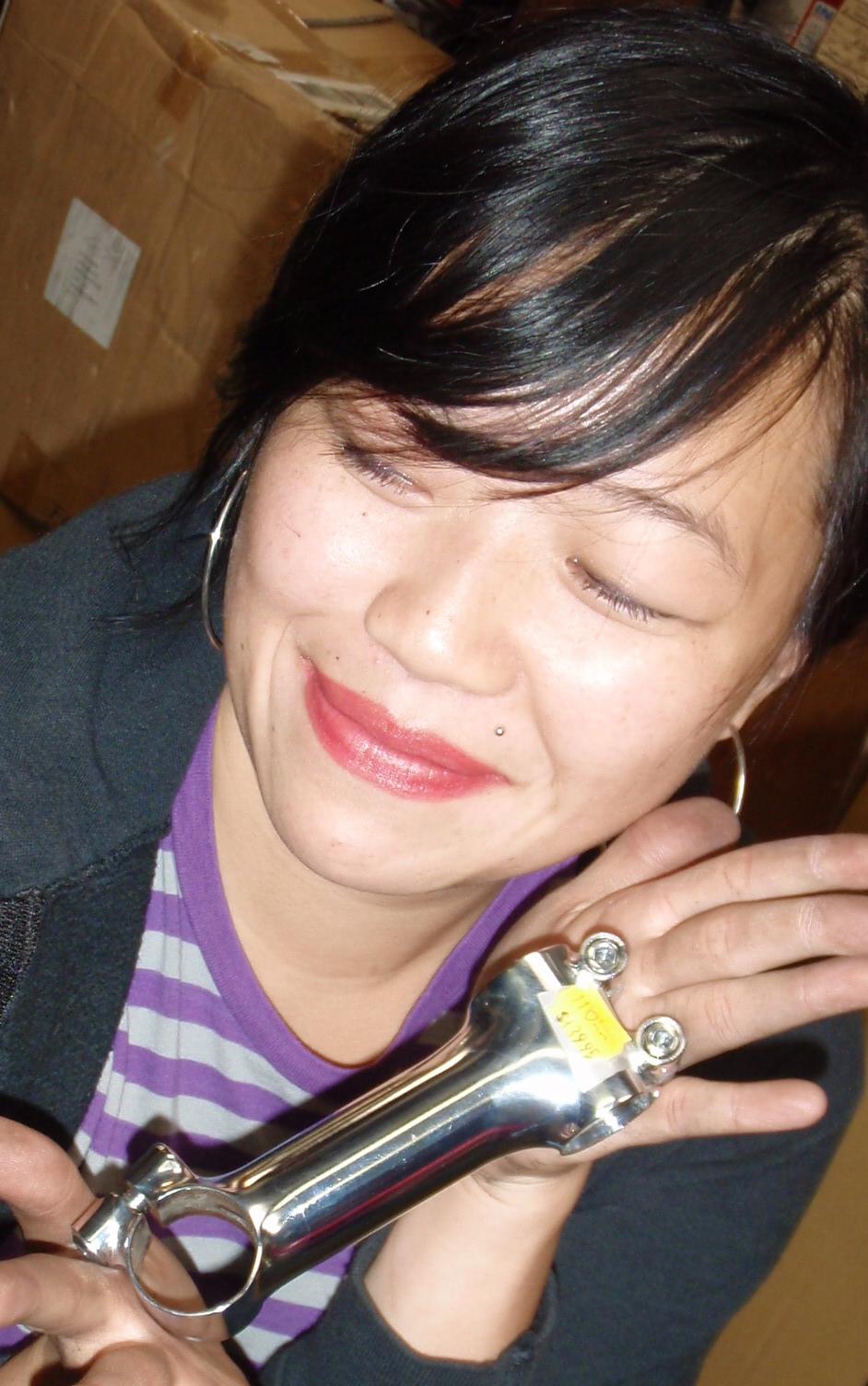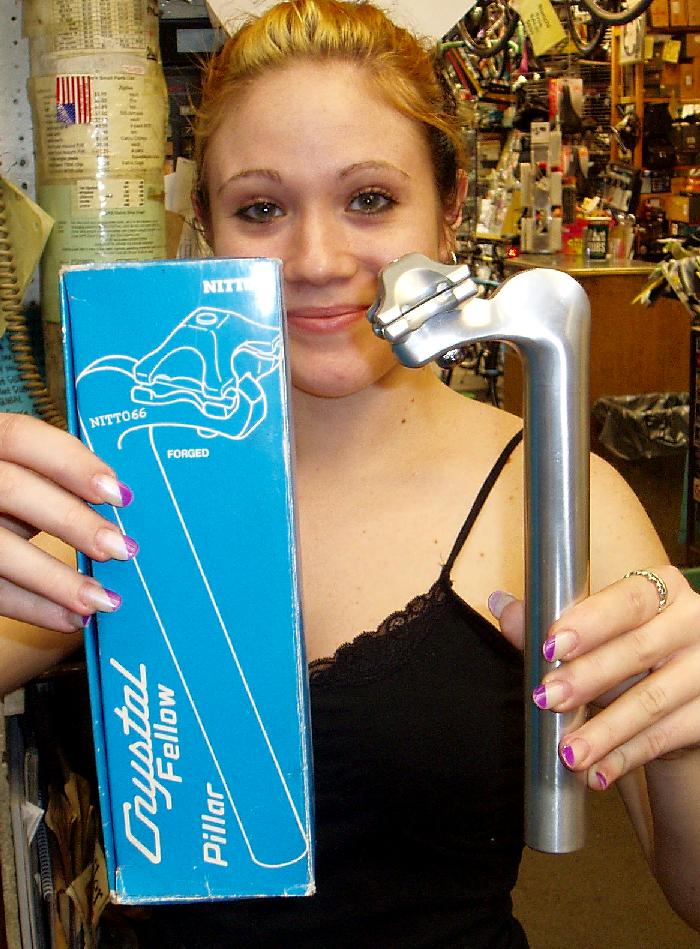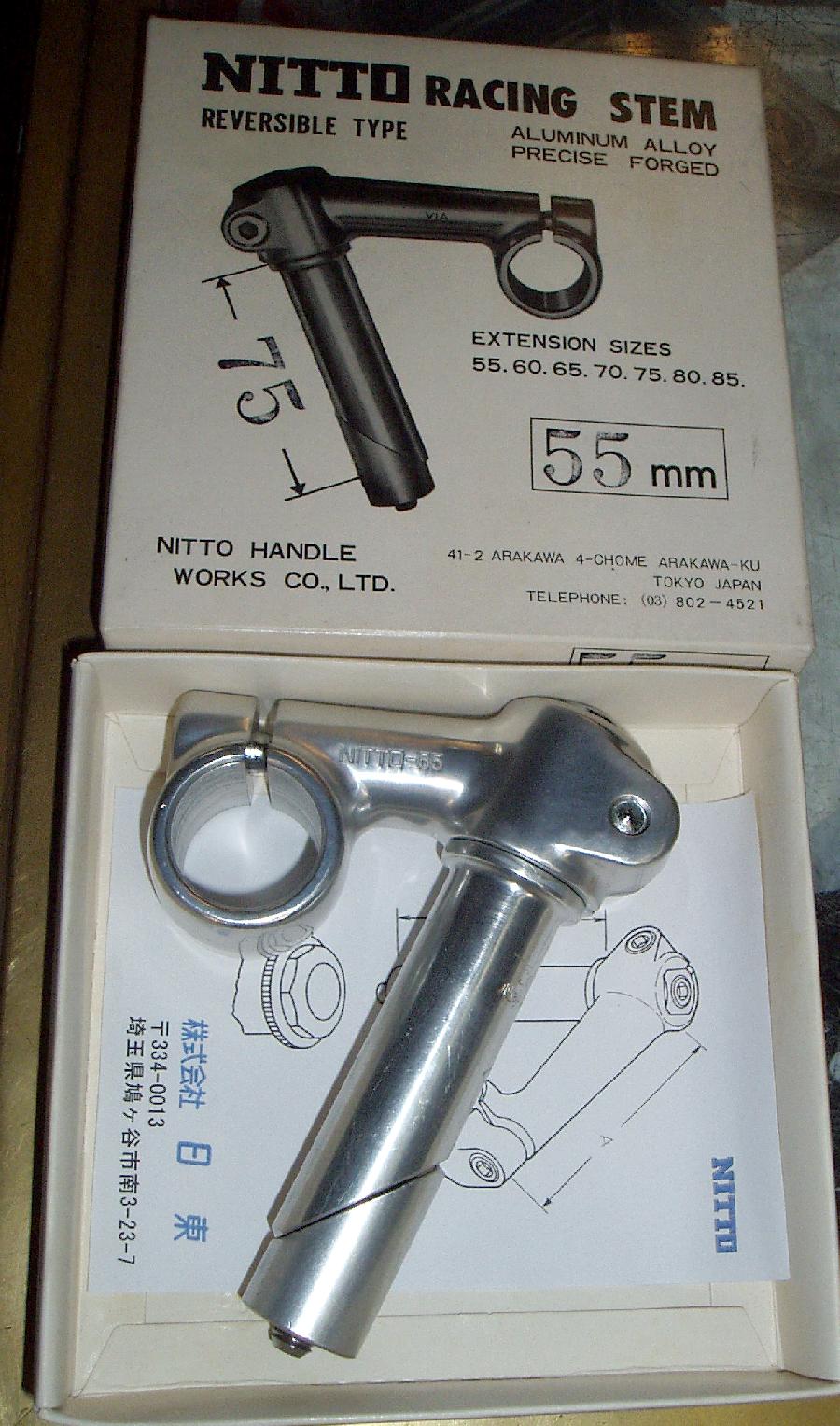 and a host of other Nitto product


Or of course call us at 608.257.4737 or 608.257.7733 any time!

Click here to email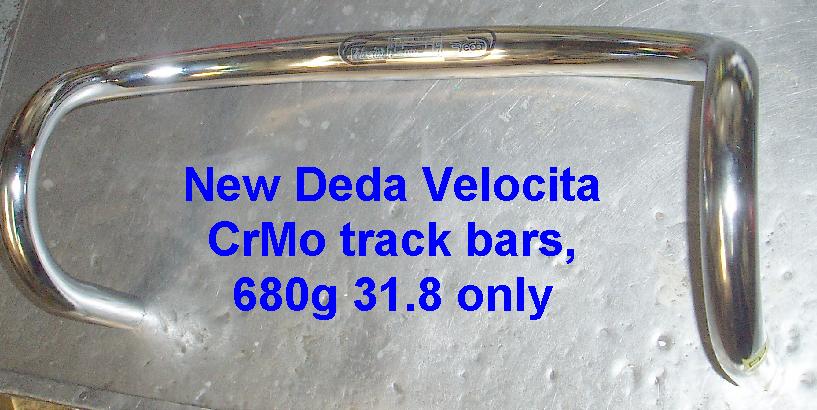 NOT a Nitto product!
These beautiful Italian Deda Velocita track bars are sure to turn heads at $119.95, 680 grams