We build myriad custom wheels,
we've been doing that for a good long while
we have both deep and wide inventory for most applications
so we're prompt as well!
For popular fixed gear wheels, please see our page on
SENSIBLE FIXED GEAR WHEELS
For a brief overview of classic restoration quality wheel, please see
CLASSIC & VINTAGE WHEELS
If you need new wheels, call us or write for a consultation
We'll discuss with you both your demands and the available
equipment options. A properly designed custom wheel optimizes
weight, durability and cost for any given application.
EMAIL US: click wheel consultation
CALL US: 608.257.4737
CALL US 608.257.7733
Build Wheel $25
Bright Stainless NJS certified
14-16-14 double butted spokes
with hard brass plated nipples $30/set*
* set= one wheel, up to 48 spokes
Modern VELOCITY clincher rims:
follow links ot specifications from that page
Modern and Vintage TUBULAR rims
Rebuild with new rim and spokes on your hubs $40:
Mail your hubs to us:
Yellow Jersey, Ltd.
219 Main Street
PO Box 17
Arlington WI 53911 USA
please include your name and contact information inside the package
mail hub, choose rim, add spokes $30 and rebuild $40

Before mailing your hubs:
Remove gear system from rear hub!
That's important, sometimes critical
Don't cut out wheels under full tension
Loosen spokes two turns before cutting spokes
Include your name and DAY telephone please
Insure your packet
We'll send out your newly built wheels the next day!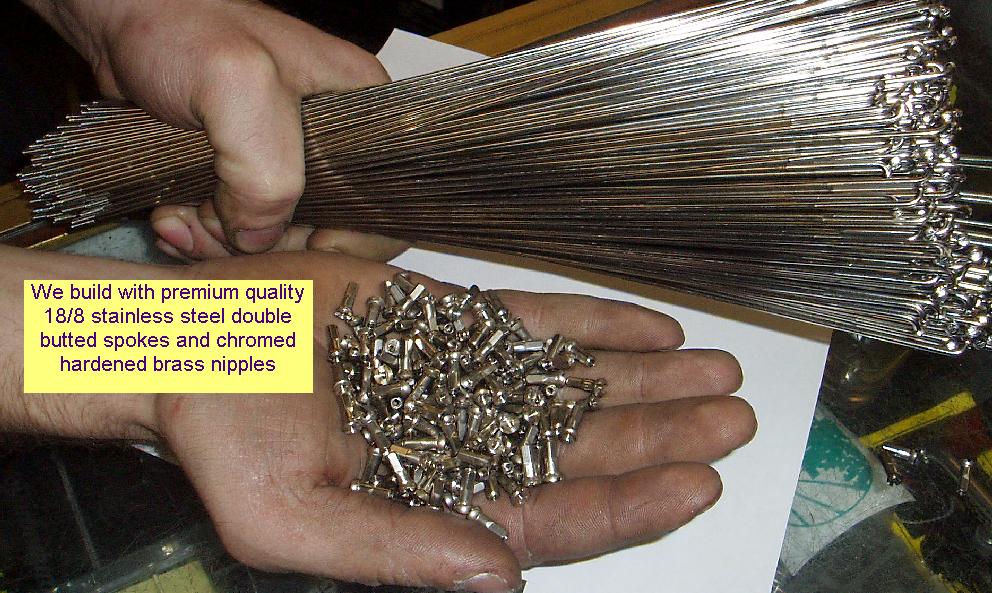 | | |
| --- | --- |
| | |
Some other useful and interesting things:
We can build you a first rate fixed/free rear wheel and convert
nearly any typical vintage 'sport' road bike into a Sensible
Fixed Urban Bike, usually under $300!
RESTORATION WHEELBUILDING