Modolo Classic Brake Sets at Yellow Jersey

Since the turn of the Century, we've been able to supply limited numbers of Modolo Professional ( 1976~1985)
brake sets in both short ( 39~49) and long ( 47~57) reach. Modolo's famous Professional brake, their first brake, shares styling, leverage and "feel" with Campagnolo's classic Record and Super Record models. Our vendor was able to supply both allen-key mounts and the longer traditional mounts. Colors were red, gold, blue, green.We sodl every one All the silver and all the black are sold out.

These photos are for archival and reference purposes.

Almost all models are sold out. . . forever. We stress that these are vintage and fifteen to twenty-five years old, new-in-box. The supply is limited and when they are gone that's it. They will never be made again.

With recent rekindled interest in practical, traditional road bicycles, there is much more demand than supply
for long reach brakes. More on that below
---
Final run
Modolo Pro only SILVER
Modolo Speedy Short Blue $SOLD
Modolo Speedy Long Gold $S O L D
Modolo Speedy Long Black $SOLD
Modolo Speedy Short Black $below
New! Modolo Speedy La Vie Claire graphics $SOLD
***sold out *** NEW-IN-BOX MODOLO:
A few months ago this was a MUCH longer list
Modolo SLK Master Pearl White Short $369.95
New! Modolo Mach3 Grey , White lever hoods $299
New! Modolo Q-Even Silver , no levers $149
out of separate Modolo Pro Levers , late aero model only, below (bottom photo)
See also short CLB ultralite Sets
recent arrivals:
Modolo Speedy Black Short no box $299.95
Late series Aero levers white hoods $125
Mololo Pro Silver Short $OUT
Morphos brake/gear controls box set $199
Suntour Sprint Sets $-out-
---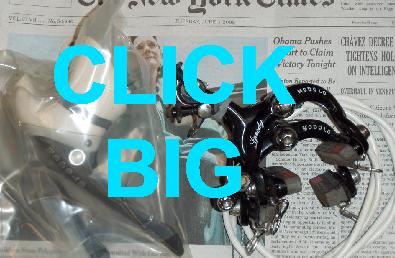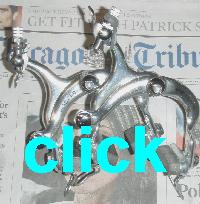 Modolo Pro Boxed Sets $(sold) more below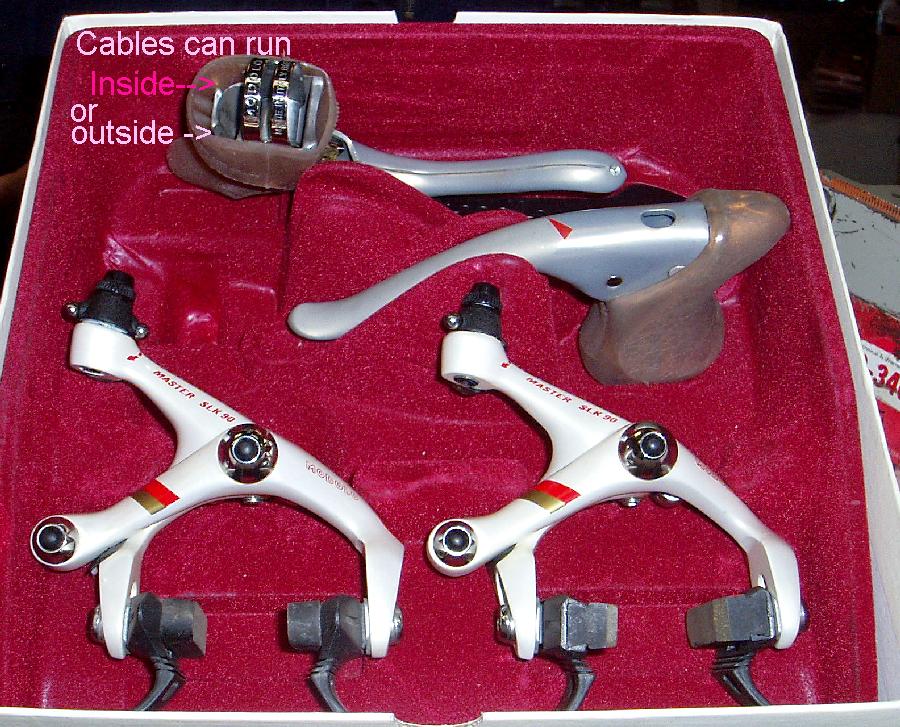 Short Reach ModoloSLK90 translucent lever covers pearl finish $369.95
No, we can't get every color
Short Reach Modolo SPEEDY Team White La Vie Claire Graphics *SOLD OUT*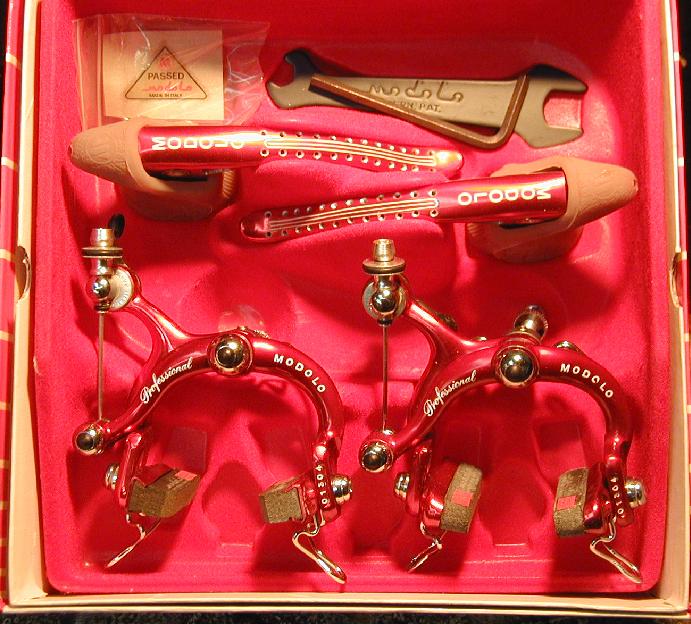 Remember these come in two lengths, "standard"=47~57 and "short"=39~49.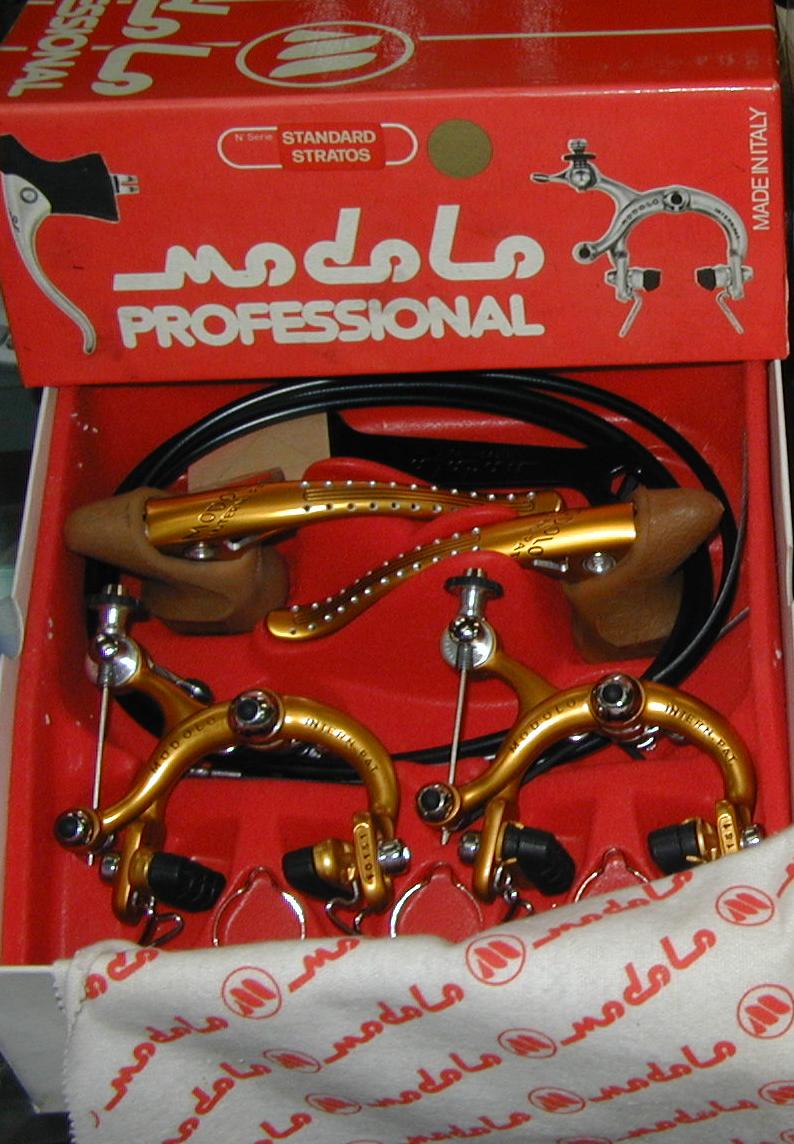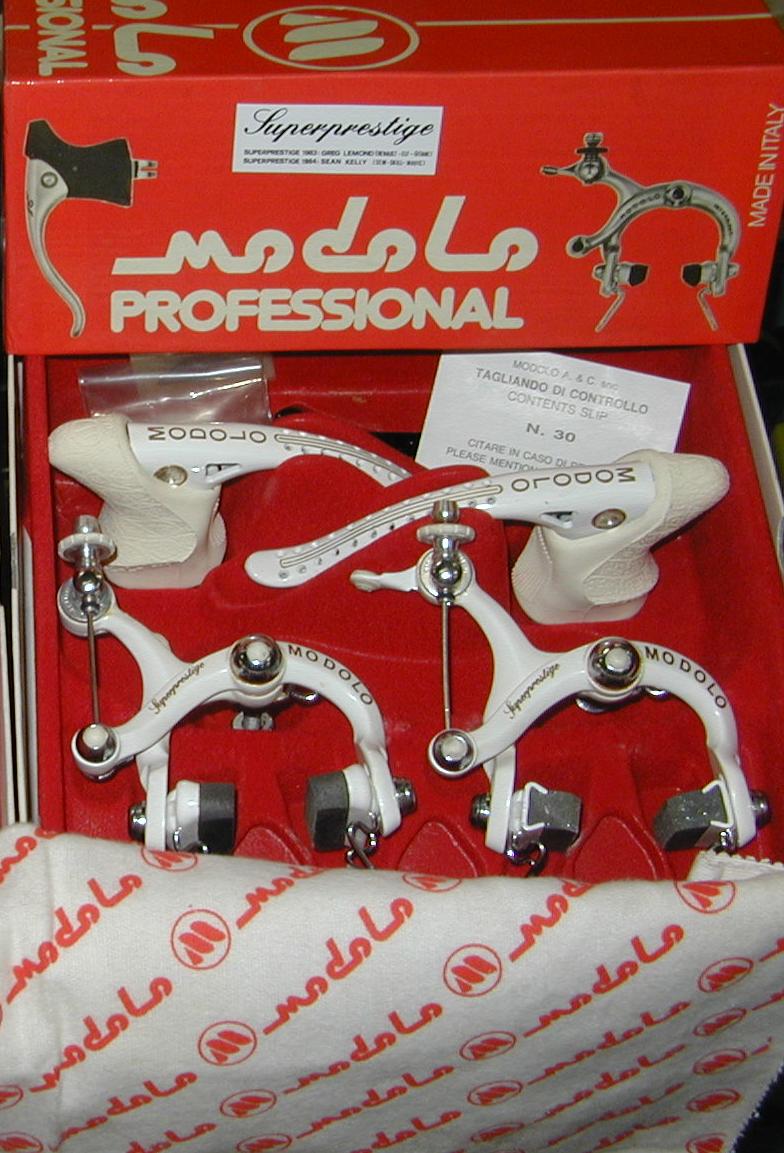 These white brakes are the Modolo Super Prestige A L L S O L D
Notice the Super Prestige model is a newer design and the arm section is truncated along the outer face, in a similar manner to the later series Campagnolo Super Record and Campagnolo Cobalto arms. The early model Pro are rounder and serial numbered. All small parts and hardware interchange
The other remaining vintage Modolo brake not shown is the Modolo Master Pro $- out- . The Master Pro arms are the same later section as the Super Prestige but the finish is natural grey after a complete hardening heat treatment and the incomparable Modolo anatomic hoods are white
Speaking of hoods, we have those and many more in our Brakes section and at Campagnolo brake spares . Many other neat little vintage brake service parts in plentitude.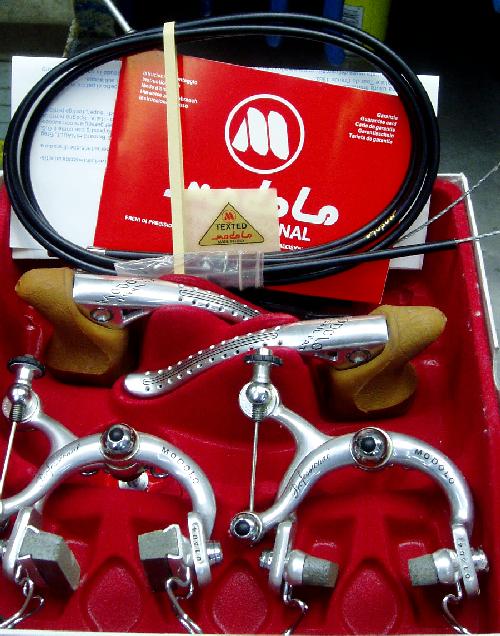 Click for larger image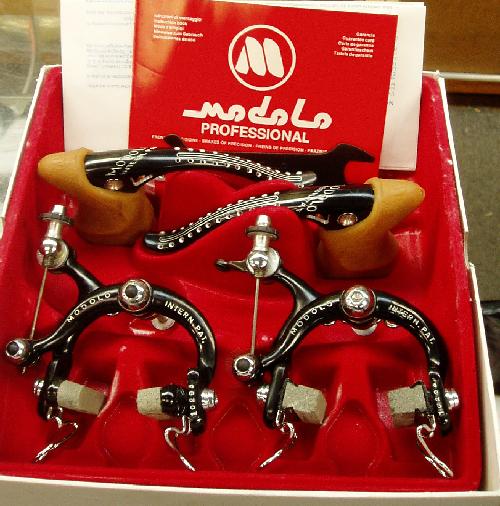 Click for larger image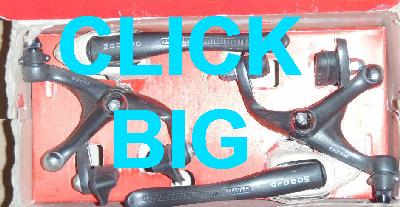 Modern Long Reach Brakes
at Yellow Jersey
New!! Our Own House Brand
We also stock modern brakes for sport bikes with full clearances. If your frame takes a "500" type
brake - that's 47 to 57 mm of brake reach - we have:

"Standard Reach" calipers
They're now called "Long"
Sidepull caliper, $19.95 each
Shimano #R600 Dual Pivot caliper, $69.95 each
Shimano #A550 Dual Pivot caliper, $29.95 each
Tektro #521AG Dual Pivot caliper, $29.95 each
The two Shimano brakes use the same arm, only the hardware (adjuster, brake shoe holder
, quick release unit) are different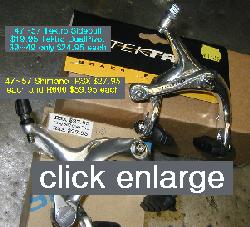 Dual-Pivot models must be adjusted closer to the rim than traditional sidepulls and have
different leverage for a much softer lever feel. Some riders prefer them. I don't. We offer both.