Long Reach - Standard Length
500 type
Dual Pivot Caliper Brakes
from Yellow Jersey

When we were young and beautiful, road bikes, even race bikes, had ample room for comfy 30mm tires. With mudguards, no less. Today's racing bikes are impressively light and strong. Many industries have contributed in the development of modern competition machines which now are as light as two pounds - yes, complete bikes as low as 14 pounds! We enjoy riding real race bikes as much as anyone. They are a wonder of technology and worlds better than racing bikes a generation ago. But a good chunk of our business here is building sport bicycles. Unlike race bikes, these frames are built to accept bigger tires. Mudguards, too. And that means longer brakes.
Yes, we can build your new bike with vintage calipers. Some riders prefer the classic look and feel of older stiff sidepulls. But, pretty as they are, a sidepull, even a professional quality sidepull, while lighter, isn't as trendy as a dual pivot brake.
Brake Caliper Reach, mm
Classic 450 sidepull 39~49
Classic 500 sidepull 43~57
Classic 730 sidepull 53~71
Classic 810 sidepull 61~79
Classic 1020 MX sidepull 74~92
Classic 1080 sidepull 84~108
Modern short dual pivot 39~49
Most modern long dual pivot 47~57
These new dual pivots 56~74
Classic 610 centerpull 49~61
Classic 750 centerpull 57~75
Recent standardization of modern race bikes around the 450 brake format has crashed up against the also modern trend to vintage frames for urban fixie projects, leaving a big hole in available calipers. Most sport frames of the seventies and eighties were built for a 500 length brake. If your bike came with DiaCompe or Campagnolo 500 reach sidepulls you're probably fine with new cables and modern brake pads. If you like the styling of dual-pivots, the choices are more limited. We have the Shimano A550, which still costs too much with its plastic adjuster and unitized brake shoes, $44.95. And we stock the Shimano R600 with a nice hardware set and decent insert-type brake shoes for $69.95
NEW! Tektro Pro X-Long 730 Dual Pivot calipers, silver $39.95
450 and extra long dual pivots in stock now too!
Finally, we found a nice caliper with the right clearances and the right hardware.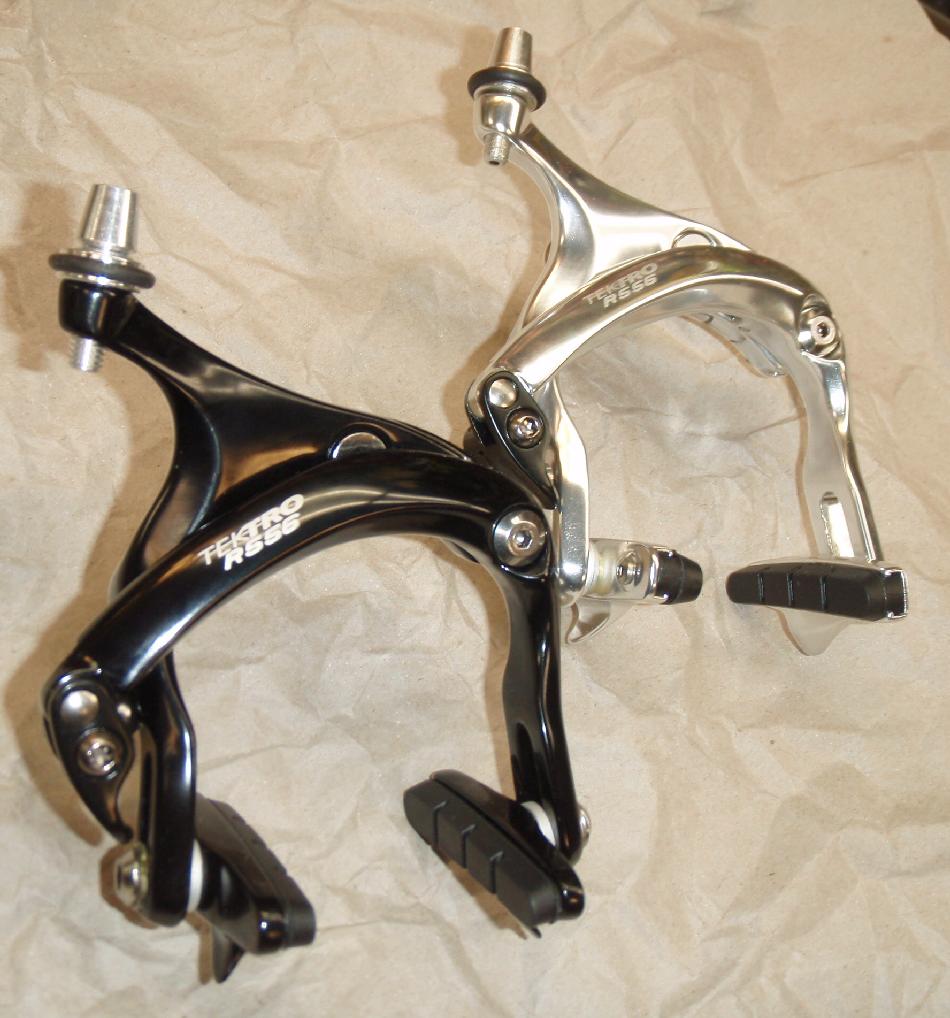 we have replacement small parts in stock
Here are a few views of our new 500-type DualPivot caliper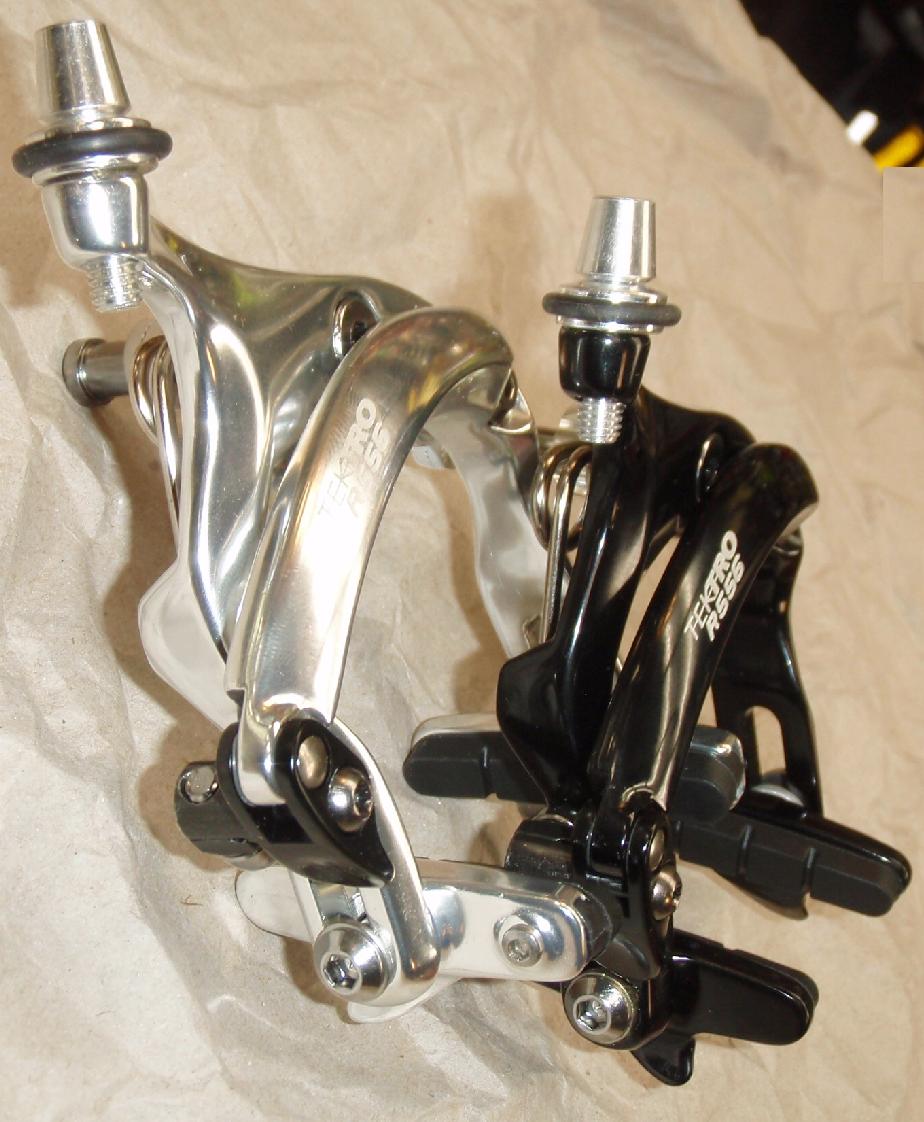 new ! Black same price!
limited availability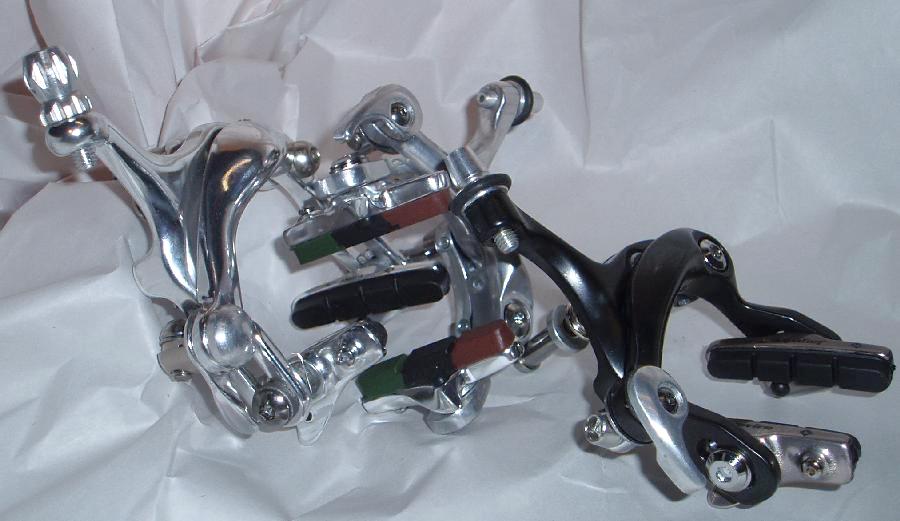 Small details may vary from one shipment to another, as shown above. If you care about smooth or knurled adjusters or if you care whether your pads are black rubber or synthetic, tell us! We can swap the small bits, otherwise we'lll ship you the caliper in the front of the bin.
A note about Brake Mounting BoIts
Classic brake mounting bolts were of 3 lengths:
LONG fork cowns with 10mm nut
MEDIUM fork crowns with Allen sleeve nut
MEDIUM rear bridge with 10mm nut
SHORT rear bridge with Allen sleeve nut
Modern brakes offer only two sizes;
MEDIUM or SHORT
If your classic bike does not have Allen sleeve mounts,
order TWO FRONTS
Ask for a 10mm Nylock mount for the rear;
we'll include a mount just like you have now.
For your front, drill the back side of the crown
It is 6mm now ( 1/4 inch)
Drill to 8mm (5/16 inch) to fit the Allen sleeve nut
If this is not clear p l e a s e call us!
608.257.4737
608.257.7733
caliper styles change periodically!

For only $39.95 per caliperyou get
Nice shoes with aluminum holders
Holders variously natural or 'carbon' print
All-metal orbital toe and shoe angle adjustment
Ample arm shape for good mudguard clearance
Sharp looking aluminum alloy adjuster & locknut
"Pro" style quick release operates in every position
Shiny natural polished aluminum finish
Or new BLACK finish, your choice
Shiny chromed Allen mounting nuts
Yes, we have other brakes, lots of 'short' 450 Dual Pivots!
Current Campagnolo dual-pivots start at $39.95 per caliper
Basic sidepulls from $14.95 per caliper
Shimano R600 calipers, $64.95 per caliper, almost as nice as ours
Shimano A500 calipers, $34.95 per caliper cheesy QR, plastic fittings
NEW! Tektro Pro X-Long 730 Dual Pivot calipers, silver $39.95
short 450 and extra long dual pivots in stock now too!
caliper styles change periodically!

More Brakes
Vintage Brake Service Parts
Vintage long brakes
Vintage not so long brakes
Vintage Short Calipers
Campagnolo brake parts
Standard Single Pivot Calipers