Some
Vintage Brake Parts
from Yellow Jersey

Of course, we carry the full complement of modern brake service parts, from Campagnolo Ergo brake/gear cable sets to standard $1 wires and lots of brake shoes from black rubber standard sidepull models to the latest sintered disc brake pads by Fibrax and Kool Stop. And besides regular Kool Stop Salmon pads we can supply the little bits like hydraulic glands, inline adjujsters, cable hangers for shock forks and myriad special ferrules and fittings

But our subject here is more mundane. This page was written for the rider who's trying to maintain or restore classic and obsolete braking systems.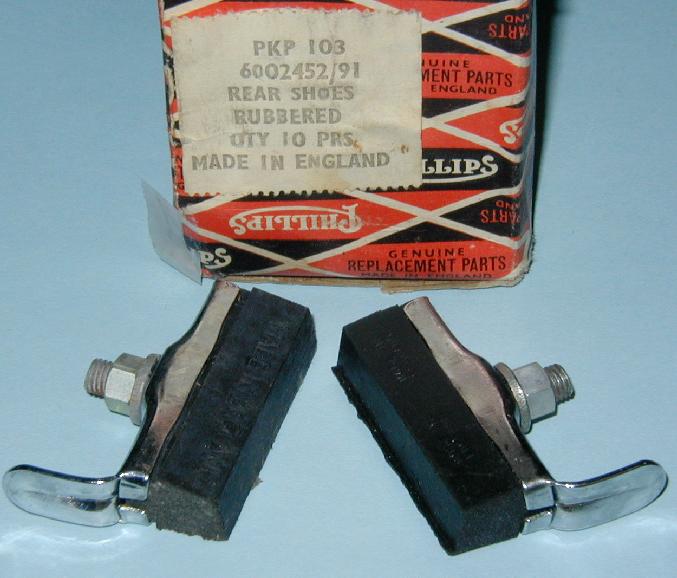 photo above
These are genuine vintage British made Phillips brand brake shoes for classic rear sidepulls on British Lightweights.
$19.95/pair
MoreRaleigh Steel Sidepull Small Parts
When the centerbolt is adjusted too loosely, the arms can slop front to back. Apparently, the designers felt this was a common and unameliorated problem, because they built in a tab on the front edge to keep these shoes from diving under the edge of the seatstay. These were original equipment on new three speed bikes in the fifties and sixties. You can make them fronts by trimming the tab away.

See also FIBRAX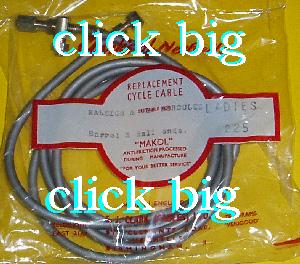 click the photo abovefor a larger image
If your classic Raleigh, Armstrong or other British bike was built before 1965,
it's likely you need one of these double-ended brake cables with adjuster.
Snap the standard end into your lever, bolt the adjuster in place, snap the other end
into the brake arm and adjust to taste with fingers. No pinch bolts! These one-piece cable
systems should be filled with oil on installation. The only size we have is ladies' rear, 56
inches long overall. But then again ladies' rear are the cables which point up and so
hold water. Of course, they are usually found rusted in place.
$34.95/each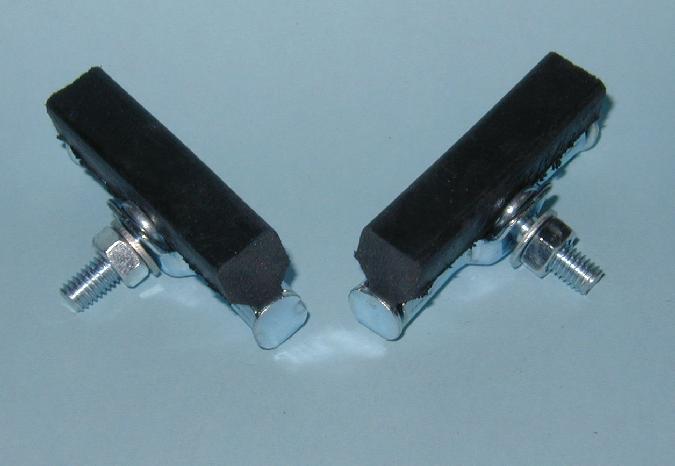 photo above
Roadster owners are always on the lookout for good brake shoes. There are none better than these genuine
British Made Fibrax Brand roadster brake shoes.
$19.95/pair
They fit all stirrup-type roadster brakes, the kind which pull up from below the rim
by means of an articulated steel lever system. Be sure to oil the oblique stud which
sticks out to the side below the brake pad. That acts as the return spring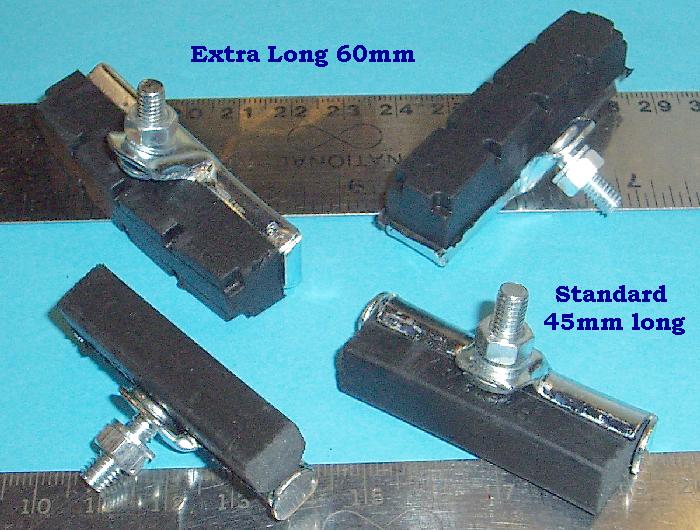 photo above
We like to say that Roadster parts fit all Roadsters and generally that's 80% true. For those of you
who need bigger, fatter, longer Roadster brake pads , we now have them! Genuine British
Fibrax, and at the same low price, too!
$19.95/pair
These fit many stirrup-type roadster brakes, the kind which pull up from below
the rim, but make sure you have room for these longer 60mm pads. Otherwise get the
standard 45mm model, above.
click for more spares for Raleigh Tourist and other roadster bicycles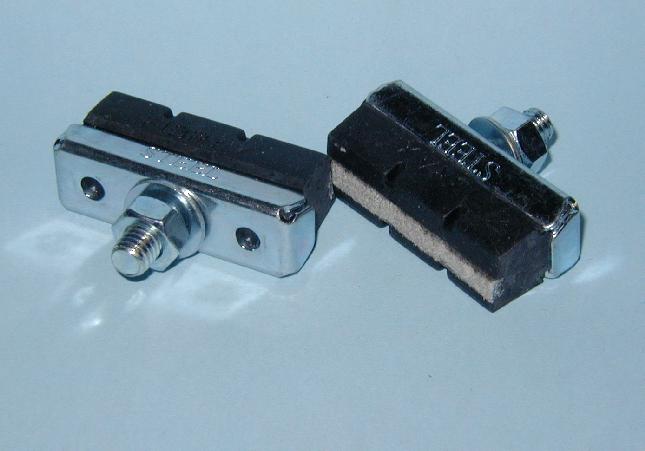 photo above
If you've been around classic British bikes much, you're bound to have run across
some model or other with leather inserts, like this model for standard sidepull brakes.
N.B. We do NOT have Roadster leather lined brake shoes at this time $ O U T /pair
We DO have the shoes shown above
for classic sidepull and centerpull brakes $19.95pair
As you probably discovered, many classic era bicycles are equipped with chrome plated steel rims
and those rims have dismal brake response when wet. It seems quaint to us now, but not so very long
ago aluminum rims were rare and expensive; nearly all bicycles shipped with chromed steel rims,
from department store models through the classic English Racer lightweights even to middle price
sport bikes. Fibrax developed a clever aftermarket solution; a strip of genuine leather molded through
the center of the brake shoe. These nicely made British brake pads (above) will stop your Raleigh Sprite
or other steel-rimmed beauty even in a pouring rain!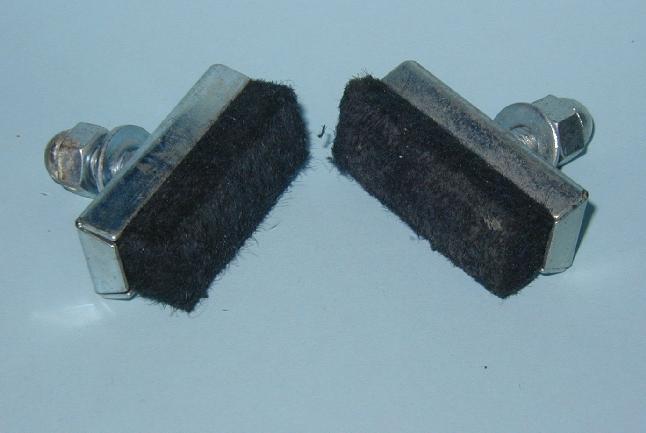 photo above
Before modern trainers, budding bicycle racers logged their winter miles on rollers, which even today have a following because of their quick, subliminal education in form, style and bike handling. We once used these Felt Brake Pads on one caliper with the adjuster turned up for resistance on the rollers.
$-- out --/pair
These are also used in a plethora of classic period exercise equipment.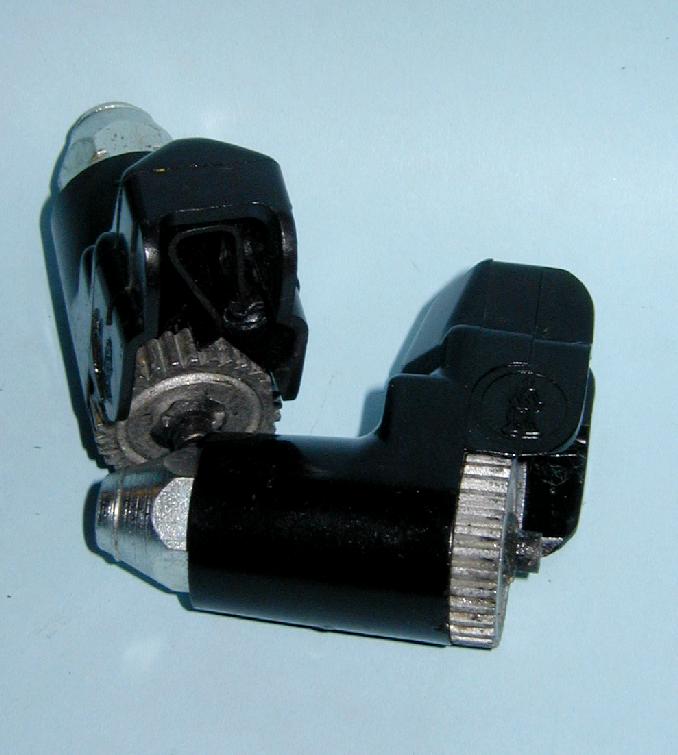 photo above
If you own a classic Raleigh with North Road handlebars (Raleigh Nottingham models such as Superbe, Sprite, Limited or Sports )from the early 1970s, these Self Adjusting Brake units are n.o.s. replacements for your lost or broken ones. This product won the British Queen's Award to Industry . They work simply and dependably just like the self-adjusting drum brakes in Chevrolets
$29.95/pair
A drop of oil now and again is all the maintenance you'll ever need.
Note: SAB units only fit Raleigh Self-Adjusting levers, which have the unique protrusion just above the brake cable entrance to the lever
MoreRaleigh Steel Sidepull Small Parts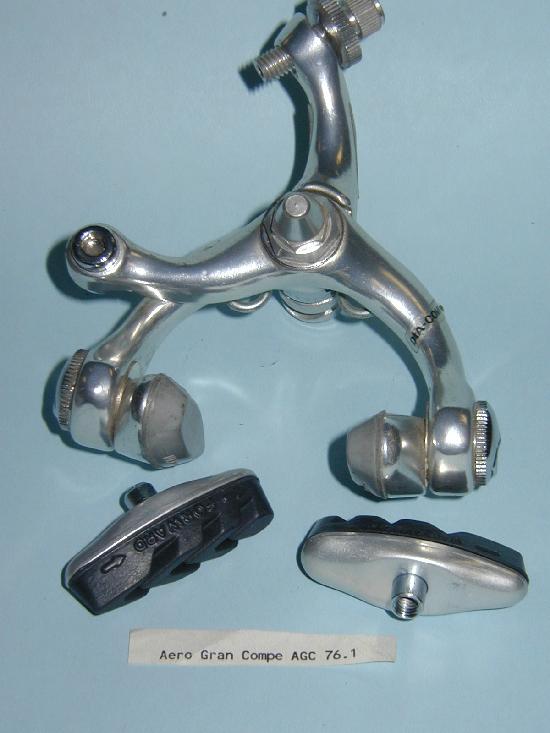 photo above
Genuine Japanese made shoes for Dia Compe's AGC Aero Gran Compe brake
The very last few of these cute 400mmAero Gran Compe short brakes have all been sold! .
$... $49.95/pair
These are the very last originals of the late production series.
Get rid of those awful grey shoes which do not stop!
These fit pefectly and retain your AGC's unique orbital shoe adjustment
When we've sold out of black, it's original GREY shoes at $49.95/pr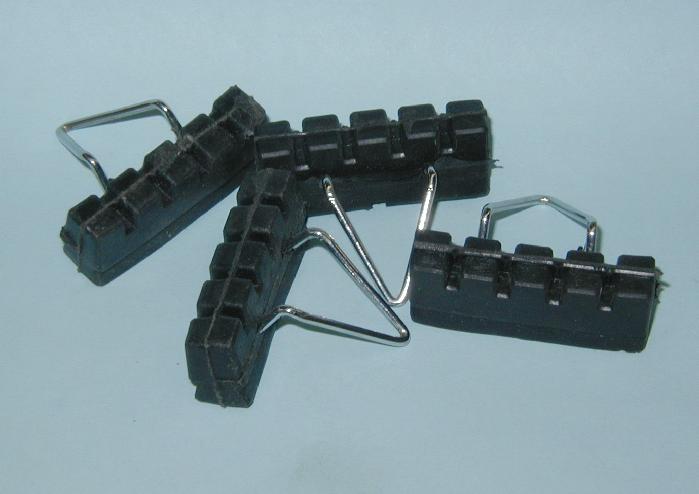 photo above
Genuine Zeus brake pads. Original brake pads with integral chromed steel wire wheel guides.
$29.95/pair, $56.95/set of four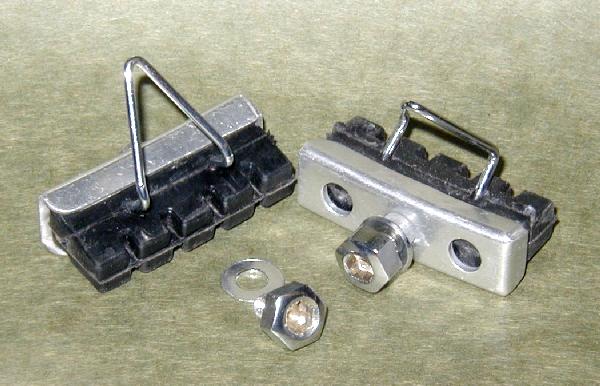 photo above
Genuine Zeus complete brake shoe. Original Zeus complete brake shoe with the pad (as above) with integrated chromed steel wire wheel guide in the original aluminum brake shoe holder and with the uniquely Zeus 10mm hex - 5mm allen bolt.
$69.95/pair,$136.95/set of four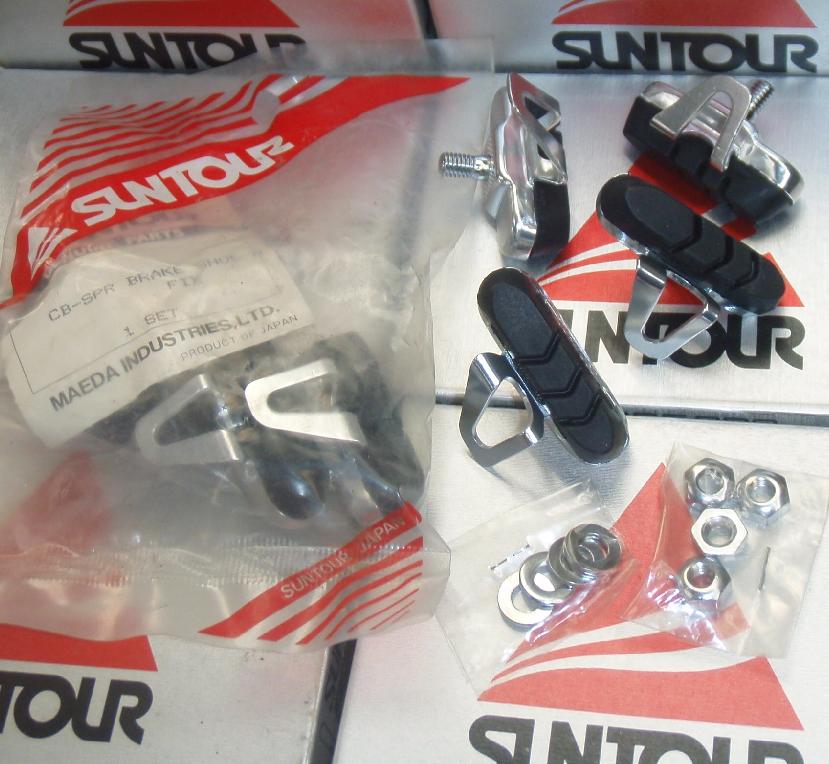 photo above
Genuine Suntour Superbe Pro brake pads. Original brake pads with aluminum holders and chromed steel fasteners set of four
$39.95/set of four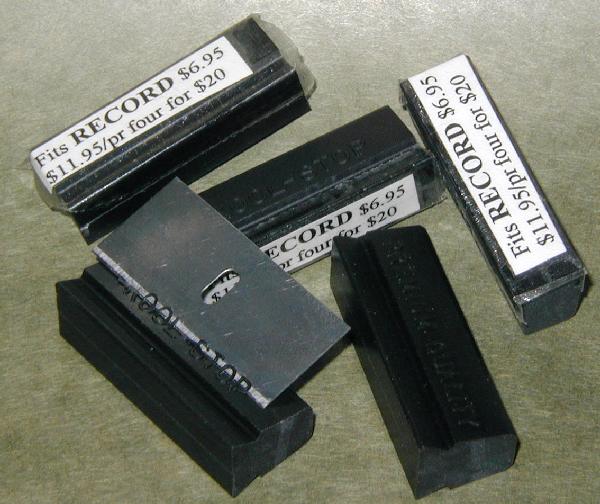 Finally an affordable and aesthetically acceptable replacement for your worn and crusty original Campagnolo Record brake pads! These modern synthetic Kool Stop blocks stop well - as well as any modern pad - and look just like your originals. These Kool Stop inserts are priced like 'just another brake block', not like rare outrageously expensive vintage spares! Kool Stop wrote the book on modern braking compounds and, as shown, a deft pass with a blade conceals your thrift ! These also fit Mafac holders. Both price and performance are very favorable compared to the 60s low-tech originals. See also Campagnolo Original Pads
$6.95/each,$11.95/pair, $20/set of four

photo above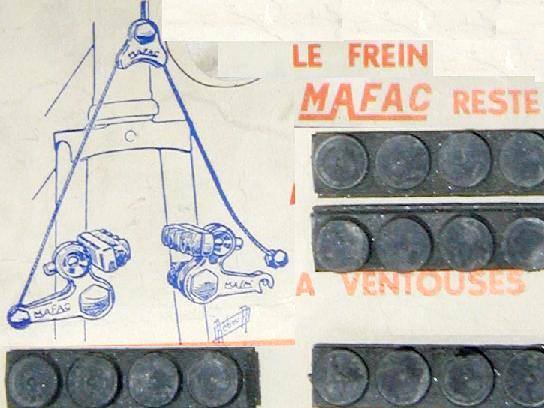 photo above
True original French Mafac brake pads
$29.95 /pair
Not a copy, but genuine n.o.s. brake rubbers! These are dried and hard, even worse than new.
If you plan to actually ride this bike, get the Kool Stop synthetic inserts (just above)instead. They fit exactly in your original Mafac aluminum holders, they look nice and will actually stop your bike. As a small serendipity, Campagnolo designed their 1968 Record brake shoe to the same dovetail dimensions as Mafac, the leading brand at the time. Our Kool Stop synthetic inserts are the best choice for either brand of vintage brake.
---
True original vintage Modolo Sintesi brake pads fit Modolo holders
$39.95 /pair, set of four $70
Not a copy, but genuine Italian Modolo Sintesi inerts! Click for large detailed image
See also Modolo brake lever covers
and Italian Casiraghi colored cable sets
Limited Sale of Modolo Levers
all gone ! , you missed them
Anodized GOLD or BLACK original Modolo Pro
First quality new sealed package Modolo Professional levers
- out -
price includes fresh $79.95 latex hoods! This is an incrediby good deal!
click for MORE Vintage Pro Brake Levers

Small parts for premium quality DiaCompe sidepulls

GranCompe, Royal GranCompe, Superbe, etc

DiaCompe/Weinmann centerpull brake hardware

Raleigh Steel Sidepull Small Parts

A small selection of odds and ends to solve small hardware problems

Call or email for many other hard-to -find bits.
We'll usually have it and we ship promptly! Not everything is on these pages!